Three rural communities in North Central Nigeria are beneficiaries to a scheme designed to give countryside folks access to sustainable energy and boost their standard of living.
On-grid and off-grid villages in Upper Uke, Lower Uke and Roguwa in Karu Local Government Area of Nasarawa State are to be fitted and retrofitted under a pilot arrangement being promoted courtesy of a collaboration involving the Energy Commission of Nigeria (ECN), Global Environment Facility (GEF), United Nations Development Programme (UNDP) and National Orientation Agency (NOA).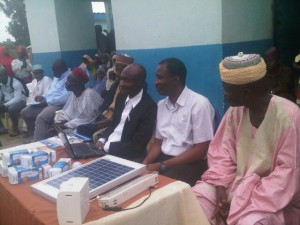 On the heels of a training session at the Upper and Lower Uke communities held a week ago came a daylong sensitisation/inception workshop last Thursday at Roguwa, a village completely off the national electricity grid so that villagers rely on kerosene lamp petrol generators.
Hence, Roguwa will be fitted with solar panels to generate electricity and a mini-grid of overhead insulated cables to distribute the power to about 75 homes, each installed with an eight-hour backup battery. The conventional water pump in the neighbourhood will be replaced with a solar pump to power the community's borehole.
Roguwa will be fitted entirely with the energy efficient light emitting diode (LED) bulbs. Installation is expected to begin in a couple of weeks' time and span about a month. Community members chosen to maintain the equipment will undergo training while installation is ongoing. The project is estimated to gulp N10 million.
At Lower and Upper Uke, which are on-grid, a total of 400 houses (200 in each community) will each get five compact florescent lamps in replacement of existing incandescent bulbs. While the community health centre there will be fitted with a solar panel to generate power to light up the facility and power the refrigerator, solar panel will likewise be installed in a school at Lower Uke to power the lighting system.  Similarly, a water pump in a borehole will be powered with a newly installed solar power generating system. The project cost is about N11 million.
The Uke communities make up the Uke Kingdom with a combined population of about 10,000, who are predominantly farmers. They have nine districts and five village areas.
Etiosa Uyigue, National Coordinator of the GEF-UNDP Energy Efficiency Programme, under which capacity the project is being executed, disclosed that, in each of the benefitting community, a Local Energy Regulatory Community (LERC) would be set up with consideration for gender balance.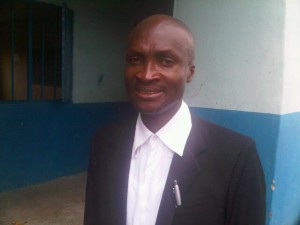 He said: "The community leadership will be allowed to nominate those that will serve in the committee. LERC members will be given additional training on the maintenance and installation of the systems.
"In Upper and Lower Uke communities, with agreement from community leadership, the LERC members will put in place mechanism that will ensure that users of the proposed water borehole will pay a token for the service. Resources from the process can then be used to maintain the facility.
"In Roguwa Community, a metering device called 'Current Limiter' will be installed in each benefiting household. This is to ensure that community members pay for the electricity used/consumed and also prevents them from drawing current more than what has been allocated to each household. LERC members in the community will be responsible for managing the facility and managing the resources from the sale of the electricity on behalf of the community."
According to him, the use of sustainable energy products have the potential to increase income into rural communities, cut greenhouse gas emissions and stimulate the general growth of the Nigerian economy.
"In this way, the much-needed income, skill transfer and manufacturing opportunities for small businesses would be injected into rural communities," he added.
During the inception workshop, Dr Akindeji Falaki, Team Leader, Climate Change & Environmental Programme at the NOA, told the villagers that the project is being executed in partnership with them.
His words: "When we go, we will leave behind the things we are putting in place. Let us work together to use them well for the benefit of all. We are very happy to be here.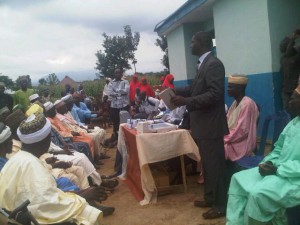 David Kusimo of the GEF Office in the Federal Ministry of Environment said the project is in line with Federal Government's Vision 20/2020 and Transformation Agenda, which promote environment and efficient energy use. According to him, government is committed to providing green energy, and how to manage the environment in a sustainable manner.
"The project will enhance development in your community," he declared, urging them to utilise the opportunity to better their lives by setting up small businesses and creating jobs.