In line with its mission of promoting sustainable energy development for productive uses, the United Nations Development Programme (UNDP) in partnership with the Energy Commission of Nigeria (ECN) in 2017 launched an intervention programme, the solar-powered agro (melon) – processing industry in Agyaraku and Ashangwa communities in Nasarawa State.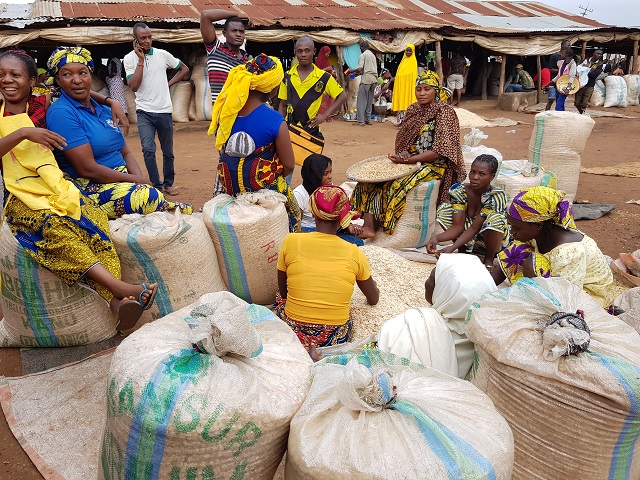 The project is aimed at reducing manual processing and reliance on diesel-fuelled mills, saving cost through reduced consumption of diesel fuel, reducing time spent travelling to mills so that time saved in manual labour will be redirected to other efforts that will increase income and reduce poverty, particularly for women and children who are the primary source of labour for agro-processing.
To this end, a building was constructed to safely accommodate both the electro-mechanical equipment and the solar-power plants and its control room and a solar-powered water borehole built very close to the solar-powered community-based melon processing factory in Ashangwa community. Also constructed is a 10 kva solar power station consisting 12volt, 200Ah deep-cycle battery; 50 units of 360W solar panels and three 5kva each of three-phase iPOWER (10kva) inverter with other balance of systems (BoS) was installed; and three10,000 ton/day three-phase 5hp electrically operated stainless steel melon shelling machines was installed to replace petrol-engine melon shelling with its inherent drudgery of going many kilometres to cue up for hours to grind cassava.
Speaking on the impact of the project, a melon trader, Margret Iliya, who has been in the trade since childhood, said the installation of the machine had saved her family from poverty. Narrating how the solar grinding has changed her family's fortune, the trader who never made enough from her business said she now augments paying her children school fees and home upkeep from proceeds of her business.
She said: "I have been married for 20 years, and my husband and I have four children. My husband is a commercial tricycle (popularly called Keke NAPEP) operator in our community and he rarely makes enough to pay school fees for our four children and house upkeep. On my own part it takes a tedious, laborious process to process a bag of melon; this made me turn out paltry proceeds from my trade. As a result of this my family was almost living from hand to mouth most times. At one point my children missed out a school term because we could not meet up with paying the school fees.
"But that has all changed now. Since the solar mill was installed, I now produce more bags per week. The challenge I now face is to keep up with harvesting or buying more melon to process and sell."
Although Hajiya Safiya Ibrahim's story is slightly different from Margret's, she too had a heartwarming tale to tell. She said that Ashangwa women had been able to form a cooperative with the advent of the solar powered-mill in their community. She said the women in the neighbouring community where the UNDP/ECN project is also sited now made significant proceeds from the trade and can now afford to contribute and set small amount of money aside for emergencies.
"We had road related issue in Ashangwa community last year and there was a call for donation to build a culvert. The cooperative was able to make a token donation to the community to build the culvert. We would have never dreamed of that before because people rarely made enough, what more, having small money to set aside to assist the community. We felt very proud to be able to help our community as a cooperative," she stated.
Another melon trader, Zuwera Aleru, noted that the decentralised solar-power agro (melon) processing systems was a far more better alternative than the diesel-powered engine, saying women in the community are now faced with the challenge of producing more unlike before when they were constrained by tedious processing practices.
Zuwera called on the Federal Government to assist women in the community with fertiliser to grow more and get more output to meet up with demands of customers from all over the nation.
Earlier, the chairman of the melon association, Agyaraku community, Alhaji Abdulhamid Usman, disclosed that the solar mill had really changed the lives of women in the community. The chairman also said melon bags' production drastically leapt from under 100 to almost 500 bags per week because of significant reduction in labour required to produce each bag, said the cost for production almost went down from N300 to N100 per bag.
He noted that the centre runs like a well-oiled machine with women maximally benefiting from facilities available at the factory, saying the borehole, solar mill and power house had improved melon process a lot.
He said: "The machine has really improved melon processing a lot. Women fetch water from the borehole to wash the melon and grind at a very cheap rate with the mill separating the chaff from the seed. They only have to dry it under the sun, hand-pick or shift small chaff and bag for sales.
"The machine is very easier for them, before when the machine was not around, women suffer to process the melon, they spend long hours under the sun, they fetch water from kilometers away. With the other machine the chaff and melon are all lumped together but the new machine separates the chaff from the seeds and the women only have to dry the seed under the sun because the new machine is different from the other one which made women spend long hours under the sun."
Speaking on maintenance, he said money gotten from grinding melon and sale of water from the borehole to other community members who do not come to grind melon but want potable water was kept aside for maintenance of the facility. He, however, noted that the community would appreciate to be given more machines to cover the whole community and meet up demands of their fast-growing customer base.
"We are like the prodigal son because we have seen how helpful this factory is to the women and men of the community. This is not just about the melon business; it is helping the entire community. It has a rippling effect. It is about reducing labour, making more gains and fighting poverty because the women make more and can help their husbands and children. So, we want more machines to cover the entire community. We will be grateful if we get more, that means more positive effect for our people," he added.
By Nkechi Isaac, Leadership Newspaper