The All Farmers Association of Nigeria (AFAN) says farmers in Nasarawa State may lose their harvests due to the influx of herdsmen, following the execution of the anti-open grazing law in Benue.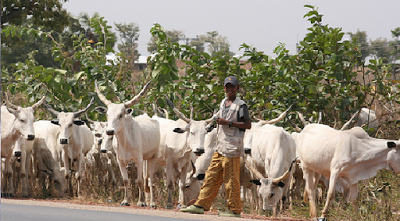 Malam Muazu Ishaq, the state AFAN Chairman, told News Agency of Nigeria (NAN) on Friday, November 10, 2017 in Lafia that the influx of herdsmen and their cattle had been a great concern, as farmers had yet to harvest their produce.
"Due to the mounting fears of losing their produce, farmers in the state, especially those around the border communities, have been compelled to harvest their crops even before there are fully mature.
"The implication is that the farmers would not get the expected harvest and some might even lose everything, which would invariably lead to food shortage in the state,'' he said.
Ishaq said that there had been no official report of any farm invasion by cattle, adding, however, that if pre-emptive action was not taken by the relevant authorities, such farm encroachments were imminent.
He, therefore, called on the government, security agencies and community leaders to be proactive by engaging the farmers and herdsmen in a dialogue so as to avert crisis.
He appealed to farmers not to take laws into their hands, adding that they always report any encroachment into their farms to the authorities.
Ishaq underscored the need for the security agencies to beef up security around the border communities in order to forestall any breakdown of law and order.
On the anti-open grazing law of Benue, Ishaq said that its implementation should have been delayed until necessary measures were put in place to deal with all the contentious issues.
"In as much as the law would go a long way to address the incessant clashes between farmers and herdsmen, its implementation should have taken into consideration all the perceptible grey areas.
"This would have created a win-win situation for all the parties,'' he added.
NAN reports the Benue Government began the implementation of its Anti-Open Grazing Law on Nov. 1, resulting in the migration of herdsmen to neighbouring states, including Nasarawa State.
Following the development, the Nasarawa State Government held series of security meetings to evaluate the situation and assured the citizens of the safety of their lives and property.