Worried by the prevalent rate of non-communicable diseases (NCDs) in the country, the National Agency for Food and Drugs Administration and Control (NAFDAC) has said that it will fully implement and utilise the newly gazetted regulation known as the Fats, Oil and Food Containing Fats and Oil Regulations, 2022 to protect the health of the entire populace.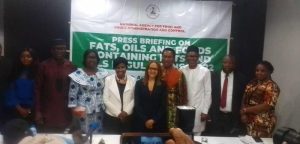 NAFDAC's Director General, Prof. Mojisola Adeyeye, made the declaration during a press briefing in Lagos on Monday, August 7, 2023, to announce the gazette and commencement of the regulations on trans-fats in foods in Nigeria.
Adeyeye said: "The World Health Organisation (WHO) reports that more than seven in every 10 global deaths that occur annually are caused by non-communicable diseases (NCDs) of which death by cardiovascular diseases (CVDs) from trans-fats intake accounts for 500,000 deaths. Consumption of trans-fatty acids results to NCDs of which death by cardiovascular diseases (CVDs) occur.
"NCDs are estimated to have accounted for about a quarter of the total number of deaths in Nigeria. The probability of dying between ages 30 years and 70 years from the NCDs is 20%. At the 2018 World Health Assembly in Geneva, the WHO called on all countries to eliminate industrially produced trans-fatty acids.
"WHO has recommended one of these key pathways for us to be implemented first is the banning of the use of the source of the industrially produced Trams Fatty Acids and secondly to set limit on the amount of the industrially produced Trams Fatty Acids should not be more than 2% of the total packed content.
"NAFDAC in cooperation, collaboration and support of the Federal Ministry of Health, Federal Ministry of Justice and partners such as Global Health Advocacy Incubator (GHAI), Network for Health Equity and Development (NHED), and Corporate Accountability and Public Participation in Africa (CAPPA), has worked assiduously towards achieving this pathway," she maintained.
In his remarks, Akinbode Oluwafemi, Executive Director, CAPPA, opined that NAFDAC has proven that civil societies can partner with government and achieve a lot in the process.
"The gazette of the regulations Fats, Oils, and Food containing Fats and Oils 2022 that we celebrate today is the highpoint of a journey that began in 2018 when draft regulations were conceived and subsequently opened for input from the public and critical stakeholders before they were approved by the NAFDAC Governing Council. This briefing marks the end of that phase and the beginning of a new phase where the media must continue to play a key role in educating the public on the contents of the regulations.
"With these regulations, we will be able to combat some risk factors of NCDs like other partners have rightly noted and we will have more time dedicated to other emerging issues around diet-related health burdens," he stated.
In his submission, Adesoji Andrew Afolabi, representing the Federal Ministry of Justice, applauded the efforts put in place by NAFDAC in ensuring the safety of all Nigerians when it comes to food and beverages packaging.
He said: "I want to congratulate NAFDAC, partners and Nigerians as a whole for this kind of regulation coming into play. I just hope that more sensitisations will be carried out for more people to be aware. No matter how draconian the law is, if it is not enforced and tested you cannot know how effective it will be. Considering the society where people go to the market without taking into cognisance what they consume, I think this is good at this time."
Dr. Jerome Mafeni of the Network for Health Equity and Development (NHED) also appreciated the NAFDAC DG for opening the door of the partnership.
Mafeni submitted: "This regulation speaks to public health being provided without the populace knowing that their health is being impacted. If this is regulations well implemented, the populace will surely be protected without them knowing it. This is also an example of public-private partnership in action, it is not every day you see government working with non-state actors, non-governmental organisations and so on, this one we have worked as partners, and we thank NAFDAC for the opportunity."
Stakeholders presents at the event included Joy Amarah, Nigeria Coordinator, Food and Nutrition Programmes, Global Health Advocacy Incubator (GHAI); Mr. John Atanda, Director, Food Safety and Quality Programme, Federal Ministry of Health; and NAFDAC's Director, Food Registration, Mrs. Julianah Abayomi, among others.
By Ajibola Adedoye