The Minister of Water Resources, Mr Suleiman Adamu, says the Federal Government has been budgeting N1 billion annually for the provision of water and sanitation facilities for the Internally Displaced Persons (IDPs).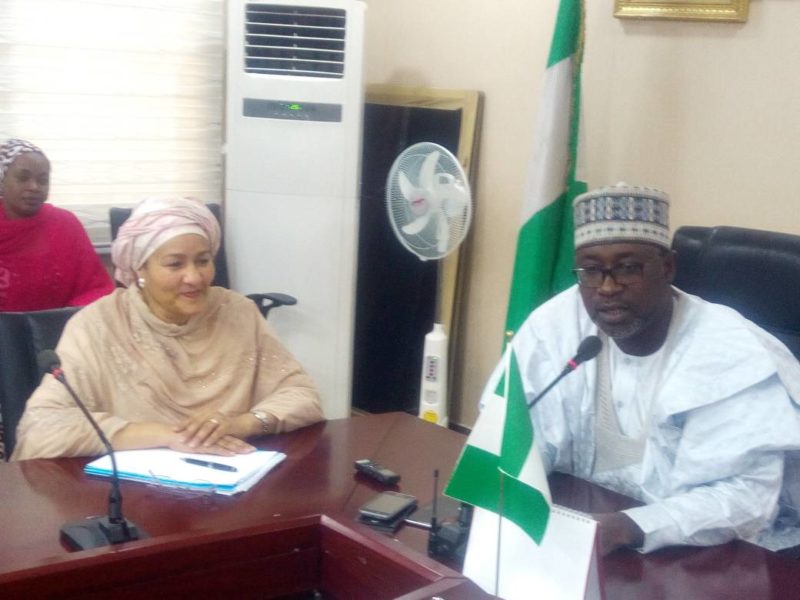 The minister said this on Friday, January 12, 2018 when the UN Deputy Secretary-General, Mrs Amina Mohammed, paid him a courtesy visit in Abuja.
He said that the intervention was part of the partnership between Nigeria and the UN, which was aimed at re-integrating the people of the north-eastern states, who were hitherto ravaged by the Boko Haram insurgency.
Adamu noted that the humanitarian crisis facing the IDPs was compounded by the shrinkage of the Lake Chad, which had been a major source of livelihood for many people in the area.
He said that the Federal Government, on behalf of the Heads of State and Government of the Lake Chad Basin Commission, was organising an international conference to proffer solutions to save the lake from further desiccation.
"In the next 50 to 100 years, from the hydrological perspective, if nothing is done now, the lives of the people of that region, who depend on the lake as their source of livelihood, would be in danger as the lake faces extinction,'' he said.
Adamu said that a Memorandum of Understanding (MoU) was signed between the Lake Chad Basin Commission and PowerChina International Group Limited in April 2016 to save Lake Chad from drying up.
He said that the project would be executed via the transfer of water from the Congo Basin to the Lake Chad Basin.
Adamu said that studies carried out by the PowerChina group indicated that it was technically feasible to transfer water from River Congo to Lake Chad, thereby increasing the water level of the lake.
According to him, this will halt the receding of the lake and the drying up of the Lake Chad Basin due to the climate change.
The minister, however, solicited more workable solutions which could be cheaper than the proposed inter-basin water transfer project.
Earlier, Mohammed said that the high-level mission, which was an informal consultation on political and human rights as well as humanitarian and development issues, would help scale up the UN presence in Nigeria and the North East in particular.
The deputy secretary-general pledged the commitment of the UN to the success of the ongoing re-integration process in the North East and the planned Conference of Saving Lake Chad, which was scheduled to hold in February.
She urged the Heads of State and Governments of the Lake Chad Basin Commission to pass pragmatic resolutions at the conference and forward them to the African Union (AU) for further action.
"Saving the Lake Chad is a sustainable development issue and the UN is ever ready to address such an issue.
"All hands must be on deck in saving the lake from extinction. Tell us how it can work and not how it cannot work,'' she added.
By Tosin Kolad