It was an interesting week seeing new places, meeting new people, using different tools and having a first-hand practical experience in the field. EarthCorps is a place to be if you're hungry of having a lasting impact in the community and the people around you. The work we do create an enabling environment for both the fauna and flora to thrive.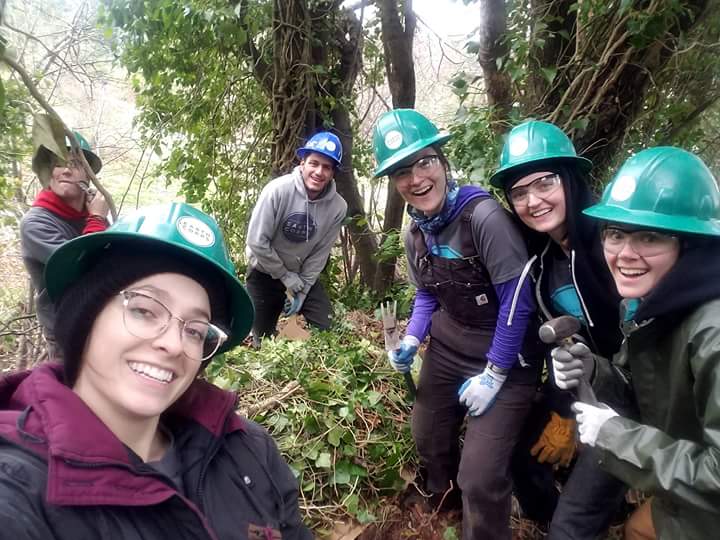 I would like to digress a bit before giving a detailed account of what transpired last week at Camp Lyle McLeod, a camp sitting 10 miles northwest of Belfair.
I can convincingly say that traveling is not just part of education, but a complete school of learning with a well-designed syllabus that any university of the world will struggle to beat. If you're willing to see things differently, relate rationally with the people and communities around the world, then, traveling should be second to none on your wish list.
It's amazing how people of Seattle cherish pets and biking. Here, biking is not just a sport; it's a way of life people can't do without. Pets, especially dog and cat, are so dear to an average Seattleite. It's very hard to enter a home without being welcome by these lovely creatures. Pets are not just animals here; they are like children in the homes of their owners because they enjoy all the love and goodies freeborn are entitled to.
It's necessary I found myself, before getting lost in the wilderness of thoughts painting the colourful world of Seattleites. The week started with me feeling energetic and getting ready for the task ahead.
We all had our first fieldwork experience in the beautiful park of Bellevue, removing blackberry, using tools like hand pruner, shovel, pick mattock, pulaski and brush cutter. Later in the day, Rachael and Madeline did well explaining the English measurements and pacing at the project site. The next day, I and the rest of the corps members had the opportunity to text run the cut and dab herbicide application method on weeds.
In the early hours of Wednesday, we all set out for the astonishing camping trip. The weather was cold and calm, due to the early morning atmospheric shower of rain that greeted us. On getting to the camp, we offload our vehicles and walk to our various cabins to drop our bags. I was quick to secure a bed space at Yurt Village, a cabin close to the Forest Glade amphitheatre.
Camp Lyle McLeod was named after the first Girl Scout leader in Kitsap County. It's a secluded area, far from the ever busy city sounds, and a place to see nature at its best. It's a good place for hiking, swimming, nature study and boating. Indeed, the organization has made the best choice in selecting this wonderful site!
We all gathered at Ulali hall around eleven in the morning to start a presentation. This is just a kind of introduction about who we are, what we do and why we choose to join EarthCorps. The presentation started with the organization's staff, existing volunteers, and finally, the new corps members.
In short, we enjoyed ourselves and at the same time learned through the process by engaging in meaningful conversation with each other. On Friday, seven crews were formed; each crew consisted of one team leader, three old AmeriCorps, one International Corps and a new AmeriCorps. This means that we now have six volunteers forming a crew.
I was fortunate to be in Adnane (crew leader) crew, he is also an international volunteer, from Morocco. Just like me, he started his volunteer journey last year June with EarthCorps and was lucky to secure a second-year placement as a crew leader. Abby, Gabi, Emma, and Robyn will definitely not be happy with me if I fail to mention them. They're amazing crew members to work with!
I must say, we are not worthless for choosing to volunteer, but priceless for what we offer is precious than gold. Don't forget to check this space next week to know what happens at Discovery Park, the largest park in Seattle.
By Alabede Surajdeen (Environmental International Exchange Fellow at EarthCorps, Seattle, Washington, USA; alabedekayode@gmail.com; @BabsSuraj)