Following the successful launch of the Moroccan chapter of the Pan-African Climate Justice Alliance (PACJA) at the sidelines of the African Climate Change conference in Marrakech, Morocco, the government of the Kingdom of Morocco has welcomed the initiative.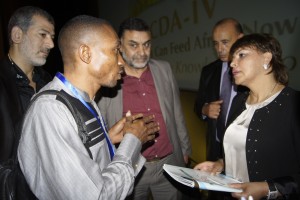 While commending the organisation for its extensive advocacy on climate justice for Africa, the Minister Delegate to the Minister of Energy, Mining, Water and Environment, Morocco, H.E Ms. Hakima El Haite, pledged the support of the Moroccan government towards ensuring effective collaboration with civil society using the credible platform already provided by the new PACJA chapter.
Sam Ogallah of appreciated the support of the Moroccan government and called for greater collaboration with governments in North Africa as the march towards a new global treaty beckons in Paris.
The PACJA Coordinator for North Africa who doubles as the head of the Moroccan chapter, Said Chakri, pledged to deploy the network's extensive contacts in driving the attainment of climate justice objectives across the region.
By Atayi Babs