The latest science and observations on the ground have confirmed that the impact of climate change in developing countries is indeed devastating.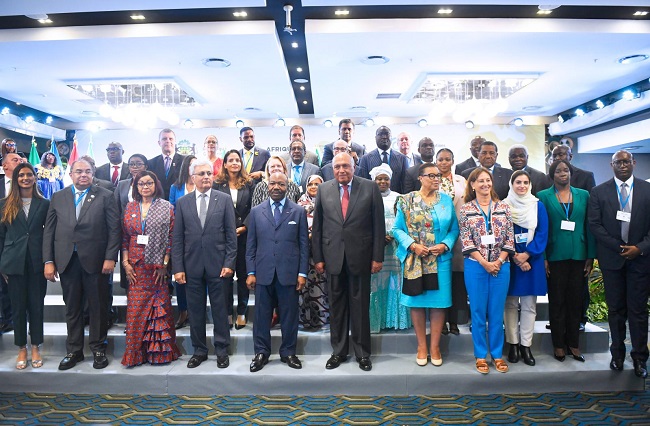 Extreme weather events are increasing in strength and frequency, exacerbating hunger, water stress and misery.
Time is running out and the science is undeniable. Unless drastic action is taken now, the world will heat up well beyond 1.5°C, affecting hundreds of millions of people.
Climate change represents the most complex challenge which requires a concerted, proactive and holistic response to drive sustainable growth and development.
Climate change affects the poor of the poor, especially farmers, whose only source of income comes directly from the land, yet most have no idea of what they can do to adapt to climate change.
Agriculture and food systems will be affected as climate change has a multiplier effect on already degraded natural resources and ecosystems. This, in turn, will affect production systems in unprecedented ways, as well as the livelihoods of those that depend on them.
Africa remains highly vulnerable to disaster and climate risks, and other human induced hazards with related risks and disasters affecting millions of people, leading to loss of lives and livelihoods, causing conflict, migration, displacement, human insecurity and humanitarian challenges, which reverse development gains.
Climate change is therefore not just an environmental issue; it is an issue of human rights that undermines right to food, shelter, water, and health; it is an infrastructure issue because roads, bridges, houses and other super structures are threatened; it is an issue of trade, gender, and indeed climate change is a case of survival issue.
Without adequate mitigation and adaptation mechanisms, the attainment of the UN Sustainable Development Goals will be a mirage.
Seeking Solutions for Resilience
It is for this reason that governments need to explore means of building resilience: emissions must be cut faster, and poor countries must be supported in addressing climate change.
Access to cleaner and more efficient, as well as more sustainable sources of energy, sustainable land use practices and other activities, contribute towards building community resilience and thus mitigating competition for access to scarce resources.
For African civil society, concerns have been on climate finance to enhance community resilience.
The provision of climate finance to developing countries is an obligation of developed countries in the context of the United Nations Framework Convention on Climate Change (UNFCCC) and the Paris Agreement, to respond to the needs and priorities of developing countries in the fight against climate change.
For climate finance to be truly transformative and promote a paradigm shift to low-carbon and climate resilient development, especially in Africa, it needs to reach the most vulnerable, while promoting equity and justice.
It also needs to be delivered through mechanisms that are inclusive and ensure meaningful engagement from the national and local levels, particularly communities, localities, civil society organisations (CSOs) and vulnerable groups.
CSOs in Africa have been engaging with the main climate funds, the Green Climate Fund (GCF) and the Adaptation Fund (AF), for many years, to ensure that the conditions are met for climate finance channeled via these funds to trigger the needed paradigm shift.
At the recent Africa Climate Week in Libreville, Gabon, the civil society actors under Pan African Climate Justice Alliance (PACJA) affirmed that "Sharm-El-Sheikh presents a unique opportunity post-Glasgow for the African people to expose and urgently address the massive and mostly ignored adverse impacts of climate change on the African people and also showcase climate solutions embedded within their traditional, indigenous and local knowledge; we aim to close the widening North-South divisions and the stalling of progress in climate action, particularly the urgent strengthening and implementation of NDCs".
According to the African Development Bank, Africa will need as much as $1.6 trillion between 2020 and 2030 to implement its climate action commitments and the Nationally Determined Contributions (NDCs).
The CSOs have been exploring the necessary shifts in both policy and practice in the GCF to enable climate funding to reach and benefit those in the frontline of the climate crisis, including exploring adjustments at country level on the GCF funding mechanisms.
Going to the African COP
The 2022 edition of the Africa Climate Week discussed threats associated with climate change, as well as solutions the continent can implement to mitigate and adapt to the changing climate.
The high-level political push for collaboration on climate comes ahead of Africa hosting the COP27 UN Climate Change Conference in Sharm el-Sheikh, Egypt, in November.
COP27 has been nick-named "The African COP" and is expected to push the adaptation agenda, which the president-designate has promised to support.
"Africa is undoubtedly the continent of promising opportunities," said Sameh Shoukry, the COP27 President-Designate and Egypt's Minister of Foreign Affairs, who was in Gabon.
"Yet, and despite contributing less than 4 percent of global emissions, we are now confronted with the impacts of climate change that are already curtailing our efforts for sustainable growth and testing the resilience of our communities," he added.
The climate impacts have left almost no region in Africa unaffected, making the continent one of the most devastated by the impacts of climate change, according to the latest IPCC reports.
Africa is obliged, with its already limited financial means and scant level of support, to spend around 2-3% of its GDP per annum to adapt to these impacts; a disproportionate responsibility that cannot be described as anything other than "Climate Injustice".
"We will spare no effort to assist parties in engaging in a frank, constructive and dynamic dialogue that addresses loss and damage, including the central issue of new and additional finance dedicated thereto," Shoukry assured.
By Kofi Adu Domfeh