Nigeria will begin the long-awaited clean-up of the polluted Niger Delta region by month's end, Environment Minister, Amina Mohammed, has said.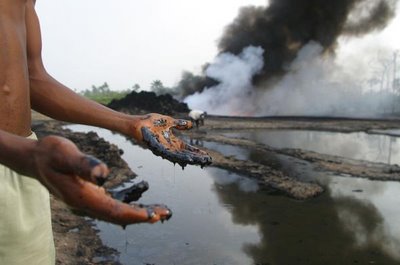 She made the disclosure recently in Abuja in a presentation at the FOSTER Technical workshop on "Niger Delta way forward: From stabilisation to sustainable development."
Stressing that the clean-up "is something that has been on the table for many years," Ms. Mohammed noted that the authorities would from this week seek consultations in that regard.
She said: "The President made this commitment in his campaign; he reiterated it as he visited Nairobi.  The nNew NEP report is amazing. It didn't have so much buy-in at first but I can tell you that today it is like the gospel in the Niger Delta. It is one document that everyone revolves around and it is waiting for implementation. We have to be responsive to the current situation we have.
"We are working on beginning the clean-up by the end of March, we will seek consultation from Government in those areas to Government in the Niger Delta from this week going on. It is complex. It is incredibly a protracted situation so therefore things that we think should be common sense are not, things don't add up. Overtime, people have been neglected, resources have been misused and not appropriated properly."
According to her, a recent visit in the company of the Minister of State to Forcados at an oil spill site "illustrated how difficult it was even to communicate with representation. How difficult it was that when you not in the eye of the TV screen a lot that could happen in terms of ambition doesn't happen because it doesn't matter, it is just another spill. We have huge challenges and we are not to underestimate them."
She adds: "For me, perhaps the greatest concern in environment is that it probably is quite easy to get us around cleaning banded around cleaning up, but how do we stay clean the day after, for a year, for two years, and 20 years after? That is what is complex and we must take into account and communicate in terms of the expectations that we need to meet the people of the Niger Delta. It would of course start with Ogoniland that is put on everyone's radar, nationally and internationally. We have to recognise that the issue of oil pollution is a Niger Delta challenge.
"We will have to look inwards. The oil companies clearly have a responsibility towards that to ensure that what they are company to clean remains clean. We are also looking at the third party challenges that we have to the oil spills, we need to see how to better own our environment, to have a stake in it. That means, government has to provide the environment for that stability, means what is the stake of young people; of those in the Niger Delta in terms of their future, livelihood matters? People see that there is a horizon there that they can move towards. It is important that what we say in terms of the diversification of the economy, it is a big thrust that this economy has, what is the role of the Niger Delta, discussions that you have that look at life beyond oil and that has to be a national discussion.
"More often we hear people speak of smart agriculture, industrialisation, what does that mean in the Niger Delta and how do we accommodate that in the sense of discussion? Encouraging ownership and accountability again is going to be critical. We have said, corruption and the rule of law is important.  How do we do this at the level of state governments and local governments and the communities themselves, what are the checks balances that we put in? How do we better utilise our people in civil societies so that we can strengthen the independent feedback that we need to make sure that we are doing the right thing? It is important that we define roles and responsibilities to ensure we don't have distractions that are there in who is playing what parts and this applies to all major stakeholders in the environment, our ministries but also the state and local governments, business and partners.
"It maybe this time that we have to try to right the wrongs that we could begin to think constructively on how to reduce the trust deficit, that means addressing what people don't trust about one another. How do we bridge those gaps? Maybe we are not the right people to it in government, maybe there are other parties that can do in better. What is the mix that we have for that?
"The Niger-Delta like the rest of Nigeria is full of assets and the biggest assets that we have neglected are its people and that requires a lot of attention and that is not easy. It is people that are here for the long term. There are no quick fixes to what we have messed up over the years. This is just a solid step to make that foundation to recovery real."
"Climate change is real, we know the many issues that affect us, from the drying up of Lake Chad to the flooding we have to coastal erosion and much of what we see in the country. So taking climate actions, what are the specific actions we can begin to take? We have a lot of support to create a robust Climate Change Department in the Ministry and last but not the least, it is about a policy thrust that talks about building our green economy and creating jobs, taking climate action, protecting our environment and environmental governance.
"The Ministry has a huge remit for regulation for affecting some of the laws that we have, it is the least strengthened that and it is not seen in tangible ways. So when our two agencies NOSDRA and NESREA who have that responsibility are often accused of not being as strong as they should be, it is because we don't make investment in what we don't have. We will not remake things; we will build on strengthening things like our Green Wall.
"When I came into office, we had what we call an INDC and that was our intended national contributions to how we would reduce emissions for climate change. That would be revised after the Climate Change Agreement to actually effectively have a plan that involves sectors and I think that is another strength in this environment that you see Ministers all the time working together because of integration, coordination, coherence has got to be the theme of the day. Here the INDC ends up being an NDC in the next few months."