Environment Minister, Mrs Amina Mohammed, will lead a 41-member team, comprising negotiators, representatives of civil society organisations and legislators to the 21st Session of the Conference of the Parties (COP 21) to the United Nations Framework Convention on Climate Change (UNFCCC) starting next week in Paris, France.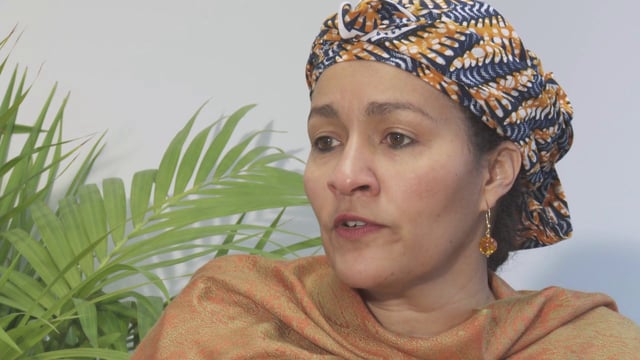 Unlike the previous conferences where a large chunk of the delegation comprised persons with limited relevance, the minister stated on Tuesday, November 24, 2015 at a media briefing in Abuja that the list had been thoroughly reviewed to ensure that only those who have something to offer were included.
She said, "I know the delegation has always been an issue in terms of the size and the relevance at these meetings. That is a legitimate and important question that Nigerians should ask. We are going to the conference with a 41-member negotiating team, members that would attend, not only intergovernmental negotiations, but also represent Nigeria at the side events which are numerous.
"We have reviewed the delegation and I paid attention to who goes and for how long we go. I am committed to the fact that every member of this delegation comes back with dividends on climate change agenda. I am satisfied that we have a competent set of professionals and key stakeholders. We have included our colleagues from the National Assembly to shape the understanding of environment issues."
While saying the country was yet to submit its Intended Nationally Determined Contributions (INDCs) to the UNFCCC, she pleaded with Nigerians for more time to enable the new administration study the document. She added that the process anywhere in the world requires incredible amount of expertise and time.
The minister further explained that since it was a document that would shape the nation's pattern of development, care must be taken to ensure that it was perfect and enduring.
Her words: "The process of preparing INDCs requires incredible amount of expertise. It has to be put in a sensible way that will generate the partnership that we get from outside to implement our INDCs. The remaining countries who have submitted their INDCs, they have not been in the best shape they should be. They will have to go back after the COP to address them.
"We are trying to put our best foot forward. Nigerians should give us a little more space, because the cabinet is just coming into place and we also have to own the INDC because we are the one that will implement it. And I can assure you we will do that.
"I would not imagine Nigeria will produce an INDC that will not be serious about its implementation over the next three to four years in the first instance. Remember our INDCs will go on for a couple of decades. There are commitments there to the percentage we want to look at in terms of our emission reduction strategies, the degree to which we want to invest domestically on a number of issues and areas of priority. All of that will be known in a couple of days," she added.
Nigeria is one of the about 192 countries expected to participate in the UNFCCC conference aimed at achieving a new universal climate change agreement. Indeed, the summit's objective is to achieve, for the first time in over 20 years of UN negotiations, a legally binding and universal agreement on climate from all the nations of the world.
Nigeria, in the INDC, is proposing to reduce carbon emissions by at least 50 per cent from 2005 levels by 2030. It is likewise considering 30 per cent energy efficiency in industries, homes, businesses and vehicles, and increased use of natural gas in generators and renewable energy.
Besides putting a stop to gas flaring, the country outlines plans to capture and process hitherto flared associated gas. It will give priority to climate-smart agriculture, while setting standards for appliances, generators and buildings.
If executed to the letter, all proposals in the INDC are expected to lead to an estimated $4.5 billion benefits to the country.