"As we strive to green the economy, we must begin to reduce environmental degradation, pollution, and the effects of climate change."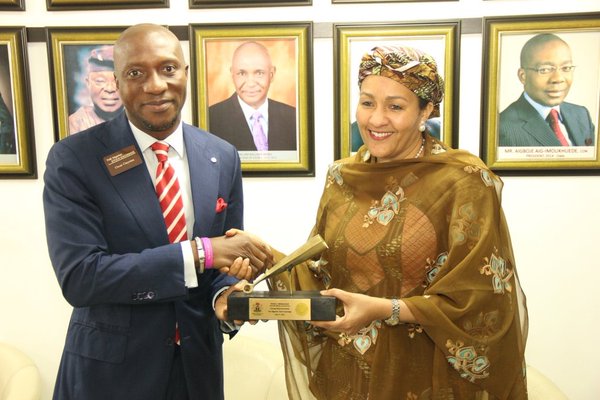 Those were the promising words of Amina J. Mohammed, the Minister of Environment, as she rang the Trade Closing Bell at the Nigerian Stock Exchange on Tuesday in Lagos.
The minister, who was received by the Chief Executive Officer of the Exchange, Oscar Onyema, shared the "New Narrative" at Federal Ministry of Environment that focuses on Empowering People, taking Climate Action and Protecting the Environment.
According to her, environment and private sector partnership is key towards a sustainable transition to a green economy, adding that this would ensure that industries adhere to standard and regulations on environmental protection.
Meeting with some of the CEOs of listed companies, Mohammed stated that the issue of sustainable development in Nigeria goes beyond just Cooperate Social Responsibility (CSR). She added that companies need to be more responsible by adopting sustainable business models.
"The era of sustainable development is the paradigm shift needed to ensure that we protect the planet for future generations by ensuring the interaction of the environment, social and economic needs. Putting people at the centre is good for business," the minister noted.
According to her, the response at the Federal Ministry of Environment includes creating opportunities that grow a prosperous nation through an empowered people, capable of taking action and contributing to the protecting of the planet.
Her words: "This is reinforcing the administration's approach in the change agenda for the environment sector through peace, jobs and a corruption-free society. The private sector must contribute to this new change by adopting a business model that is transparent, accountable and encourages women in decision-making roles."