Are you among the cross section of Ghanaians who believe that "GMOs are evil," "GMOs are very bad," "GMOs are manufactured by the whites and targeted at Africans to kill us in order to reduce our population," "the production of GMOs is part of the satanic agenda to keep humans under bondage," and therefore should not be allowed in the country's agricultural sector?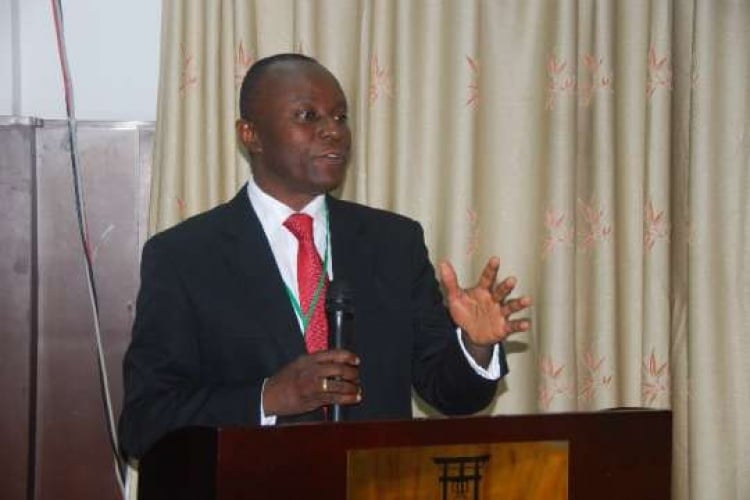 Then you are not alone, but belong to the group of people who are highly suspicious of foods and products from genetically modified organisms (GMOs). This has come about, mainly due to the fear of the unknown, because of which, concerned individuals and groups are cautioning people against eating food or using products from genetically modified crops. This is because according to them, such crops or products will have irreversible adverse impacts on human health, the environment and animals.
People are also being told that the process of getting GMOs is unethical and equal to playing God. GMOs are acquired through the scientific process of introducing into plants and animals desirable genes from other related species. This process is known as genetic modification and associated with biotechnology, which are scientific methods used to address certain agricultural and health challenges.
"And this should not be a cause for alarm," says the Director-General of the Council for Scientific and Industrial Research (CSIR), Prof. Victor Agyeman. "The process is essentially science, and science is the way to go and modern biotechnology including genetic modification is one of the vital new sciences we need as a country," he added.
In an interview, Prof. Agyeman reminded Ghanaians that science plays a crucial role in fostering socio-economic development for human survival. "There are instances, when for the survival of man, we need to take drastic measures including modern biotechnology," he said.
Prof. Agyeman noted that the country is currently experiencing fluctuations in the food sector due to decreasing agricultural production as a result of reducing arable lands for agriculture, because of competitive land uses, unsustainable farming practices, rapid population growth, urbanisation and climate change impacts among others factors.
He stated: "If we don't do anything about the current situation in this country, and allow people's fears and uncertainties about GMOs and modern biotechnology to stop us from adopting it; we will lose our foods and soils, and ground water will be reduced and our water resources will be depleted."
And probably, it is high time Ghanaians pay closer attention to the subjects of modern biotechnology and genetic modification by learning more about what they are, how they work and the benefits they have to offer.
The new report released on the impact of genetically modified (GM) corn, provides information that is contrary to people's fears and can help them learn more about the subject. Published in the February 15th, 2018 edition of Nature's "Scientific Reports," by a team of researchers, the report, presents among other things, findings of the study conducted over a 21-year period.
And its conclusion is that there are huge benefits and little risks from genetically modified crops. The results focus on some key areas. One is that genetic modification increases the yields of corn by addressing two sources of loss – pests and weeds that individually accounts for the loss of one third of yields. The Report indicates that genetically modified corn resistance to both experience a 25 % increase in yields. This means producing more food on less land, hence, efficient use of land, less deforestation and less greenhouse gas emissions.
Another key finding is that corn fields experience an average of 60% reduction in damaged crops and none of the nutritious composition of corn is reduced. Rather, genetically modified corn was found to have one third less of the poisonous chemicals "mycotoxins" introduced into crops by insect attacks. This finding should be of interest to developing countries, because as the Report indicates – contamination of grain is huge in developing countries, where illnesses caused by such contaminations have significant economic costs.
The study additionally examined another dominant concern that genetically modified crops use chemicals that cause unintended environmental harms. The report establishes that overall, there is no substantial effect on insect biodiversity and that only one family of the parasitic wasps is negatively affected.
The significance of this report is that it highlights genetic modification and modern biotechnology as important scientific tools for enhancing the yields and nutritional value of crops among other benefits. Additionally, the report concurs what other Ghanaian scientists have stated about GMOs and modern biotechnology.
For instance, a Senior Research Scientist of the Biotechnology Nuclear Agricultural Research Institute (BNARI), Ghana Atomic Energy Commission (GAEC), Dr. Vivian Oduro says in Ghana, modern biotechnology can be used to address stable crops diseases like the cassava mosaic, cassava brown streak virus and the black sigatoka disease in plantains that affect crop nutrition and reduce yields. She explained that "these diseases can be addressed through modern biotechnology to increase productivity, enhance food and nutritional security, ensure higher economic benefits and safeguard the environment."
An Associate Professor of the College of Science and Technology of the Council for Scientific and Industrial Research (CSIR), Dr. Marian Quain says the issue of concern over the safety of genetically modified foods is adequately taken care of. "Scientists call for a cautious case-by-case assessment of each product or process prior to its release in order to address legitimate safety concerns," she noted.
Moreover, the scientists have also dispelled rumours that "once Ghana starts producing genetically modified seeds, farmers will be forced to adopt that option." A Senior Advisor to the Ghana Program for Biosafety Systems (PBS), Prof. Walter Alhassan says, "farmers will soon have available the three main sources of seeds – the open pollinated variety, hybrid and the genetically modified seeds."
He explained that farmers will not be compelled to use only genetically modified seeds. "Farmers will not be obliged to stick to one, but will exercise their freedom to go for the option that they deem best for increased productivity…"
The expectation is that the findings of the report and the work of Ghanaian scientists working on biotechnology related areas will allay the concerns of people about GMOs.
Meanwhile, in Ghana genetically modified crops have not yet being released. But rather, the National Biosafety Authority (NBA) has given permits for field trials that are still on-going in Bt. Cowpea and NEWEST (Nitrogen use efficient, Water use efficient, and Salt tolerant) Rice.
By Ama Kudom-Agyemang, Accra