After four years of negotiations, Parties at COP21 in Paris on Saturday concluded the Ad Hoc Working Group on the Durban Platform for Enhanced Action (ADP) and arrived at a draft outcome for consideration and political negotiation by the Conference of Parties (COP). The mid-summit development has apparently set the pace for what looks like a constructive and decisive second week of the global conference.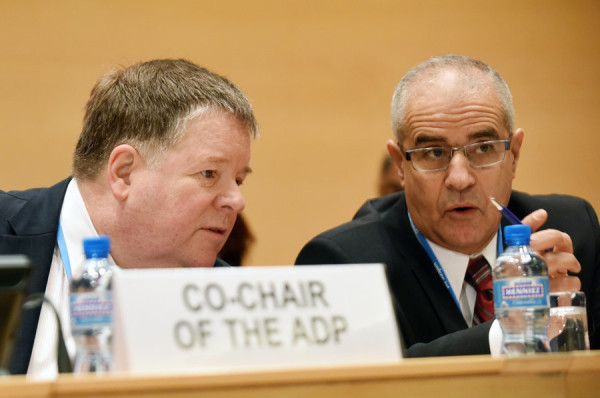 The French presidency now assumes the leadership of the 21st Conference of Parties which got underway on Saturday.
Over the past week, the draft agreement has been somewhat streamlined and features bridging proposals which will help ministers work through the political issues underlying the deal, providing them with common-ground options from which they can begin their talks.
Indeed, the text being handed to ministers still contains all options on the key issues at stake and so very little actual progress appears to have been made in terms of compromises and agreements on the contentious points. Nonetheless, progress has been made on loss and damage and many hurdles have been cleared to smooth coming negotiations.
The ADP text is available here: http://unfccc.int/files/bodies/awg/application/pdf/draft_paris_agreement_5dec15.pdf
Jennifer Morgan, Director of the Global Climate Programme at the World Resources Institute, said: "Negotiators have agreed on a new draft agreement which has clearer options and indicates more common ground. Though there is plenty of hard work ahead, the table is now set for ministers to get this done."
Nigel Topping, CEO of the We Mean Business Coalition which represents 335 global corporations and business groups with total revenue of $7.1 trillion: "As Ministers arrive in Paris to start the substantive negotiations on the Paris agreement we are optimistic that they can deliver the clean and unambiguous signal of climate ambition that business needs to start the low-carbon revolution in earnest. Nothing is agreed until everything is agreed, but an ambitious long-term goal with a five-year review on progress are in our sights. Now we need a review of progress every five years starting in 2020 and for the countries who are able to step up on mitigation and adaptation finance, with the developed world leading the charge. If governments set up the billions, business will unlock the trillions."
Srinivas Krishnaswamy, CEO of the Vasudha Foundtion: "India came to Paris with a constructive tone. Its leadership in forming a Global Solar Alliance demonstrated its assertiveness in framing the climate talks and was able to shine a light upon the future low carbon pathways that it will pursue. India's concerns on energy use are legitimate, yet, it has been able to engage on those issues in good faith, exploring how faster means of implementation can help support a faster transition to renewable energy and break its reliance on coal. Despite reports and some public comments, India has proven to be far more open and willing to compromise than it is being given credit for."
Richard Black, director of the Energy and Climate Intelligence Unit: "Negotiators have made a serious amount of progress this week, and we're close to where the French hosts wanted us to be at this point, with most of the technical details ironed out so that politicians can get cracking next week on the big issues. The situation couldn't be more different from Copenhagen six years ago, when delegations were more interested in grandstanding than graft. You can never predict these things with certainty and countries are some way apart on issues such as finance, but the chances of securing an agreement next weekend that will both constrain climate change and help poor countries prepare for inevitable impacts now look pretty good."
Laurence Tubiana, French Ambassador for the international climate negotiations: "We could have been better, we could have been worse, important is that we have a text that we want an agreement next week and all parties want it. The job is not done, we need to apply all intelligence, energy, willingness to compromise and all efforts to come to agreement. Nothing is decided until everything is decided."
Tony De Brum, Minister of Foreign Affairs, Marshall Islands: "It is much too easy and convenient for some to see this negotiation as a competition between short-term national interests.  Paris is much bigger than that.  The fact that we are seeing so many countries reach out beyond their traditional groupings to join our mission reflects this.   A favourite phrase in this negotiation is 'nationally determined'.  We are here to fight for what is 'globally necessary'."
Brandon Wu, ActionAid: "Finance is a core part of the UN climate framework and a key driver of the outcome. Without finance, there's no support for the poorest and most vulnerable. There's no just transition. There's no motivation for developing countries to make ambitious commitments. Outside of a few pledges, developed countries aren't coming forward to deliver plans, but we simply can't expect ambition without some assurance that there will be assistance.
"On differentiation, developed countries have made it very clear that the old two-tiered system will not work. Developing countries have made it very clear that a system in which every country is the same is inequitable and unacceptable. We need a third way, a middle ground, which would need to be developed with a clear set of language, and could be based around indicators on responsibility and capacity."
Sandeep Chamling Rai, WWF: "Countries agree that there should be a global goal for adaptation included in any new climate deal. What we want is that the goal should be linked to science – by ensuring that actions do not allow global temperatures to increase beyond 1.5 degrees Celsius. Already – at one-degree global temperature increase – we are seeing devastating impacts on vulnerable communities and ecosystems which is why countries are calling for strong decision on loss and damage. For many, this is a matter of survival."
Liz Gallagher, E3G: "What we saw yesterday was the spirit of the leaders come through. Over the past few days, we saw movement in the negotiating blocs, as different priorities emerged and the North-South dynamic has become more nuanced around most issues, except for finance, where that still is in play. Saudi Arabia is acting as a roadblock, while India is being a more constructive player in the talks. No doubt there will be drama over the next week or so, but there are landing zones visible. On the ratchet mechanism, as Facebook would say, it's complicated. This is the least mature area of the negotiations, since we're trying to do something fresh and new to create ambition in Paris. We know that the renewables revolution will proceed faster than we can imagine. We know extreme weather will become worse than we ever imagined. That's why we need to make sure review our pledges before 2020, and keep from locking ourselves out of ambitious action."
Martin Kaiser, Greenpeace: "At this point in Copenhagen we were dealing with a 300-page text and a pervasive sense of despair. In Paris we're down to a slim 21 pages and the atmosphere remains constructive. But that doesn't guarantee a decent deal. Right now the oil-producing nations and the fossil fuel industry will be plotting how to crash these talks when ministers arrive next week.
"The enemies of a decent deal know they have one week to kill words in the text that commit the world to 'full decarbonisation'. They know that would set us on a path towards 100% renewables by the middle of the century. Those regressive forces will fight instead for words that call for a 'low emission transformation', knowing that such a watered down phrase will do almost nothing to keep fossil fuels in the ground. There is a whole heap of work still to do here in Paris, but as things stand our report card reads: optimistic about the process, less so about the content."
But the Corporate Accountability International maintains that, after four years, the text outcome falls short on justice and ambition, pointing out that it falls short of adequately emphasising the historical responsibility of the Global North, provide justice for the Global South and catalyse a rapid transition away from dirty energy.
Tamar Lawrence-Samuel, Associate Research Director, Corporate Accountability International, said: "While the draft outcome released this morning for negotiation next week will likely be met with applause by Global North governments and their corporate board room backers, it fails to deliver meaningfully toward the systemic transition climate change requires. At the core of this failure are the obstinate negotiating positions of the US and other Global North governments who are bent on deregulating the global rules applying to them and advancing the financial needs of big business over the survival needs of people.
"And, despite the image of hope and action President Obama and other leaders painted on Monday, the chasm between rhetoric and action continues to grow. Whether it's finance or technology, loss and damage or differentiation, the positions reflected in this text are heavily biased towards the US, Japan, EU and other Global North countries, and the emissions-intensive industries they represent.
"The US position, for example, reflects the strong limits placed on US climate action by a Congress overrun by the unconstrained campaign spending of Koch Industries, Exxon Mobil and other big polluters. As a result, President Obama has said the United States can't accept a legally binding agreement and is failing to come forward with any new commitments on important issues like finance, technology and capacity.
"Rather than advancing the interests of polluters through a weaker climate policy regime this agreement must recognise the historical responsibility of the Global North, provide justice for the Global South and catalyze the rapid transition away from dirty energy. The primary obstacle to these and other policy imperatives is to insulate the policymaking process from the corrosive influence of big polluters, both here at the UNFCCC and at home in national governments. Only then will climate policy truly value people over profits."
George Smeeton, Head of Communications at the Energy & Climate Intelligence Unit, disclosed that OPEC countries like Saudi Arabia and Venezuela stood out for their extensive efforts to derail the process in the first week of the COP, including blocking the vital symbol of human rights and ambition in the agreement, the x1.5-degree goal, as well as throwing up roadblocks around the definition of terms such as decarbonisation, carbon neutrality, and zero carbon.
He adds: "Also, despite a week of big announcements on renewable from Bill Gates, India's Solar Alliance, Google and more, Saudi Arabia have also questioned 100% Renewables as being a "slogan" rather a means to achieving the objectives of the conference. However, those efforts were not successful and negotiations at ministerial levels are now well set to progress. It is important to remember that nothing is agreed until everything is agreed and nothing is yet locked in.
"The fact that all countries have made clear their key issues and that all countries are supporting the process as set out by French Foreign Minister Laurent Fabius is a good sign that the ministers can now get down to work. We will need to see some real leadership from the developed world and more leadership from China, which has been notable for its backseat position. Despite reports and some of its public comments, India has proven to be far more open and willing to compromise than it is being given credit for.
"On French presidency, there is broad agreement that France has laid a strong foundation for positive and constructive talks. French Foreign Minister Laurent Fabius has undertaken a major consultation process with all parties to ensure all countries have a stake in the process. Despite the usual wrangling of international negotiations making headlines, the talks are broadly going well and the spirit of 'we are all in this together'" is alive and well. Negotiations do need to take care to ensure they live up to the spirit of unity and ambition their leaders set out earlier in the week, but overall the talks are in a better place than may have been expected as we head into the final week of negotiations."