Thousands of people have been evacuated from their homes in York after flood gates protecting the historic city were deliberately opened by the Environment Agency – sending raging torrents through the streets.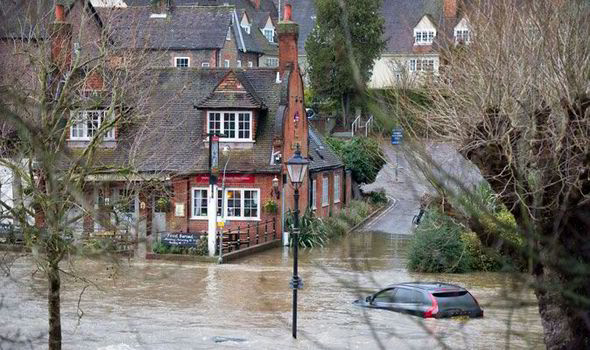 The authority took to the decision to open the Foss Barrier – a flood defence which protects the city – amid fears water had got inside the main building, putting pumps in danger of suffering electrical failure.
It was feared that if the electrics stopped working, the Environment Agency would not have been able to pump floodwater out of the town – potentially putting even more lives at risk.
There were also fears the flood barrier could have become stuck in the "down" position, which would have made it impossible to discharge excess water into the River Ouse.
The gates were lifted Saturday night prompting Army personnel and mountain rescue teams to evacuate thousands of people from their flood-hit homes, with up to 3,500 properties now at risk of further flooding.
While York is among one of the worst-hit areas in the latest wave of flooding to reach northern England, communities across Leeds, Greater Manchester, Cumbria and Lancashire are also suffering.
More than 7,500 homes in Greater Manchester and Lancashire were without power on Sunday, and some properties are expected to be without electricity until Monday. Engineers have restored power to around 14,500 homes in Rochdale alone, but almost 6,000 more remain without electricity.
Residents have now been asked to switch off their Christmas lights and not use household appliances to conserve power and help the network cope with the power demands.
While 40 generators have been sent out across the region and staff from Electricity North West work to repair damaged substations, around 300 homes have lost power in the last few hours due to demands on the network.
Mark Williamson, operations director for Electricity North West, said: "Our engineers have worked through the night and will continue to work today in extremely difficult conditions to restore power to the remaining 7,800 customers in Lancashire and Greater Manchester.
"We are asking our customers in Rochdale to reduce their energy use to prevent further power outages while our engineers repair the damage. Simple things like turning off your Christmas lights or not using your washing machine or dishwasher for a while would make a huge difference.
"We are doing everything we possibly can to access our substations, assess the damage caused by severe flooding and restore supplies.
"I'd like to thank customers for their understanding and their goodwill to our teams during what continues to be an enormously challenging time for everyone involved. We are immensely proud of the area and the people we serve in the way they have dealt with this incident."
The company on Sunday sent out food vans to provide hot food for customers who have been left without electricity, with vans due to visit Radcliffe, Padiham, Rochdale and Bury.