The Federal Ministry of Water Resources and its Health counterpart have signed a Memorandum of Understanding (MoU)  to improve access to Water, Sanitation and Hygiene (WASH) in all government-owned health Institutions in the country.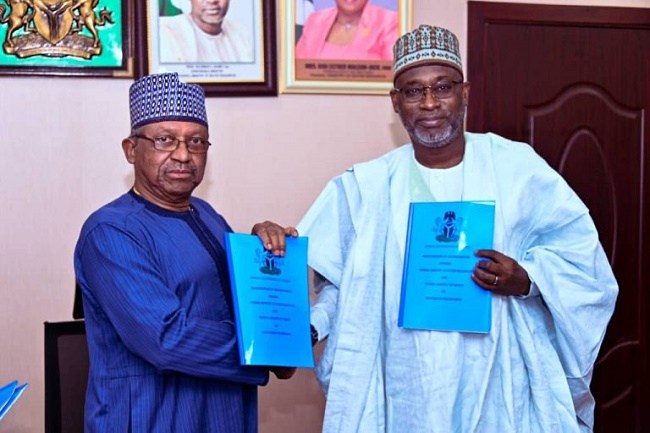 The MoU outlines specific responsibilities and roles for both ministries toward ending open defecation in the country.
The Minister of Water Resources, Alhaji Suleiman Adamu, stated this in a statement on Tuesday, March 14, 2023, in Abuja.
He said there was an urgent need to collectively change the ugly narrative of the growing mortality rate arising from Water, Sanitation, and Hygiene issues.
Quoting the 2017 WASH Diagnostic Report, he said this had triggered subsequent sectorial interventions to address the shortcomings.
He said the ministry had initiated some interventions, such as the development of the National Action Plan for the revitalisation of the WASH sector, Presidential declaration of State of Emergency on the sector, among others.
He expressed optimism that the initiative for collective engagement and collaboration between both ministries, when sustained, would improve access to WASH services in the country.
"The issues of Water, Sanitation and Hygiene (WASH) are crosscutting issues that impact on different sectors including the health, education and as well as economy, among others," he said.
He said that the Health WASH Programme was designed to identify the WASH needs and bridge the WASH service gap across all healthcare facilities, with focus on the Primary Health Care facilities.
The minister said the Federal Government was leading by example in the provision of adequate WASH services to its own managed health facilities.
"The Health WASH programme is expected to serve as a catalyst to spur investment in health care facilities leading to universal wash coverage in care centers.
"The MoU details the obligation of the parties, the frameworks for the programme coordination, delivery as well as financing, monitoring and evaluation, it is being bequeathed to the next Administration to sustain the progress done in the sector."
The Minister of Health, Dr Osagie Ehanire, said access to potable water would drastically reduce the unfortunate increasing mortality rate figures arising from poor hygiene services.
He said 60 per cent of infant deaths were attributed to diarrhoea and malaria, saying this was fueled by poor sanitation, poor quality of water and stagnant dirty water.
Ehanire noted that the Health WASH programme would put the country in a better ranking at the global scale, as well as provide potable water in the primary health care centres across the country.
"If a doctor was preparing for surgery on a patient and did not have enough water to even wash his hands, the surgery had already failed before its commencement."
He said the collaboration was apt as the challenges facing the health sector were interrelated with issues of WASH services.
The minister called for sustainable partnerships to improve the sector.
By Tosin Kolade