The military has promised to assist the Abuja Environmental Protection Board (AEPB) to enforce its laws aimed at promoting clean environment in the Federal Capital Territory.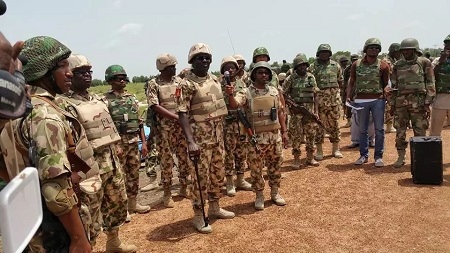 The Commanding Officer, 7 Guard Battalion, Abuja, Lt.-Col. Mukhtar Daroda, said this in a statement in Abuja on Tuesday, February 13, 2018.
Daroda made the promise in a statement by Muktar Ibrahim, Head, Public Relations and Outreach Unit of AEPB, and made available to the News Agency of Nigeria (NAN).
''On the issue of enforcement of its laws and problems being faced by the board in clearing illegal structures and preventing criminal activities, the military is ready to assist the board,'' Daroda said.
The commanding officer gave assurance that the military was determined to give its support to the board at all times whenever its services were required.
He noted that the board alone would not be able to tackle the environmental challenges in the FCT without the support of the security agencies.
''We will support the board to build on the existing relationship and ensure that waste management problem is tackled effectively in the military barracks and FCT suburbs as well.
''I feel so much concerned over the increasing problem of waste management in the barracks due to increasing population of between 800 and 1,000 households in the area.
''I am calling on AEPB to undertake an assessment of the prevailing situation in the barracks.
''Also, the board should give its advice accordingly on what to do to ensure a clean and safe environment for soldiers and their wards,'' he said.
Daroda, however, advised the board to notify the military when moving to volatile areas, so as to provide its officials the needed security for their operations.
He said the military escort was important to protect the staff of the board from hooligans who engage themselves in nefarious activities.
By Vivian Emoni