Achieving the goals of the Paris Climate Change Agreement and true sustainable development will take broad-based engagement, especially by the private sector to drive innovation and investment, participants at the opening of Latin American and Caribbean Carbon Forum in Mexico City have been told.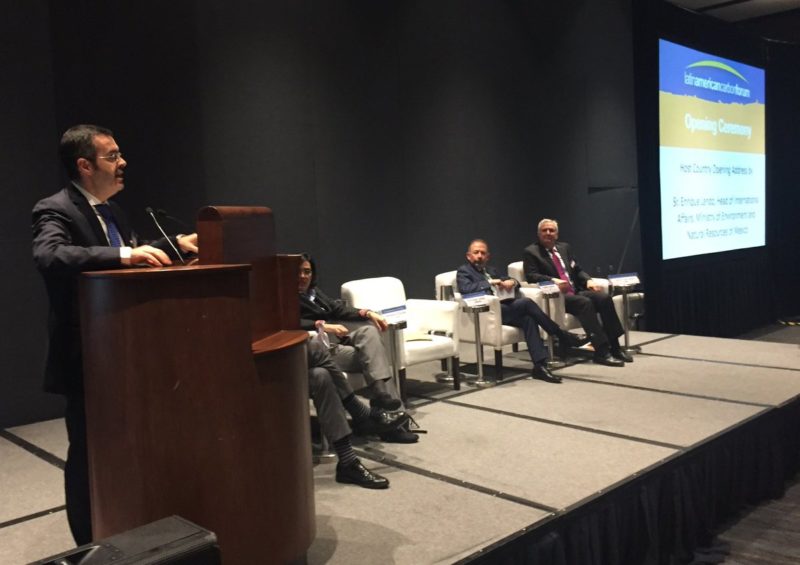 Mexico suffered a serious earthquake last month that resulted in terrible loss of life and destruction. Mexico and Mexico City nonetheless pushed through with LACCF 2017, which has brought together private and public sector participants looking for ways to spur climate action under the theme: "Advancing the Paris Agreement – From Targets to Actions".
"I think what has happened, and what is happening, underscores how vulnerable we are as human beings," said Enrique Lendo, Head of International Affairs, Secretariat of Environment and Natural Resources, Mexico, reflecting on the earthquake and the numerous destructive hurricanes that have occurred in recent months. "They are a sign we need to renew our efforts, and strengthen our efforts," said Mr. Lendo, citing innovative policy choices, such as carbon pricing and market-based instruments to drive investment in climate action, before officially opening LACCF 2017.
Countries in 2016 adopted the Paris Climate Change Agreement aimed at keeping global temperature rise to below 2oC, through concerted climate action in all sectors. Meeting the goal will take a great deal of investment and resources; thus, strong engagement by the private sector and a broad range of non-state actors, including the most vulnerable.
"Adopting urgent measures to combat climate change requires [one] to listen closely and attentively to all voices; to the private sector, industry, academia, civil society, indigenous peoples, since it is all of us who live the consequences of climate change," said Antonio Molpeceres, UN Resident Coordinator in Mexico. "It is necessary that we all take part in these discussions, so that we are all actors in the creation and materialisation of a true paradigm change that will lead us to a sustainable human development path."
This is the eleventh annual LACCF and the second time the event is being held back-to-back with the workshop of the Low Emission Development Strategies (LEDS) – LAC platform, creating the largest climate event in the region: The 2017 Latin America and Caribbean Climate Week.
Events like LACCF are important venues not just for inspiring greater climate action but to express views that can make their way into international negotiations. Last year when they met in Morocco, countries established the Marrakech Partnership for Global Climate Action to encourage and coordinate this broad engagement.
The objective is to "turn countries' Nationally Determined Contributions under the Paris Agreement into concrete investment plans," said Veronica Zavala, Country Representative, Inter-American Development Bank. She cited the need to "decarbonise our energy sector, which accounts for 40 percent of emissions in the region," and pointed to the ample solar, wind and ocean power available in Latin American and the Caribbean.
"Isolated endeavors cannot contribute radically to stabilise economies and mitigate the effects of climate change," said Emilio Uquillas, Representative-director in Bolivia for the Latin American Development Bank. Mr. Uquillas stressed that the effects of climate change will be felt "as usual by the most vulnerable sectors of society" and called for "a scaling up of efforts."
The bulk of that scaling up will be done through investment by the business community, which is "managing enormous risk" from climate change and from its investments in climate action, said Dirk Forrister, Chief Executive Officer and President of the International Emissions Trading Association. "The business community if also looking around the corner to opportunity."
The inclusive approach called for in the Paris Agreement will be carried forward when countries meet in Bonn, Germany, next month for the UN Climate Change Conference, COP23, under the United Nations Framework Convention on Climate Change, whose Executive Secretary, Patricia Espinosa, is Mexico's former Minister of Foreign Affairs, from 2006 to 2012. Ms. Espinosa is attending an important preparatory meeting in Fiji, which will preside over COP23.
"For countries to achieve their commitments under the Paris Agreement, the private sector and public sector must work together to mobilize investment where it's needed," said Ms. Espinosa on behalf of the 10 co-organisers of LACCF 2017 in advance of the event.  "Therefore, regional events like LACCF are taking on an increasingly important role linking investment to investment-worthy opportunities for climate action."
Market approaches and carbon pricing are important means of incentivising climate action, such as was created by the Clean Development Mechanism (CDM) under the UNFCCC's Kyoto Protocol. Participants in LACCF are keen to understand how carbon pricing mechanisms will evolve and inform implementation of such approaches under the Paris Agreement. Mexico, for example has placed a moderate carbon tax on eight fuels. The country is considering how those obligated under the carbon tax could pay using saleable Certified Emissions Reductions created by CDM projects, everything from wind power projects to projects that reduce or avoid industrial emissions. More generally, countries in the LAC region, including Chile and Colombia, have been leaders in the development of carbon pricing mechanisms and are actively working to build multi-country engagement models. Key takeaways from the High-Level Commission on Carbon Prices were also discussed.
The report's conclusions – that countries should pursue carbon pricing now, as an essential element of a multi-faceted strategy – resonated strongly with government representatives participating in the panel discussions. Industry participants in the Forum noted that a strong and predictable carbon price trajectory, as called for in the Commission's report, would help provide the stability the private sector needs to move investment into long-term, climate-friendly projects, dramatically increasing the total amount of resources available to address climate change.
LACCF 2017 comprises high-level plenaries – including an address by former Mexican President Felipe Calderón scheduled for Friday, 20 October – workshops and roundtables to share the latest on: climate finance, carbon pricing, sectoral climate action and data and information for transparency. It brings together key players from the private and public sectors – cooperating agencies, potential investors, project developers, service providers – to share the latest on climate change action. It is a space where climate aspirations turn into climate action.
LACCF is co-organised by: Secretariat of Environment and Natural Resources, Mexico; United Nations Framework Convention on Climate Change; UNEP DTU Partnership; United Nations Development Programme; World Bank Group; Development Bank of Latin America; Inter-American Development Bank; Latin American Energy Organisation; United Nations Environment Programme; and International Emissions Trading Association.