The Medical Women Association of Nigeria (MWAN), Kwara State Chapter, on Friday, May 28, 2021 called on government at all tiers to make available free sanitary pads to girls and women in Nigeria.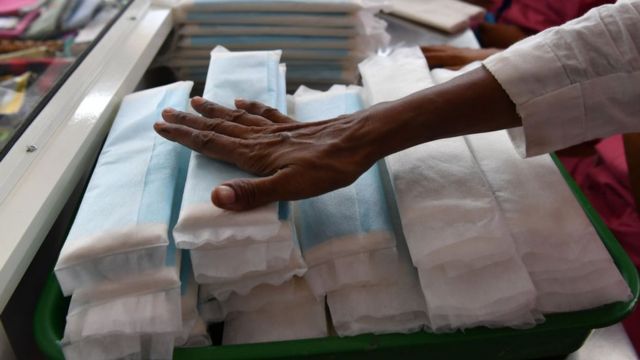 Dr Mosunmola Folorunso, the President of MWAN, made the appeal this at the Queen Elizabeth Secondary School at the occasion marking the Menstrual Hygiene Day (MH Day).
The MH Day is a global advocacy platform that brings together the voices and actions of non-profits, government agencies, individuals, the private sector, and the media, to promote good Menstrual Health and Hygiene (MHH) for all women and girls.
Folorunso said that the day was to educate school girls on menstruation and hygiene, and that there was also need for privacy for the female gender.
She lamented that if men were getting condoms free, then women too should have sanitary pads for free, moreso, as they are costly and out of reach of many girls and women across the country.
"If the government will help women to ensure sanitary pads are made free or subsidised so that it can be within the reach of girls and women, it can increase their hygiene, wellbeing and health," she said.
Folorunso described menstruation as a normal occurrence in female aged from nine or 16 years, adding that it was not normal for a girl of 18 not to have menses.
"People who have late menstruation may be due to some factors, including congenital, Amenorrhea," she said.
The MWAN president advised the students not to indulge in sexual activity till they are married, saying that getting pregnant can destroy their future, and expose them to stigmatisation.
Folorunso also told the girls that if somebody is diabetic, the blood may have too much sugar, advised them to seek medical help, if this happens.
She also advised the girls to seek medical intervention, if they experience any strange black colour, and foul odour, adding that it is not normal.
The expert said that menstrual sanitary pads should be properly disposed of or burnt or disposed in pit latrine.
"Avoid trashing sanitary pad anyhow and imbibe the need for extra clean. At least bathe twice and be conscious of yourself. Change menstrual pads at least three times," she said.
Dr Oluwayemisi Adegboye, the Secretary of MWAN, noted that the stigma, myths and taboos are attached to menstruation.
According to her, poverty is hindering girls and women from being hygienic during their menstruation.
She advocated end to poverty, hardship and stigma on menses, while urging people to donate towards free sanitary pads for women in the country.
Adgboye also said that the girls were educated against infections and indiscriminate disposal of sanitary pads in the environment, which is rampant in the society.
Hajia Mariam Yusuf, a Director in the state Ministry of Women Affairs and Social Development, advised the students to be hygienic always, adding that it is normal for girls to menstruate and must be clean to avoid infection.
She also urged the students to dispose their sanitary towels appropriately.
In her reaction, Mrs Sidikat Lawal, the Principal of Queen Elizabeth Secondary School, Ilorin, said the sensitisation was timely about menstruation and personal hygiene.
She reminded the school girls that even though menstrual cycle was being taught in primary science, it was still important that the medical experts educated them on the topic.
Lawal also advised the students to abstain from sexual intercourse and face their studies squarely.
Highlight of the event included distribution of sanitary pads to the students in the school.
By Fatima Mohammed-Lawal