Massive animal translocation is taking place in Northern Uganda as hundreds of nomadic pastoralists comply with a presidential decree evicting them from the region.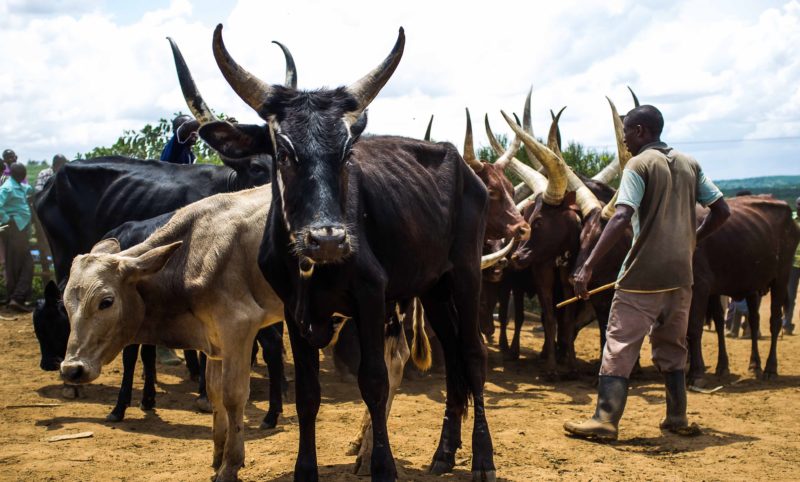 On October 20, 2017, Uganda's President, Yoweri Museveni, directed the Ministry of Agriculture, Animal Industry and Fisheries to evict the nomads from northern Uganda for, among others, interfering with food security of the people of northern Uganda. The President also wrote that the nomads threaten the peace of the north and the economy by practicing obsolete farming methods. He tasked the Ministry of Agriculture, Animal Industry and Fisheries to introduce the nomads to sedentary forms of agriculture, paddocking and coffee growing.
The presidential decree followed repeated calls for eviction by host communities who accused the nomads of grazing their livestock in their subsistence farms after failing to fence off their hired pieces of land. Other accusations include sexual harassment of women, engaging in illegal charcoal business, theft of animals and illegal possession of firearms as well as land grabbing.
At least 20 trucks laden with cows belonging to the Balaalo leave the region for Central and South Western Uganda where the pastoralists initially lived with their animals since the Ministry of Agriculture started implementing the decree on March 22. The decree affects more than 40,000 herds of cattle in the hands of more than 30 groups of nomads estimated to number some 15,000 people.
Edward Kamgaene, a pastoralist herding 200 cows in a rented area of Amuru district, says government is not being fair to them by asking them to leave the north of the country within just few days.
"Government has been shifting the goal post all along. Initially, we were told to fence our grazing land and stay. But, today, we are being told to process movement permits, vaccinate our animals and leave. This is totally a different thing we were told to do earlier. How can this be possible within a short time we have been given?" Kamagaene said with anger in his face.
Kamgaene says his livelihoods depend on pastoralism in which he fattens animals before selling them to abattoirs in Kampala, the nation's capital. He is worried that he will not be able to fend for his family without practicing pastoralism.
Kamagaene is one of the thousands of nomads who fled acute shortage of pastures and water in 2016 from South Western Uganda migrating up north to fatten his livestock in vast open savannah grassland inhabited by the Acholi and Lango ethnic groups. He says he is stuck with his livestock after learning that his home district is under quarantine due to Foot and Mouth disease.
"I have 100 cows in Nwoya district which I should move to Kyankwanzi district via the districts of Nakasongola and Nakaseke and yet these districts are under quarantine for Foot and Mouth disease. How can I go to these districts to pick movement permits without infecting my animals? How can I take my animals where there is a running quarantine?" Festus Shaka Mutabazi, a pastoralist from Nwoya district stated furiously.
Fred Munyeragwe borrowed a loan of 70 million Shillings for establishing his livestock project. He fattens his animal before selling them for money. He is so worried that he will lose his business alongside the land in Kiboga district he used as security to secure a bank loan if evicted from Northern Uganda.
"The government wants to make us poor. You tell us to work and feed our families. Again you come to disrupt our livelihoods. The pasture back in my home district is still dry and we need an average of two months if we are to relocate back. We don't need to be pushed as if we are at war with the local community. We are not. Tell those government leaders to give us two more months to prepare ourselves and we move to where we are coming from," he pleaded with government.
Majority of the pastoralists, locally known as the Balaalo, come from the Ankole Cattle Keepers of South Western Uganda. According to President Museveni, some of them were expelled from Tanzania and Rwanda for practicing nomadism.
They started migrating with their animals on trucks in the dead of night without proper animal movement permits from their districts in 2009 to fatten their livestock on leased pieces of land in the north where vast uncultivated land, abundant fresh water streams and adequate green nutritious pasture exist. By 2016, their numbers had increased to more than 25,000 pastoralists with more than 40,000 herds of cattle.
Speaking with the nomads in Gulu (the Northern Uganda region's biggest business hub) one week ahead of the eviction deadline, Vincent Ssempijja, the Minister of Agriculture, Animal Industry and Fisheries, said government would like to end nomadism in Uganda due to increase in human population. He warned that government would not hesitate to use force against the pastoralists who would not comply with the presidential directive to leave the region.
Ssempijja says: "There is looming insecurity between the pastoralists and other people who do not want peace. We have decided here that we abide by the directive of the president to get the nomads out of this area. So we are giving it up to March 22 and everybody should have moved the cows from the northern part of this country."
The eviction delayed three consecutive times to allow the pastoralists vaccinate their livestock against Foot and Mouth disease. The agriculture minister says the vaccination exercise suffered multiple delays due to shortage of vaccine.
"Initially, we could not vaccinate all the livestock we projected after we received only half of the consignment of vaccines we ordered for. Fortunately, the other half has reached the country and we are hopeful that it will be adequate to vaccinate all the remaining animals within the shortest possible time. In fairness, everybody must accept to stop nomadism. It has caused a lot of problems in South Western Uganda. Animal diseases are so rampant," he stated one week to the commencement of the eviction.
In Gulu district, some 1,000 out of estimated 5,000 cows were vaccinated while in Amuru district, only 5,000 out of estimated 14,000 animals got vaccinated.
Patrick Okello Oryema, the Nwoya district chairperson where the nomads first settled, says on average, seven large lorries laden with cattle belonging to the pastoralists continue to leave his district daily for Central and South Western Uganda.
Dr. Charles Obalim, Gulu district veterinary officer, says many of the Balaalo shunned the vaccination programme saying government wants to harm their livestock.
"We initially targeted cattle belonging to the Balaalo pastoralists without those of their host communities. This was not well received by the pastoralists but we are telling them that cattle belonging to host communities were just recently vaccinated against Foot and Mouth disease. And I would like to reiterate that the vaccines are completely safe."
Courtesy: PAMACC News Agency