Having escaped Boko Haram, IDPs now face the threat of rain as destructive storms swamp settlement camps
Eight years ago, Mohammed Lawan fled his home in the village of Dara Jamal, in northeastern Nigeria. The Boko Haram insurgency had ravaged his community, and Lawan could hear the distant sounds of gunfire and explosions as he and his family trudged through dense foliage in search of refuge.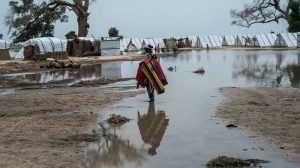 Since 2018, Lawan, his three wives, and their eight children have occupied two shelters at the Government Senior Science Secondary School camp, a sprawling settlement in Bama town, Borno State. The camp was designed to provide shelter for 25,000 internally displaced people. Today, the camp's manager estimates that more than 100,000 people – most of them women and children – live there, often in simple shelters roofed with galvanized iron or tarps.
Having escaped Boko Haram, the militant group that has long terrorised the region, Lawan and his neighbours now face the threat of rain. The camp is built in a lowland area on low-infiltration soil, meaning it has trouble soaking up water, and the combination makes it particularly vulnerable to floods. Year after year, destructive rainfalls – fuelled by a warming climate – swamp the camp, leaving Lawan to wonder if his homes will be the next ones to be devastated.
Nigeria has about 3.2 million internally displaced persons, or IDPs, around half of which live in Borno State. The 14-year-long conflict with Boko Haram has forced many people to seek refuge in camps, which are often established quickly and with little planning.
Often stuck in inappropriate shelters, in camps situated in flood zones, IDPs are at the frontlines of flood risk. But experts and advocates say government planners have done little to address increasing climate vulnerability. Now, researchers are attempting to evaluate the susceptibility of IDP camps to the threat of flooding – and to understand how climate change may exacerbate the situation in the future.
In 2021, Taiwo Ogunwumi, then a flood risk consultant and environmental risk researcher at the United Nations University Institute for Environment and Human Security, set out to map the precise flood hazards faced by the more than 48,000 IDPs living in camps in Maiduguri, the capital of Borno State.
Now a flood researcher and advisor for Deltares, a Netherlands-based research institute, Ogunwumi had worked closely with IDPs while collecting data for a humanitarian organisation. "We realised that they kept having floods over the years," he said.
In his quest to prevent future floods, Ogunwumi and his collaborators used geographic information systems, or GIS – a technology that analyses and displays data spatially – and employed a technique called Multiple Criteria Analysis. MCA allows researchers to examine multiple variables at once, making it well-suited to studying the complexity of flood susceptibility. In Borno State, Ogunwumi's team considered various factors that affect flooding, such as the amount of rainfall in a year; land use type; elevation; and ground slope.
Their study, which is available as a preprint while it undergoes peer review, found that about 73 percent of camp sites in the study area – home to 35,647 IDPs at the time – had a high or very high risk of floods.
Jay Doorga, a lecturer at the University of Mascareignes, in Mauritius, uses GIS regularly in his work on renewable energy and climate change. Doorga, who was not involved with Ogunwumi's study, believes the research is important, particularly "given the underlying social and climate vulnerabilities of these groups of people," he wrote in an email to Undark.
Ogunwumi argues that this is precisely the kind of data that government agencies should take into account when locating IDP camps, in order to reduce guesswork and avoid flooding. But it's not clear to what extent the government agencies responsible for the camps – the State Emergency Management Agency, or SEMA, and the National Emergency Management Agency, or NEMA, of Nigeria – have taken flood risk into account so far.
"It is a failure on the part of the government," said Adaku Echendu, who studies environmental sustainability, disaster risk, and climate impacts as a Ph.D. student at Queen's University in Canada. "These are people who are facing trauma, and then you site a camp in an area prone to flooding," she said. "There are things that should have been done before you site a camp."
Ya Bawa Kolo, director-general of the Borno SEMA, told Undark that assessing flood risk is not always possible given the need to set up camps quickly. "You cannot even think on whether it is flood-prone area," she said. "At that time, we are just trying to respond so that people have shelter."
Following the 2022 floods, Kolo said that the Borno SEMA is more prepared to provide flood relief and continues educating communities in areas with high flood risk. And, she noted, SEMA is now designing camps to allow water to flow more freely, rather than stagnating.
NEMA did not respond to multiple requests for comment.
When heavy rains fall at the camp where Lawan and his family live, Helen Yohanna, the camp manager, jumps into action. "The first thing that we will do immediately after the rain is to go for an assessment to find out how many shelters are inside the water. How many families affected? How many individuals affected?" she said. Often, Yohanna, who works for the U.N.'s International Organisation for Migration, or IOM, will collaborate with partner organisations to cover gaps that Nigerian government agencies are unable to meet.
Sometimes IDPs need sandbags to reinforce shelters, or machines to pump out excess water. Other times, replacing damaged household supplies becomes a priority. Those interventions take time, though – anywhere from days to months. Some IDPs have to temporarily reside with family members in unaffected shelters inside the camp.
"Ideally, it is supposed to be the role of either the State Emergency Agency or National Emergency Agency," said Yohana. "But of course, we know the nature of our country, even the ones that are not internally displaced still have some challenges and gaps."
In Benue State, southwest of Borno, it's a similar story. "One of the ways they managed the flooding was they used stones or blocks of sticks or planks," said Terna Paise Agba, a researcher at the Federal University of Kashere. Agba, who spent almost two years studying the experiences of IDPs at a pair of camps in Benue, said that "during the rainy season, when the rain poured heavily, it formed some kind of waterlog, which made movement within the camps very difficult."
Flooding was particularly bad in 2022, especially after major rainfalls in October. According to NEMA, severe floods affected over 4.4 million people in Nigeria that year, displacing more than 2.4 million people and killing over 660. While the impact hit millions of people, IDPs were among the worst affected. Six camps housing nearly 16,000 IDPs in Borno state alone were destroyed by flooding, according to IOM.
In an October 2022 statement, the acting chief of mission for IOM Nigeria, Prestage Murima, detailed the dire situation for IDPs during the period of intense rainfall. "If adequate actions are not taken now," Murima said, "the well-being of IDPs will be gravely impacted."
Internally displaced people are not significant contributors to climate change. Yet they are at the vulnerable forefront of a series of climate-related changes that research indicates will impact agriculture and infrastructure across Nigeria.
In 2021, the Intergovernmental Panel on Climate Change published its Sixth Assessment Report, drawing together data from thousands of studies that aim to assess the warming of the climate and map and model its effect on every part of the globe. The IPCC found that West Africa, like many regions of the world, is getting warmer. The increased temperatures can translate into heavier precipitation: When bodies of water grow warmer, more water evaporates into the atmosphere. That moisture-laden air then leads to heavier rainstorms and higher flood risk.
According to the IPCC report, that phenomenon has likely played out in West Africa. In addition to the rise in greenhouse gases globally, other factors, such as aerosol emissions from the Northern Hemisphere, are influencing warming trends in West Africa. The report warns that the region will almost certainly see a continued increase in heavy rainfall, which could lead to worse flooding. What is uncertain, however, is the total amount of rain that will fall each year. The average yearly rainfall could go down, even while the intensity of storms increases.
The major 2022 floods seem to illustrate the IPCC's warnings. According to the World Weather Attribution initiative, an international research collaboration, the rains that engulfed Nigeria and nearby countries last year, killing hundreds, were made 80 times more likely by climate change. Friederike Otto, the climatologist at Imperial College London who led the analysis, told the Associated Press that the region will continue to see intense rains in the coming years.
"At the moment, climate change is a threat multiplier, particularly in this 21st century, and the unfortunate part of it is that the government is not actually making it a priority," said Morufu Olalekan Raimi, an environmental health researcher at Niger Delta University who works with multiple organisations focused on climate change and human health. "I tell people climate change is not just about weather. It affects our social life. It affects our physical environment. It affects every sphere of our society."
For IDPs displaced by war, those effects may be felt more immediately, and with greater consequences. A 2018 study examined the effects of flooding on displaced people, which included compromised nutrition, unsanitary living conditions, restricted access to healthcare, family separation, overcrowding, psychological trauma, and disrupted education for children.
Raimi has spent years petitioning government agencies for climate action. "What I've come to understand is we are dealing with politicians," he said. If an issue isn't sellable or visible to the people, politicians "don't buy into it because their mindset is that in the next four years they are out of the office, or eight years at most."
"I don't think we are actually going anywhere when it comes to the issue of climate change, particularly with the attitude of our government," Raimi added.
Experts and advocates have called for a mix of both short-term and long-term strategies. Some, such as Ogunwumi, want better planning when situating new camps. Doorga, the lecturer at the University of Mascareignes, recommends creating "flood refugee camps," which would be open to both IDPs and the general public in case of heavy rain. But, he wrote in an email, such a plan "needs to be backed by improved weather forecasting systems and appropriate evacuation management plans prior to the occurrence of a major flood event."
Other experts have called for architectural innovations. One 2021 proposal calls for a camp constructed of "amphibious structures" that would be built on land but could float during a flood. Ogunwumi, meanwhile, recommends simple raised structures, among other adaptive measures.
For now, Lawan and his neighbours are stranded in a flood zone, waiting for the next rainfall. Lawan reported their situation to the authorities in October. "Still," he said, "we never see anything."
By Temidayo Abass, a Nigerian freelance writer and physician. Her writing focuses on health, climate change, gender issues, and the environment
Originally published by Undark at https://undark.org/2023/05/04/mapping-flood-risk-for-nigerias-internally-displaced-people/