The Manufacturers Association of Nigeria (MAN) and the United Nations Industrial Development Organisation (UNIDO) have formed a partnership to drive the implementation of Industrial Energy Efficiency (IEE) and Resource Efficiency and Cleaner Production (RECP).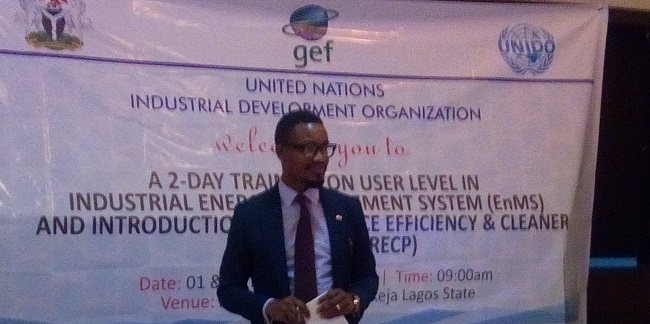 The partnership was brokered at a workshop in Lagos on Tuesday, July 6, 2021 themed: "Improving Nigeria's Industrial Energy Performance and Resource Efficient Cleaner Production through Programmatic Approaches and the Promotion of Innovation in Clean Technology Solutions (NGN IEE-RECP Project)" .
Mr Oluyomi Banjo, UNIDO Regional Director, said the move was aimed at addressing issues of energy consumption, environmental degradation and resource depletion in emerging economies while improving environmental action plan.
Banjo said it was also to facilitate responsible production in the manufacturing sector to achieve the key indicators of Sustainable Development Goal (SDG 12) which sought to increase capacity of sustainable consumption and production patterns.
He said the implementation of the project would significantly lower the cost of production and increase Nigerian capacity for cleaner production while ensuring the need for beneficial energy optimisation to address pollution issues in the manufacturing sector.
"Energy consumption takes huge chunk on the profitability of the company.
"This project would help industries adopt better methods to utilise energy resources for environmental performance protection on human health and the ecosystem.
"It would also provide biodiversity for companies to control waste and improve resource efficiency in the entire lifecycle of production," he said.
Similarly, Mr Segun Ajayi-Kadir, Director-General, MAN, noted the need to leverage on the opportunities available to improve efficiency and also reduce the cost of electricity consumption, particularly, the cost of electricity concern.
Ajayi-Kadir, represented by Mr Oluwasegun Osidipe, Director, Research and Advocacy Services, explained that the uniqueness of the project did not lie on energy efficiency alone.
He urged MAN members and the Organised Private Sector (OPS), Lagos Chamber of Commerce and Industry (LCCI), and Nigerian Association of Small Scale Industrialists (NASSI) to take advantage of the implementation of the global environment facility project to maximally achieve their objectives.
Also, Mr Tunji Bello, Lagos State Commissioner for Environment and Water Resources, said industrial emission had been found to be the second source of air pollution in Lagos.
Bello, represented by Mr Michael Bankole, Environmental Manager in the ministry, said the pollution was particularly in concentration of industries in the commercial zones of Apapa, Ikeja, Idumota and Odogunyan areas.
He said the development had led to increase in air pollution and poor quality of air in the state.
Bello noted that the highest emitting sectors were stationary energy emission from energy used in manufacturing, industry and residential buildings which accounted for 55 per cent of the total emissions in Lagos.
"As we scale up industrialisation to meet the demands for goods and services in the state, environmental sustainability should not be neglected as technology will improve energy efficiency in the long run to reduce Greenhouse Gas (GHG) emission.
"This will set the state on a pathway of emission neutrality to promote Industrial Energy Efficiency (IEE) and Resource Efficiency and Cleaner Production to promote inclusion," he said.