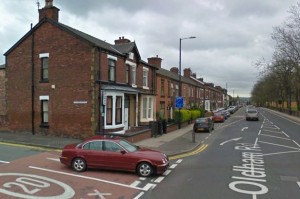 A man was found bleeding in the street after being stabbed repeatedly early this morning.
The 23-year-old was taken to hospital following the attack, on Oldham Road in Ashton-Under-Lyne, at around 5am on Friday.
He had suffered multiple stab wounds to the leg, and separate head and chest injuries, police said.
Officers believe he was attacked by a group of men near the junction of Cranbourne Road, north of Ashton town centre, in the early hours.
A spokesman for the North West Ambulance Service confirmed that three teams – an ambulance crew, rapid response vehicle and separate paramedics – were sent to Oldham Road at 5.01am.
They found a man in his 20s with stab wounds to his legs and other chest and head injuries. The man was taken to the Manchester Royal Infirmary by ambulance. Hospital staff were notified in advance that the victim was on his way.
It is not yet known how seriously he was injured.