Ahead of the expected presidential flag-off of the Great Green Wall project in 11 frontline states in northern Nigeria, Environment Minister, Laurentia Laraba Mallam, has directed the active and full involvement of the Department of Forestry in the Federal Ministry of Environment in the implementation of the Great Green Wall project without delay.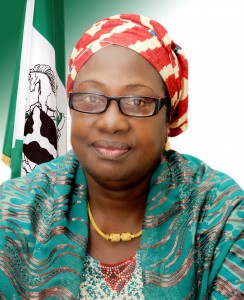 She has asked the three Directors of Forestry to speedily come up with strategies to fast-rack the implementation of the project in what could be described as the "Mallam Plan" for the Great Green Wall project, akin to the "Mashall plan" of the United States that found expression after World War II.
Giving the directive recently in Utako, Abuja, when she visited the department, the minister said the content of the Great Green Wall project is 90% afforestation in nature and wondered why the department will not be involved, especially given the huge manpower resources available in the department that can easily be deployed to complement what the Project Implementation Unit (PIU) of the Great Green Wall in the ministry is doing.
While giving the Marching Order to the directors of the department, the minister left no one in doubt as to her resolve to achieve significant and unforgettable millage in the implementation of the GGW project in order to give practicable effect to President Goodluck Jonathan's Transformation Agenda for the sector.
In an address, Director of Forest Management, Simon Adedoyin, listed the achievements of the department to include:
Establishment of Forest Remote Sensing/GIS Facility, which was commissioned on 7th March, 2013;
Establishment of National Forest Information System (www.nfis.org.ng);
Harvested 3,092 Metric tons of invasive aquatic weeds through the use of 45 Water Weeds Community Committees (WWCC) in 25 states in 2011;
Facilitated the passage of the National Biosafety Bill passed by National Assembly on 1st June, 2011 which is currently being reviewed by the National Assembly;
Implementation of the 1st Phase of the Presidential Initiative on Afforestation (PIA), for economic and environmental sustainability;
Achieved REDD+ Readiness for Nigeria which enables the country to attract international funding for the conservation of natural forest for climate change mitigation and support community livelihoods;
Assisted State Forestry Services in the development of management plans for selected Forest Reserves and Wetlands, e.g. Amboi/Baissa Forest Reserve in Taraba State, Omo Forest Reserve in Ogun State, Oguta Lake in Imo State, Lower Niger – Upper Kaduna Wetland in Kwara State.
Adedoyi however drew the minister's attention to some of the challenges of the department, which he enumerated to include:
Paltry budgetary allocation to the department since 2010 till date (less than 0.05% of the Ministry's envelope);
Capacity gap arising from non-recruitment of technical cadres;
Obsolete forest sector statistics;
Dilapidated field offices and nursery sites;
The Forestry Department, by this ministerial directive, is expected to fully get involved in the GGW project to fast-rack its implementation.