Malawi was not the only country that suffered devastating climate change effects this year. So to say, from last year. The Lower Shire, southern tip of the country, suffers annual flooding and often droughts, but the year 2015 has been so different and a big mark in the lives of many people – affected directly and indirectly.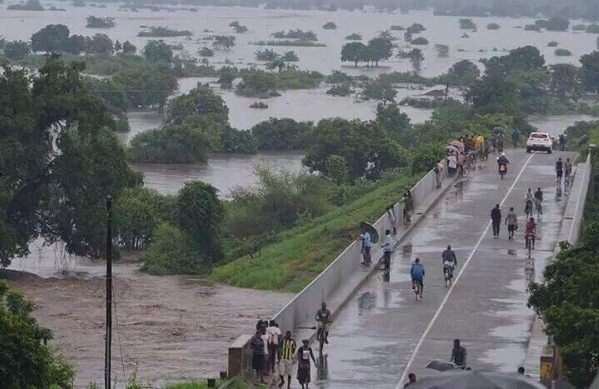 Natural disasters have just been some technical explanation by officials at the Department of Disaster, an arm of the government dealing with all that man-kind has inflicted upon the self through careless care of God's creation.
The youth of Malawi, drawn from across all districts, have not been spared, and it is not a DoDMA sanctified arena any more. The suffering that floods brought onto the people have brought with it a renewed fight and thinking to preserve Mother Earth. If not preserve, well, at least to control and probably abate the actions that lead to mass destruction of life, property and hope.
The year 2010/11 Malawian youth in the faith community were part and parcel of the Pan-African Climate Justice Caravan driving from Nairobi in Kenya to South Africa, Durban, where world leaders met at the 17
th
UNFCCC Conference of Parties (COP). They undertook the journey across some 5,000 kilometres by road, sleeping in tents and observing the beauty that nature should be, alongside appreciating the damage that mankind has brought on the environment.
This year around, Malawi's youth are engaging in various activities, from participating in the Pan-African Regional Cycling Caravan from Maputo in Mozambique to Nairobi, to planting and adopting trees within the country, and collecting signed petitions that along with those from participating countries and elsewhere, will add to numbers in pressing for a fair, legally binding deal come COP21 in France this December.
Already, the We Have Faith platform in Malawi will be engaging in climate justice concerts, the pre-launch in Blantyre and the main concert at the capital city, Lilongwe. Dignitaries from government, faith mother bodies, donor partners, and youth groups, among others will be in participation.
Speeches, musical performances, cultural shows, and motivation talks from Climate Justice Ambassadors led by Father George Buleya, who is the National Ambassador. Branded messages under the country banner of
'Chilengedwe – Tsogolo Lathu, Ufulu Wathu'
(Environment – Our Future, Our Right) will buttress the regional 'ACT Now for Climate Justice' cry adopted by the caravan spearheaded by the We Have Faith and ACT Alliance.
The youth, supported by faith leaders under the banners of the Malawi Council of Churches (MCC) who are the official We Have Faith platform coordinators in Malawi,
Episcopal Conference of Malawi (ECM), Evangelical Association of Malawi (EAM), Quadria Muslim Association of Malawi (QMAM), Muslim Association of Malawi (MAM), and the Baha'i Faith, the Seventh Day, will also participate in the climax concert in Kenya and some will proceed to Paris, France, where they will bring the Malawian youth voice to the world leaders after attending the Conference of Youth (COY).
Vigils, prayers, peaceful protests against continued global warming at the hands of large economies, and the Conference of the People (COP) take place at strategic places in Paris, joined by youth and faith leaders and civil society players.
The objective of the regional activity is to have a bigger and stronger African voice reaching world leaders in demanding for a change to their approach on climate issues, African being the biggest victim of rising temperatures that must be brought down to at least 1.5 degrees. Malawi media, cyclists, religious leaders and corporate world are expected to play a bigger role in the advocacy campaign that regionally will involve nine countries and cycle for 90 days across an approximate 6,000 kilometres journey.
And should nothing happen, Malawi will continue to lose entire villages to floods, families especially women and children to droughts, and property to storms and other naturally induced climate phenomenon.
Over 1 million climate justice ambassadors are expected to be created in the campaign that further engages Mozambique, South Africa, Botswana, Zimbabwe, Zambia, Tanzania, Kenya, Uganda and Angola.
By M'theto Lungu (We Have Faith ACT NOW Campaign Coordinator, Malawi)