Residents of Makoko, an informal fishing community located across the Third Mainland Bridge on the coast of mainland Lagos in Yaba Local Government Area, have called on the government not to displace them from their place of abode.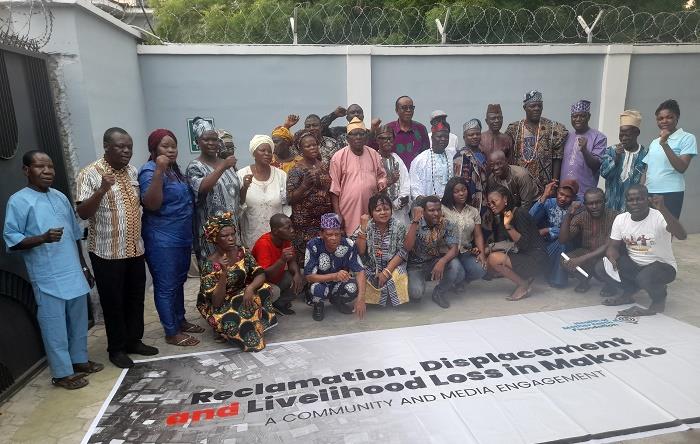 Some leaders of the community, who made the appeal on Friday, March 3, 2023, in Lagos during an interactive session with the media, said the displacement would deprive them of their livelihood and lifestyle.
At the "Media Advocacy and Community Conversation with Makoko People" held at the instance of the Health of Mother Earth Foundation (HOMEF), a civil society organisation, the Makoko representatives spoke against the backdrop of on-going reclamation of parts the lagoon and waterfronts in the community, which they feel could ultimately lead to their displacement.
The Makoko people who are predominantly fishers have lived peacefully for more than a century, using the proceeds from fishing to cater for their families and provide shelters, some on stilts and others on land. They claim that their survival is tied to the dynamics of their immediate environment.
"We are appealing to the Lagos State Government to stop their plans to reclaim the place so that our community and our business will continue to thrive, chiefly because of Makoko's importance as a source of seafood to Lagosians and neighbouring communities," said one of the leaders.
He expressed fears that partial or complete reclamation would cause environmental damage.
His words: "I arrived Makoko in 1963. I had all my kids in Makoko. We are all fish farmers. We are not fighting the government. But we are disturbed by feelers reaching us that the state government wants to fill up the Makoko, displace us and build a housing estate on the site.
"If the plan is to reclaim only the coastline, those at Makoko and hinterland community of Iwaya and Yaba will be affected by flood when it rains because inland waters won't be able to flow down into the Lagoon."
Leader of the Makoko delegation, Apostle Akintimehin Adewale, said the hardship and pains that government's frequent invasions of their communities have caused cannot be captured in words.
"I am going to be 82 years old soon. I have seen a whole lot. And the government has not been humane to us. Something must give this time," he said.
Samuel Adebanwo, a 50-year-old man, who claimed to live at Ebute-Meta, Ori-Oke flank of Makoko, said: "We have not been met or invited to discussion with the government. What we have been seeing in recent times is the continuous dredging of the lagoon, which has now raised the sea level and led to surge, flooding our homes and blocking the drainages."
A fisherman by classification, Adebanwo said the ongoing dredging has affected their economic lives, as it is now difficult to make good catches.
"It is very simple, if there is dredging activities going on close to a waterfront community, the ripple effects are numerous for the inhabitants. One of them is the loss of economic livelihood because we would not be able to catch fish anymore. And that is a big concern for us," Adebanwo said.
Mrs Titilayo Akintimehin, a 59-year-old woman, said she was born at Makoko, and it was very fascinating "witnessing the construction of the 3rd Mainland Bridge "between Oko Brick to Odo-Ibule."
A trader, she said since the reclamation started, sales have been difficult.
"As a trader, I rely on patronage from our people. But the frequent displacement of our people has ruined my business. We need help," she said.
"It is sad that it is only during the election that the government will remember us because of our voting population. Because we are very many and we do vote for them very well."
Nnimno Bassey, Director, HOMEF, said that the greatest injustice government can do it's people is to take away their fundamental right to shelter, adding that even if development necessitates the takeover of the area, it was statutory for government to dialogue with the people, with relocation and compensation plans.
He condemned the land reclamation project, which he said is without recourse to legal frameworks such as the statutory Environmental Impact Assessment (EIA), which mandates a dialogue between the host community and the government.
Bassey lamented that Nigerian cities are growing without a master plan guiding their growth, "so people are just building where they can, making them informal settlements."
He added: "It is a matter of some people utilising the political and economic power to deprive those who are really keeping the economy going. By the reclamation, they are filling up the wetlands and, in a place like Lagos, once you cover up wetlands, you're exposing the city to the problem of flooding.
"Makoko is an example of how to build resilient community, to build a community that shows how to survive climate change. The floating buildings take cognisance of the fact that sea level is rising. But concretising of the waterways and lagoon front will create serious problems as time goes on.
"Makoko is a big economic hub in Lagos and government should be supporting its growth. In the light of its unique nature, government should build a fish port there. There isn't a single fish port in Nigeria, even though it exists in neighbouring countries, where you have shops, processing and storage facilities for the fish, nets, hooks, boats, boat engines, etc. And it also becomes a tourist centre. These are things that can be done for Lagos to take its place as truly a megacity."
Betty Abah, Executive Director of CEE-HOPE, said the Lagos State Government has violated the fundamental human rights of women and young girls on rights to life and shelter.
She said that, because of pasts evictions, many who have ran elsewhere for safety and stability, have found themselves in further hardships and abuses.
"Even if the government would be relying on its Land Use Act, the law also prescribes compliance to the EIA for any project or takeover for that matter.
"And this, necessarily, gives way for dialogue with the host communities on whatever they want to do, and agreement on relocation and compensation. But it is sad that the government has been breaking its own law with impunity," Abah said.