Local research and enforcement of environmental laws are crucial in curbing plastic pollution, according to environmental experts.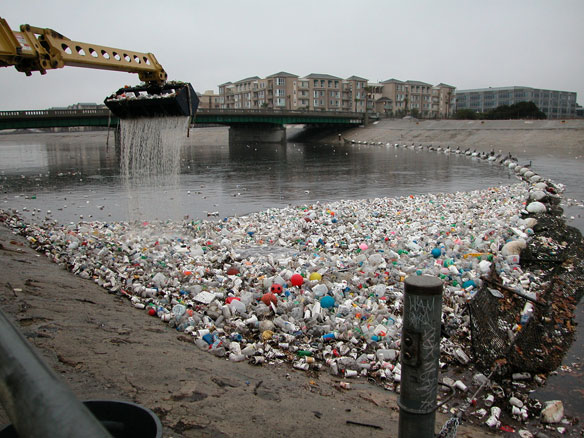 The experts, who spoke with the News Agency of Nigeria (NAN) in separate interviews on Tuesday, June 19, 2018 in Lagos, advocated for an integrated approach to addressing plastic pollution.
Mrs Kofo Adeleke, Programmes Director at Community Conservation & Development Initiatives (CCDI), an NGO, suggested a selective ban of plastic in the country as well as indigenous research on the alternative use of plastics.
"Dealing with plastic pollution requires an integrated approach; but as the situation becomes critical, we have to talk about the reduction. We also have to ban some types of plastics.
"We need a lot of research and development. We can apply what is being done in other countries but if we do not do our own homegrown research into how plastic pollution can be curbed, we will never get there.
"I do not think we really have proper research and to do proper research requires financial commitment. If the government will not be committed to the research, we will just keep advocating without results."
Adeleke, however, insisted on the enforcement of environmental laws and regulations to further mitigate plastic pollution in the country.
"If there are environmental laws and they are not being enforced, then the people who created the law should start get together and ask themselves why they are not enforcing it.
"It is time for government officials to be bold enough to address the enforcement of these environmental laws in order to tackle plastic pollution in the country," she added.
On her part, Mrs Ebere Akwuebu, the Programme Manager, Environmental Law Research Institute (ELRI), advocated for the enforcement of global laws to curb plastic pollution in Nigeria.
"There are global laws against plastic pollution and there has been a UN resolution on marine pollution globally.
"In 2011, the Federal Ministry of Environment came out with a set of regulations, one of which is the Extended Producer Liability regulation which stipulates that a producer of a product is responsible for managing the product from cradle to grave.
"These laws exist; they are more of physical laws but the question is are they being obeyed? Is there compliance? That is an area we need to address.
"Our environmental laws need to be refined in such a way that they achieve compliance and a balanced socio-economic benefit for the country," Akwuebu said.
By Mercy Okhiade