Current climate policies will leave more than a fifth of humanity exposed to dangerously hot temperatures by 2100, new research suggests.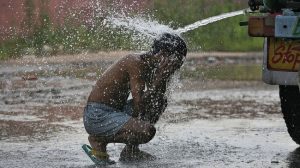 Despite the Paris Agreement pledge to keep global warming well below 2°C (compared to pre-industrial levels), current policies are projected to result in 2.7°C warming by the end of the century.
The new study, led by researchers at the Global Systems Institute, University of Exeter, associated with the Earth Commission, and Nanjing University, assessed what this would mean for the number of people living outside the "climate niche" in which our species has thrived.
The report finds about 60 million people are already exposed to dangerous heat (average temperature of 29°C or higher). And two billion – 22% of the projected end-of-century population – would be exposed to this at 2.7°C of global warming.
The paper highlights the "huge potential" for decisive climate policy to limit the human costs and inequities of climate change.
Limiting warming to 1.5°C would leave 5% exposed – saving a sixth of humanity from dangerous heat compared to 2.7°C of warming.
The study also finds that the lifetime emissions of 3.5 average global citizens today – or just 1.2 US citizens – expose one future person to dangerous heat. This highlights the inequity of climate crisis, as these future heat-exposed people will live in places where emissions today are around half of the global average.
In "worst-case scenarios" of 3.6°C or even 4.4°C global warming, half of the world's population could be left outside the climate niche, posing what the researchers call an "existential risk".
Professor Tim Lenton, director of the Global Systems Institute at the University of Exeter, said: "The costs of global warming are often expressed in financial terms, but our study highlights the phenomenal human cost of failing to tackle the climate emergency."
"For every 0.1°C of warming above present levels, about 140 million more people will be exposed to dangerous heat. This reveals both the scale of the problem and the importance of decisive action to reduce carbon emissions."
Read the full report here.