With support from the World Bank in the form of a $95 million Rwanda Urban Development project, the new Rwanda Economic Update focuses on the rapid pace of urbanisation. The report focuses on a correlation between job creation and a better connectivity to transport and access, as well as a need to increase the country's urban dividend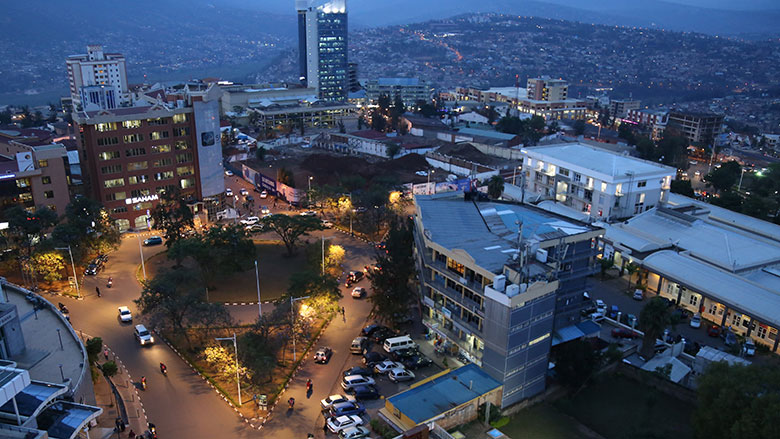 "I came to Kigali about five years ago," says 35-year-old Hassan Mudenge, a construction site assistant, "to look for a job and other opportunities. I can say I am now financially stable. I pay my rent regularly and send some money home to help my parents. And I am saving to build myself house in the village."
His is the story of many young Rwandans who leave their homes in the country's rural areas to seek work in fast-growing urban areas, especially in and around the capital city, Kigali.
Greater urbanisation is explicit in Rwanda's plans for becoming a middle-income country by 2020. The World Bank is supporting the government's urbanisation strategy with a $95 million Rwanda Urban Development Project that aims to provide basic infrastructure and services to six secondary cities around the country – Muhanga (formerly Gitarama), Rubavu (Gisenyi), Nyagatare, Huye (Butare), Rusizi (Cyangugu), and Musanze (Ruhengeri) – and to Kigali City, which makes up the core of the greater Kigali area.
The Bank's new Rwanda Economic Update focuses on the rapid pace of urbanisation as its special topic: Rethinking Urbanisation in Rwanda: From Demographic Transition to Economic Transformation.
The report finds the urban share of Rwanda's total population (now about 12 million) has increased far faster than official records suggest because the definitions of urban areas need streamlining. A 2012 census and 2014 household survey calculated the urban share of the population at 16.5 and 17.3 percent respectively.
However, using another, simple definition of urban, the report's researchers found that the level of urbanisation had increased far more – from 15.8 percent to 26.5 percent between 2002 and 2015, an increase of 132 percent or almost two million people.
In other words, says the report, large scale urbanisation has already taken place in Rwanda.
Urbanisation and jobs
Despite rapid urbanisation, a dual migration pattern of internal migration is emerging: a move toward density in search of work, with districts of Kigali city attracting many migrants between 2011 and 2014 (29 percent of them). And a parallel move away from density in search of land, with a high share of migrants (33 percent) flocking to Rwanda's less populated Eastern Province.
The Rubavu (Gisenyi) area on the border of the Democratic Republic of the Congo (DRC) is the only urban area other than Kigali that has significant appeal for internal migrants, as part of the busy transport corridor that runs from the DRC through Rwanda to the border with Uganda just north of Musanze.
Links between urban population density and non-farm job creation are particularly strong in Greater Kigali and the cores of the six secondary cities, the report says. Within 20 km of Kigali, and within 5 km of secondary cities, a 10 percent increase in density is associated with higher non-farm employment.
The estimated effect of urban population density on poverty reduction is similarly strong, with a 10 percent increase in density associated with a six percent drop in the rate of moderate poverty within a 5km radius of a secondary city in Rwanda.
Capitalising on demographic shift
As Rwanda draws up its long-term economic strategy for reaching high-income status (by 2050), how can it increase its urban dividend even more?
Effective public policy could provide an enabling environment for investment, says the report, rather than deciding where investments should be located. And towns and cities could be managed as part of a separate portfolio, with special support given to Kigali as the lead economy and recognition for the distinctive roles other cities play in the national economic geography as well.
Increasing economic (and not just population) density is also critical, particularly where opportunities for connecting urban peripheries to surrounding rural areas remain untapped. So far, urban expansion has followed a pattern of low density settlement.
"We need to work on the factors that attract people to towns to achieve this type of urbanisation and transform our cities into settlements," says James Musoni, Rwanda's Minister of Infrastructure. "We must be able to identify sites for settlement and source the funds we need to support that."
And, while Kigali's rapid expansion could be managed with more urban planning, the report says investment in other cities should focus on improving basic services.
"Urbanisation not only involves a demographic transition but, more importantly, facilitates socio-economic transformation," says Narae Choi, World Bank Urban Development Specialist. "It is time to rethink the urbanisation strategy to leverage its potential for economic growth and the improvement of welfare."