Urban planner and erstwhile Secretary, National Housing Policy Council, Yacoob Abiodun, examines the recent decoration of the Ondo State governor, Olusegun Mimiko, by the United Nations Human Settlements Programme (UN-Habitat)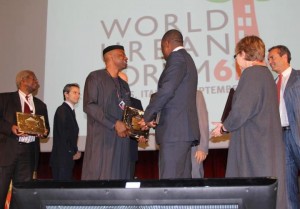 At the 6th Session of World Urban Forum held in Naples, Italy from September 1-7, 2012, which had in attendance over 5,000 participants from 114 countries around the world, the incumbent Governor of Ondo State, Dr, Olusegun Mimiko, was bestowed with the coveted UN 2012 Habitat Scroll of Honour Award among four  other recipients who were chosen from Brazil, Cameroon, China and Zimbabwe.
According to the UN-Habitat press release posted on its website, UN-Habitat Scroll of Honour Award "is the most prestigious award by the United Nations in recognition of work carried out in the field of human settlements." The award is meant to appreciate and honour individual's initiative or institutional programme/project, which impacts positively on the living conditions of urban dwellers through the overall improvement in the totality of their milieu, health, housing and economic welfare.
Since the award was introduced by the UN-Habitat in 1989, very few individuals and institutions have won the Habitat Scroll of Honour Award, China being a record holder of the award having won it 20 times, followed by the United States of America 13 times and United Kingdom 12 times. The first Nigerian to win the coveted UN Award in 1998 was Professor Akin Mabogunje, an erudite international scholar. He won the award mainly in recognition of his intellectual works in areas of research, consultancy and classic books he authored on human settlements and environment. In a book produced by the Cities Alliance (a UN-Habitat affiliate) titled Foundation for Urban Development: Legacy of Akin Mabogunje , to mark his 75th birthday in 2006, the literary icon was described  as " a scholar and practitioner….renowned for translating his theoretical visions into actionable steps and policy interventions, which are useful in political as well as academic circle."
It took another 14 years before another Nigerian, Dr. Olusegun Mimiko, incumbent Governor of Ondo State, to win the UN prestigious award after a competitive selection process by an international jury of human development experts.
Governor Mimiko's selection as a recipient of the global award was premised on his relentless leadership drive to drastically reduced urban poverty in Ondo State through the initiation and successful implementation of a gamut of urban renewal programmes/projects ranging from low income housing, provision of urban basic services, economic empowerment, redevelopment of decrepit traditional markets, rejuvenation of the urban economy, revival of the comatose agricultural farm settlements, improved intra and inter-city transportation, skill acquisitions for the teeming unemployed youths, physical planning, environmental sanitation, city-wide infrastructure development to urban aesthetics and a host of other tangible projects that dotted major cities in Ondo State such as Ondo, Owo, Okitipupa, Ikare and Ore.
The implementation and coordination of the state-wide urban renewal programmes is on the plank of Governor Mimiko-led administration's development initiative aptly code named "A Caring Heart."
It is a truism that majority of Nigerian cities are plagued with numerous challenges, which overtime have become more complex and daunting due to official neglect, lack of commitment from the leadership and the political will to effectively deal with the challenges. Chief among these challenges are uncontrolled urban growth, internal migration, slum proliferation, unwholesome sanitation, rising crime wave, ineffective institutional arrangement for urban management, lack of social safety net, nebulous physical development, weak internally-generated revenue mechanism and lack of urban basic services such as water, electricity, security, health and transportation. For all these enumerated problems to be solved in one fell swoop would be a herculean task, if not an impossibility. However, where there is a political will on the part of the leadership and solidly complemented by the willingness of the citizenry to participate in the development process, fortunes of cities can be turned around for the public good.
It is on this score that Governor Mimiko has the right mindset and a clear understanding of the important role of cities as engine of growth in the overall socio-economic development; and how they could be made to key into his developmental vision for Ondo State when he assumed office as Governor in 2009.
This was evident in his pronouncement ab initio that, "our cities must be redeveloped and upgraded to support our social and economic transformation" (my emphasis). Governor Mimiko went beyond rhetoric by making use of the professional services of experts to facilitate the realisation of his lofty dream to transform Ondo State to an Eldorado for working and  living. He appointed a US-trained urban planner by name of Olad Oyewumi whose wit, acumen and technical understanding of contemporary urban issues and challenges are extensive, as his Special Assistant on Urban Renewal. Oyewumi brought his depth of experience of over two decades working as the Co-ordinator of  World Bank-Assisted Community-Based Upgrading and the Infrastructure Development Fund (IDF), to bear in the course of all the various urban renewal programme, undertaken in Ondo State from inception to implementation stage.
With an assemblage of other allied professionals, a blue print on Urban Renewal Strategies and Capitalization of Land Resources was produced by the team. The document, in clarity and brevity, stated the goal and objectives of the State's urban renewal programme, strategies and methodologies to accomplish the goal and enumerated a seven-point guiding principles of the entire urban renewal programme in accord with the principles enunciated in the vision and mission statements of Ondo State Government of which commitment to good governance (my emphasis) is a numero uno priority of the Administration.
It is from the concepts of community development strategies contained in the brochure that formed the basis for the programme initiation and project execution arising therefrom fully backed by Governor Mimiko with generous budgetary allocation from his Administration.
The corollary of the valiant effort and the leadership drive provided by Governor Mimiko to transform towns and cities in Ondo State( by making them conducive for working, living, relaxation and economically viable)  coupled with an all-inclusive/ participatory approach adopted in the course of programme implementation gave rise to the establishment of a world class Medical Village with a state-of-the-art medical equipment, skills acquisition centres, Abiye Hospitals, Auto Mart, extensive development of urban road network, Mega schools, ICT centres, provision of open markets, lock shops, micro credit scheme, improved system of  waste collection, modernised motor parks, provision of potable water and the inculcation of maintenance culture ( for the projects) among  the various stakeholders/ beneficiaries in order to ensure sustainability.
The lessons to be drawn from the Ondo State experience for its world-acclaimed urban renewal programme and indeed Governor Mimiko's recognition by the United Nations for the award of the prestigious Habitat Scroll of Honour are worthy of elaboration in this piece so that other government functionaries could emulate such outstanding accomplishment for the benefit of the citizenry.
The first lesson is that those saddled with governance should see the opportunity as a privilege (not a right) to serve the people and in the totality of how to better their lives by providing essential services in accord with the wishes of the governed, not acting in a master-servant relationship. Governor Mimiko demonstrated this essential ingredient of good governance to the hilt. He made his administration's cardinal objective to be people-centered, by constantly caring for the needs of the citizenry.
Secondly, he has a clear understanding of what urbanization (a process of living in the city) is all about. That the process cannot be stopped because people have the illusion that cities are gold mines of several opportunities. Hence, they see city living as the salvation of their economic adversities. Therefore, government cannot put a wedge against where people migrate to or choose to live. On the contrary too, cities are not drain pipes on the municipal budget, but could be transformed into money spinners, if well planned and managed as evident in the success stories of world cities such as New York, London, Tokyo, Paris, Toronto, Beijing and Dubai.
Thirdly, it is equally true that, cities are like living organisms. They could die if not nurtured with innovation and periodically revitalised through an all-embracing urban renewal programme. And for optimum performance, cities should be placed on a strong footing of efficient institutional arrangement for their administration and governance, by engaging the expertise of diverse professionals such as urban planners, engineers, administrators, social scientists, financial analysts, transportation planners and accountants all of whom will drive the developmental process under a leadership who is receptive to ideas and exemplary in his/her conduct.
Governor Mimiko understood the importance of the three facts stated above and adopted them as the lodestar to run his administration in Ondo State, most especially in the implementation of his urban renewal programme, which earned him global recognition and a United Nations award. The icing on the cake for the governor is the proper documentation of all he was able to accomplish under the urban renewal programme by producing two well written monographs for public consumption and global dissemination. The documentation is for posterity and a reference material on best practice, which is worthy of emulation in a country like Nigeria where information on any subject matter is usually scanty, outdated, controvertible or misleading.