This piece was necessitated by outcome of the recently held roundtable in Nairobi, Kenya titled: "COP 21 and Beyond – Government, Business and Civil Society Partnership". CISME made a presentation and actively participated.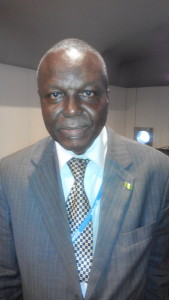 CISME emphasised its mission in connection with climate change "to raise issues on climate action, create awareness, promote education, develop capacity, promote public-private partnership, citizens involvement, entrepreneurial development, research, support sustainable and climate resilient development, sharing experience and collaboration."
The event raised a number of issues which we believe could be useful in addressing the implications of the new Climate Agreement and the investment train to the low carbon economy. l t also helped in the continuous dialogue of checklist for Africa interest.
It is evident that there is great interest globally to address climate science climate information, technology, finance and energy access. There is urgent call for Africa including Nigeria to maximise energy options, be energy efficient and work with developed countries and development institutions on the basis of addressing challenges that will be in the interest of the people. This will help in ensuring the efficient channel of climate financing to projects that will benefit the greater number of people.
Phillippe Desfosses, CEO of the French Etabisement de Retraite de la Fonction publiqu (ERAFP), saw a changing climate when it comes to the French public pension funds investment policy. Desfosses said that ERAFP will be "experimenting with decarbonising its investments of 21 billion Euros ($23 billion)." The Fund announced late in 2014 that it was working with the French Asset Manager Amundi to design a 750 million Euros for low carbon portfolio. This is an important point bearing in mind that the French government recently put in place a substantial amount towards African development and COP 21 is taking place in Paris, France.
Christiana Figueres, Executive Secretary of the UNFCCC, said recently that "there has never been so much mobilisation of the private and finance sector to show that not only must we address the climate change but must remember the future generations."
In her presentation at the World Affairs Council of Northern California USA, Ms. Figueres said that "the demand for energy is high and we need to ask ourselves what we are going to do to provide the necessary infrastructure for the growing world population." She went on to say that, in moving forward, innovation, technology, education, human capital development, education and awareness creation are useful mechanisms for addressing the challenges of climate change.
It is now a common term in Sustainable Development circle that "Right now business as usual is risk" because if by December 2015 a global agreement is reached, the implications will be striking us in the face. The private sector needs to get itself prepared because the agreement would ensure that not only public financing for climate friendly projects around the world will be involved, the ramp-up of government mechanism like co-investing and de-risking to encourage the private sector to get involved will be a great challenge.
COP 21 will be an avenue for the private sector, civil society organisations and governments to get the impact of the negotiation agreement.
The country specific commitment to emission reduction as contained in the various countries' INDCs will serve as an "investment prospectus" that gives us an indication of how countries are going to decarbonise their economy, scale up renewables, increase energy efficiency, transition to carbon energy green jobs and other issues.
The global investment portfolios will be moving towards supporting climate-friendly growth, ensuring efficiency and cost reductions. The United Nations Systems such as the World Bank, UNICEF, UNDP, UNIDO and others are keying into this process of low carbon and climate resilient development.
As we prepare for COP 21 we humbly suggest that there is need to consider how we can as a nation and people benefit from the outcome – for example the Green Climate Fund, Technology Centres and other infrastructure. We must look at how we can empower, and educate our people towards the path of sustainable growth and development.
Nigeria must take leadership role in promoting and creating the enabling environment for inflow of investment, ensuring that we get the benefit of various financing, technology, knowledge and other tools that can go a long way in the unlocking of opportunities in low carbon and climate resilient projects that can lead to creating jobs for growth and development.
We see the need to explore how we can use all available assets at our disposal to mobilise all of our people to understand that the future we see in front of us demands a proper understanding of Nigeria as a member of the global world that sees the efficiency of all resources as a collective responsibility.
By Prince Lekan Fadina (Executive Director, Centre for Investment, Sustainable Development, Management and Environment (CISME). (He is a member of the Nigeria Negotiation Team, Africa Group of Negotiators and member, AGN Finance Co-ordination Committee). Website: www.cismenigeria.com. Email: cismevision@gmail.com. Twitter: @cismevision