The Federal Government of Nigeria has been asked to declare Shikira, a small rural mining community in Rafi Local Government Area of Niger State, a national emergency zone.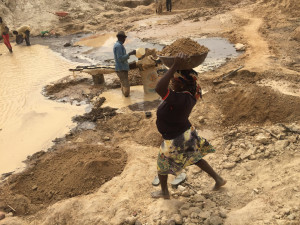 The Abuja-based non-governmental organisation (NGO), Connected Development (CODE), made the call in a statement released on Tuesday, urging the trio of President Muhammadu Buhari, Senate President Bukola Saraki and House of Representatives Speaker Yakubu Dogara to declare the state of emergency in order to address the lead outbreak epidemic that recorded 65 cases in May, 2015 due to negligence.
CODE officials say the call to save Shikira is to reinforce the assessment plan released by the Response Planning Development Committee on Outbreak of Lead Poisoning in Niger State established in May, 2015.
Chief Executive of CODE, Hamzat Lawal, was quoted in the statement thus: "It is sad to note that nothing meaningful has been done about the crisis since the submission of the Committee's report which stated that N500 million should as a matter of urgently be approved to clean-up the community contaminated by lead poison due to improper mining activities which had claimed the lives of 28 children, mostly those below five years of age. Laboratory testing confirmed high levels of lead in the blood of the over hundreds of surviving children, livestock and water reserves.
"To CODE, this kind of attitude is even more worrisome and shocking as the outbreak left other children with many anomalies such as fever, pallor, abdominal pain, vomiting, convulsion, altered level of consciousness and nervous breakdown. If nothing is done urgently, these children would be deformed for life.
"Dear Mr. President, Senate President and Mr. Speaker, this situation may look bad when assessed outwardly but, inwardly, there are sustainable solutions. It may interest you to know that Médecins Sans Frontières (Doctors Without Borders – MSF) are presently on ground to provide free medical services: Chelation therapy, but are arm-twisted because they need government to first clean-up the contaminated areas for them to intervene.
"President Buhari, please approve the needed intervention funds from the Ecological Funds Office for urgent remediation to help save Shikira. Senate President Saraki and Rt. Hon. Yakubu Dogara, we urge you to urgently debate lead poison on the floor of the Senate and the House respectively, to help save Shikira by declaring this a national emergency and compel the Executive arm to speedily approve and release the needed funds for intervention while you ensure oversight for speedy implementations.
"It is important to note that the raining season is almost here and might contaminate neighbouring communities and villages surrounding Rafi LGA putting more children at risk and degrading our environment at large. We strongly blame this onslaught on human lives on administrative recklessness and lack of 'will' by institutions and political actors to tackle the plights of the citizenry in local communities.
"As part of our contributions to address the crisis, we will host a stakeholders' dialogue in the state which will bring together participants from ministries, departments and agencies (MDAs) at the state and federal levels such as Environment, Health, Mines and Solid Minerals, Nigeria Centre for Disease Control, CSOs & CBOs, development partners as well as locals in the community.
"Also, our Follow The Money Team is keen in ensuring transparency and accountability in tracking and visualising funds released for this local community as we have done in the case of Bagega, where we successfully tracked over N850 million that helped saved the lives of 1,500 children in Zamfara State.
"Lastly, are using this medium to call on the Federal Government to review the 2007 Mining Act to reflect present realities in the sector as it affects local communities and artisanal miners. Government should also consider sanctions for culprits responsible for this menace to avert similar occurrence elsewhere in the country."