"Alarm bells are ringing; I hope everyone is hearing them," said Mr Sonam P. Wangdi following the release of the latest IPCC's Working Group 1 report AR6 Climate Change 2021: The Physical Science basis on Monday, August 9, 2021.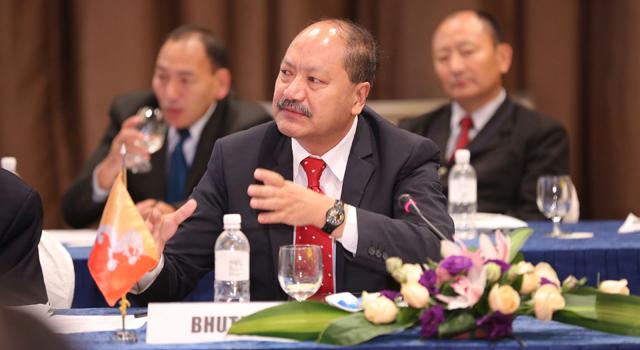 Mr Wangdi, the chair of the group of the 46 least developed countries (LDCs), went on: "This report comes as yet another stark warning. The science is even clearer: global greenhouse gas emissions continue to rise, the climate crisis is worsening, and the impacts will be devastating. The report shows that the 1.5°C goal is still within reach, but we must act now – all together – to urgently limit warming and prepare our communities for the impacts to come.
"The report has alarming facts on all fronts – the last four decades have been successively warmer, global surface temperature and mean sea level has increased, and global glaciers are retreating fast. This confirms that the current global efforts to address climate change do not reflect the scale of the crisis we are facing. The IPCC report findings reinforces the urgency to step up and take action – with more ambitious NDCs, long-term decarbonisation plans and more climate finance –  well before the doors open at COP26 in three months.
"We need to see developed countries and large emitters take the lead and slash emissions, and we need the assurance that this will happen urgently. More ambitious NDCs that close the emissions gap must be submitted by COP26. G20 countries have made this commitment, now they must deliver. Resubmitting the same NDC is not enough – we clearly need stronger emissions reduction targets for 2030. We really are running out of time.
"Ensuring global warming does not exceed 1.5°C is critical to the lives and livelihoods of our people. We are already experiencing the devastating impacts of the climate crisis. In the last few weeks alone the world has seen unprecedented and lethal heatwaves and floods. These will only get worse – more intense and more frequent – as emissions continue to rise."
Coupled with domestic action to cut emissions, support needs to be provided to developing countries who are disproportionately impacted by climate change.
Mr Wangdi said: "Climate change is hurting our countries and communities worst. It's already late but by COP26, developed countries must deliver their decade-old commitment to provide $100bn annually and keep on increasing it as per the needs of countries facing climate impacts."