Prof. Peter Nwilo, former Surveyor-General of the Federation, on Thursday, March 1, 2018 urged the member states of Lake Chad Basin Commission (LCBC) to ensure security at the Lake Chad region.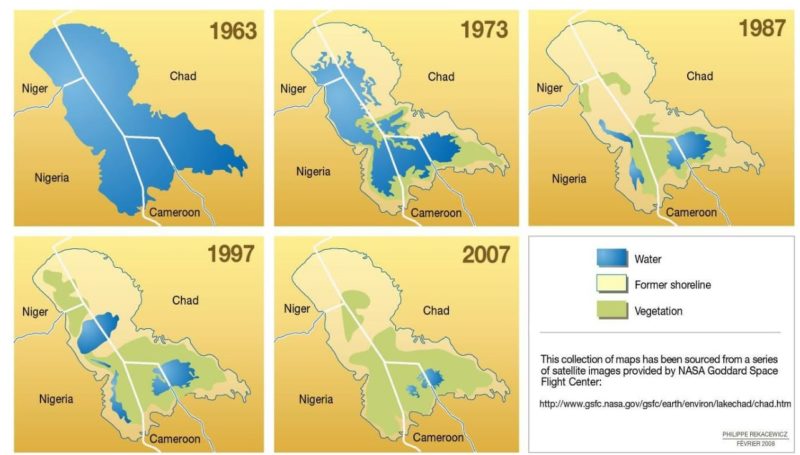 Nwilo gave this advice in an interview with the News Agency of Nigeria (NAN) in Lagos.
According to him, the current situation of insecurity and regional instability at the Lake Chad region are threats to any meaningful resolution to the environmental degradation of the area.
"The current situation of insecurity and regional instability at the Lake Chad region must be addressed and resolved fast for this initiated collaboration among member states to thrive.
"Many people have to be on ground to ensure that Lake Chad is restored to its former glory and they cannot be working in a hostile environment,'' he said.
Nwilo, who is also a lecturer at the Department of Surveying and Geo-Informatics, Faculty of Engineering, University of Lagos, said many studies had been done on the Lake Chad Region.
He said one of the studies was on "Spatio-Temporal Assessment of Water Depletion and Environmental Changes in Lake Chad".
Nwilo said the study showed that Lake Chad water resources had shrunk to75 per cent in surface area with reference to the situation in 1973.
He said that he carried out the study with two lecturers in the department and a researcher at the National Space Research and Development Agency, Abuja.
According to him, the study investigates certain changes in the lake's environment over a period of four epochs, 1973, 1987, 2003 and 2007.
Nwilo said using inter-basin transfer to recharge the lake as agreed at the just concluded LCBC conference in Abuja was a good option as a long term goal.
He said the member states should also explore the possibilities of controlled flood management channelled toward the rivers that empty into the lake in the meantime.
Nwilo said that Research Centres of Excellence should also be established for the promotion of education, training, research collaboration and skills transfer among the member states of the commission.
Lake Chad Basin Commission held a four-day conference on that ended on Thursday in Abuja had the theme: "Saving the Lake Chad to Revitalise the Basin's Ecosystem''.
President Muhammadu Buhari had on Wednesday described the shrinkage of Lake Chad as one of the main factors responsible for insurgency and socio-economic unrest in the Lake Chad member countries.
Buhari, who spoke at the International Conference on Saving the Lake Chad said the negative effects of the shrinkage of Lake Chad "are indeed enormous''.
The lake, which is one of the oldest lakes in Africa, is shared by Nigeria, Cameroon, the Central African Republic, Chad and Niger.
By Chidinma Agu