Moves to activate the waste recycling bank given to the Yaba Local Government Council by the Lagos Waste Management Authority (LAWMA) have commenced, courtesy of a recent brainstorming session organised by the Community Conservation and Development Initiatives (CCDI). Yaba is said to be only the second LGA, after Amuwo Odofin, to have such a facility.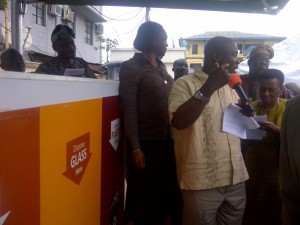 The CCDI has been working with Yaba LGA on the "Mobilising Local Government for Climate Action" project, which also involves two other local governments and is being supported by the Heinrich Boll Foundation. The main objective of the project, according to Kofo Adeleke, CCDI's Director of Programmes, is to create awareness, build capacity and develop common participatory positions on climate change within local governments and their communities.
For Yaba LGA, one of the priority areas for action was waste management, she pointed out in a press statement, adding that CCDI contacted LAWMA and an agreement was made to place a waste separation bank for recycling in the Yaba LGA secretariat, which in turn gave its commitment to use it properly and cooperate with LAWMA.
The handover ceremony involved introductory remarks by Adeleke, who gave the background to the partnership between CCDI, Yaba LGA and LAWMA. Yaba LGA Chairman, Olajide Jimoh, gave the welcome address.
Tolulope Adeyo, the recycling manager at LAWMA, stated the purpose of the waste bank and the importance and benefits of recycling waste and how the local government health officers would work with LAWMA to manage the bank.
Olumide Thompson of Midori Environmental solutions provided a practical demonstration of a small scale, locally fabricated, hand-operated briquetting machine, which turns sawdust and other waste residue in to briquettes suitable for fuel. Teni Majekodunmi, Executive Director of EcoXchange, spoke about funding opportunities for recycling.
Jimoh thanked LAWMA and CCDI for their assistance in bringing these initiatives to the local government and said that all members of staff must start separating waste and directed that they should all start immediately by bringing plastic bottles to the waste bank. He also expressed a desire to establish a small briquette making industry for youths within the community.