Participants at the Regional Conference of Asia-Pacific Right Livelihood Laureates in Mumbai, India on Friday March 6, 2015 petitioned Dr Goodluck Jonathan, President of the Federal Republic of Nigeria, over the pathetic Ogoniland in the Niger Delta region, calling for urgent actions to address the large-scale environmental degradation in the community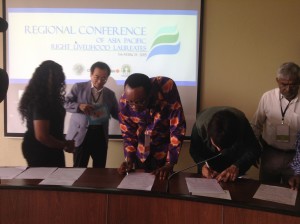 More than half a Century of exploitation of petroleum resources in the Niger Delta has left the environment so polluted that the region that, once was a biodiversity hotspot, is now ranked one of the most polluted places on earth.
In response to this sorry state of affairs, Nigeria's federal government mandated the United Nations Environment Programme (UNEP) to conduct an assessment of the Ogoni environment, an area where active oil extraction has since 1993 been suspended due to popular action.
Ogoniland is a subset of the entire Niger Delta region. The state of its environment is emblematic of the whole. We note that this situation is replicated in other regions around the world where polluting extractive activities are being carried out.
We remember that Ken Saro-Wiwa, one of our RLA laureates (1994), was executed 20 years ago for standing with his people to demand protection of rights of his people to a safe environment from the Nigerian state.
The UNEP report indicated that the water in Ogoniland is polluted, with benzene (a carcinogen,) 900 times above World Health Organisation's (WHO) standards for drinking water. The lands are polluted in several places to a depth of five metres. UNEP also stated that it would require 25 years of work to restore the waters, and five years to restore the lands in that community.
We are concerned that almost four years after the release of the UNEP report, no significant step has been taken to implement its recommendations. We are even shocked to learn of moves by corporate
interests to restart petroleum resources extraction in Ogoniland without first looking at the question of environmental restoration before restarting oil activities. This development will only compound the
devastation and further diminish the livelihoods of the people and their chance of enjoying their lives in dignity.
We, the RLA Laureates and Observers meeting in Mumbai, India, demand as follows:
That all lovers of life and the Planet join us to demand that Ogoniland
be declared an ecological disaster zone and call for an urgent clean-up of
the environment.
That the Nigerian government urgently provides potable water for the
people across Ogoniland.
That petroleum extraction activity should not be restarted in Ogoniland
without the environment first being detoxified and restored.
That the Nigerian government commissions an assessment of the entire
Niger Delta environment
That all countries learn from the Ogoni ecological disaster and insist
on free prior informed consent of citizens in communities and territories
where resources are found before exploitation of such resources
Signed:
Dr. Arun Gupta, India; Prof. P.K. Raveendran, KSSSP, India; Shrikrishna Upadhyay, SAPPROS, Nepal; Basil Fernando, Hong Kong; Irfan Engineer, India; Glorene Das, TANAGANITA (women's Force), Malaysia; Lobzang Tsultim, LADAKH, India; Suciwati Munir, Indonesia; Nnimmo Bassey, HOMEF, Nigeria; Ovais Sultan Khan; Hogyun Kim, South Korea; Alyn Ware, New Zealand; Teruho Kobayashi, Japan; Masami Tsuchiya, Japan; Dr Maruja Salas; Degefa Tolosa, University of Addis Ababa, Ethiopia; Dr Fidelis Allen, Nigeria; K. G. Mathaikutty, LWSIT, India; Marianne Andersson, Sweden; Till Stellmacher, RLC/Bonn, Germany; Dr A. Xavier Raj, India; Indira Fernida, Indonesia; Lennart Olsson, Lund University, Sweden; Monika Giefahn, Germany; and, Teruko Kobayashi, Japan.