The Lagos State Government has said that it is embarking on the creation of a new Micro City to complement the Federal Government's proposed revamping of the National Arts Theatre.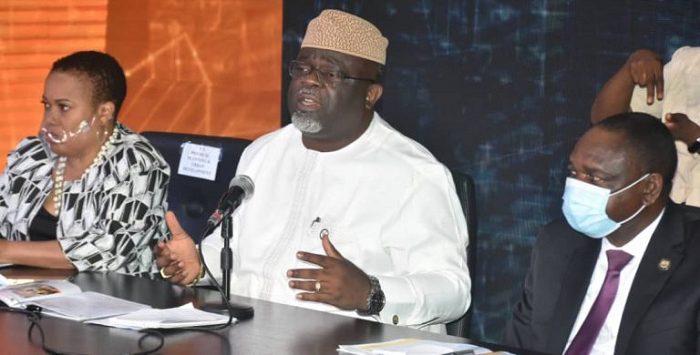 Commissioner for Physical Planning and Urban Development, Dr Idris Salako, said this on Thursday, May 6, 2021 at the annual Ministerial Press Briefing to commemorate two years in office of Gov. Babajide Sanwo-Olu.
Salako said government would regenerate Otto and Otumara slum communities, on the Mainland axis, in line with the THEMES Agenda that would culminate in the creation of the new Micro City.
He said the creation of the Micro City in those locations would complement the proposed revamping of the National Arts Theatre by the Federal Government, through the CBN-led Committee of Bankers.
He listed the importance of the National Theatre youths development, the creative industry and the economy of the state and the interest of the state government in the project.
The commissioner also revealed plans by the state government to embark on a mass social housing drive to upgrade the two slum communities, to fit into the modernisation of the National Theatre project.
He assured Otto and Otumara residents that they would not be displaced but would be captured in the social housing scheme.
"Mr Governor felt there is no way you have a national monument of that magnitude in Iganmu and directly on the other side of the bridge you have slum settlements, the Otto and Otumara communities.
"So, the Lagos State Government will also work to regenerate these communities to be in tandem with the world class edifice to be on the other side of the bridge.
"The project is on and what we are presently doing in our stakeholder engagement is that we are talking to the people, we are looking at the site variables and conditions.
"We are profiling the people, who are inhabitants of that settlement, with a view to come up with a plan that is acceptable to all and that will improve the living conditions and lifestyle of those people.
"And we are looking at housing facilities that will not only be commensurate with the National Theatre, but with international standards and I can tell you that there will be no displacements," he said.
Salako said that the Micro City would be delivered with the upgrade of existing socio-economic amenities like hospitals/clinics, schools, market, water etc., which would be upgraded in-situ.
He added that there would be preservation and conservation of ecologically sensitive land spaces, such as buffer zones, earth drain, floodplains and waterfronts, as well as the creation of new viable economic activity centres, including residential-led mixed use.
By Grace Alegba and Florence Onuegbu