Centre for Housing and Sustainable Development (CHSD) of the Faculty of Environmental Science, University of Lagos, has commenced a research project to identify issues relating to public toilet in the city, as well as how it affects city dwellers and urban sanitation workers towards the attainment of sustainable development in Lagos.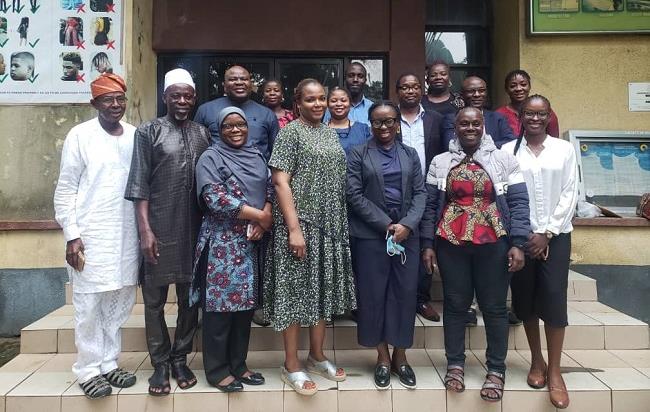 At the Inception Meeting of the Research Project on Lagos Sanitation Workers that held on Tuesday, July 5, 2022, Principal Investigator, Professor Taibat Lawanson, in her opening remark revealed that the research work is necessary so as to establish a case for proper recognition and roles sanitation workers play in urban management, the need to safeguard lives, map out institutional approaches and address key actors and operators in the entire sanitation value chain.
"Behind the toilets are certain people whose work are unrecognised in spite of the role they play in ensuring that the city is safe and healthy. This project is aiming at interrogating the role of urban sanitation workers around Lagos in a bid to enhancing their livelihood and giving formal recognition to their critical contribution in ensuring the state is safe," she said.
Professor Lawanson, who is also the Co-Director of CHSD, stressed: "We will be looking at some practices inherent in the work sanitation workers do as they respond to the challenges of health and also the role of COVID-19 that has made the issue of sanitation very urgent. A lot of conversations have been going on regarding handwashing especially as it focuses on access to water, issue of handwashing and issues surrounding toilet. However, everybody must make use of the toilet at one point or the other in the cause of the day."
CHSD's Co-Investigator, Dr. Basirat Oyalowo, disclosed that sanitation has to do with hygiene in relation to proper disposal of wastes in an economically viable, socially acceptable, technically and institutionally in an appropriate manner so as to protect both the environment and the natural resources as well as individuals in the society.
While highlighting the main area of focus of the research, Dr. Oyalowo stated that the project focuses mainly on Goals 6, 11 and 8 of the United Nation's Sustainable Development Goals.
"Unfortunately, hardly did water get the required attention and priority it deserves. For instance, when we look at how much it costs to meet the target of sewage management and sanitation in urban areas, we are looking at approximately $45 billion annually but the attention is focused more on water services, whereas the current expenditure on sanitation is about 25% less than the expenditure of water and most countries globally report insufficient finance to reach their national target in urban sanitation," she added.
In his reaction, Director, Wastewater Policy and Plans, Lagos State Wastewater Management Office, Mr. Ayideji Awolesi, opined that there are several procedures in the collection, haulage and treatment of waste as approved by the state government in conformity with standard procedure.
"Eighty percent of water used by individuals in Lagos through cooking, bathing, flushing, washing etc end up as wastewater that's universal standard. This made Lagos adopted 120 lit a day per capital each person, that's about 2.1 billion litres of wastes generated by individuals alone apart from the ones from the industries, agricultural activities and the rest," he submitted, adding:
"Eighty-five percent of houses in Lagos use septic tanks, either properly or poorly designed, 10% is connected to the sewage system, the remaining 5% openly or indiscriminately defecate. Even if the state's sewage system were to be working optimally it can only capture 10%, this simply implies that 80% out of the 85% is still finding its way into the environment majorly through the punctured septic tank."
In his submission, General Manager, Lagos State Waste Management Office, Adebola Matanmi, called for adequate study in looking at the quantum of the problem associated with wastewater sector, proffer solution to the challenges, get capital involvement of the investors and how they will get a reasonable return on their investment in preventing waterborne diseases associating with inappropriate waste disposal across the state.
Matanmi noted that, with increased groundwater and attendant health and environmental pollution, government needs to take the issue of wastewater and waste management serious to avert outbreak of an epidemic in the future.
Participants at the workshop comprised private sector stakeholders in the waste management sector such as General Secretary, Federation of Informal Workers Organisation of Nigeria (FLWON), Mr. Gbenga Komolafe; Finance Secretary, SWADAN and representative of Public Toilet Owners Association, Mr. Omotunde Adenekan; and UNILAG's Dr. AbdulGaniy Adelopo, among others.
By Ajibola Adedoye