Lagos State Government says it is adopting measures against water facility vandalism and boosting infrastructure to increase supply and address shortage of potable water.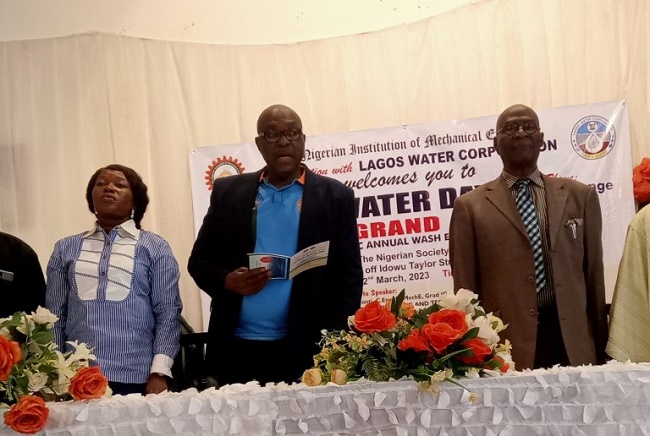 The Managing Director, Lagos Water Corporation (LWC), Mr Muminu Badmus, made the disclosure in an interview in Lagos.
Badmus spoke during the Maiden Annual Water Sanitation and Hygiene (WASH) Essay Competition organised by the Nigerian Institution of Mechanical Engineers, in collaboration with LWC.
The event which held on Victoria Island on Wednesday, March 22, 2023, was part of activities to mark World Water Day.
It was organised for 80 schools in Lagos State.
The managing director said the design capacity at the moment did not spread water to all households in the state.
He gave the assurance that the government was already tackling the challenge through some waterworks projects.
Badmus said that households already connected to the state's water lines were enjoying steady supply, adding that more residents would soon be connected.
The managing director, who is a fellow of the Nigerian Society of Engineers, said that LWC had deployed green technology in ensuring increased supply to 210 million gallons per day (MGD).
He said that the Igbola Water Scheme was among ongoing projects expected to serve the Epe to Victoria Island axis.
Badmus said that LWC was collaborating with other ministries and agencies to stop water infrastructure vandalism in the state.
"There have been damages to water infrastructure, preventing water from getting to a lot of areas. We are looking into that, government is doing a whole lot in making sure that it stops, and we will do more.
"To get water to every household, we have developed this design to bring in green projects, in that, for instance, from Epe all the way to Victoria Island, there is a 210MDG.
"We call it Igbonla, and that has been in the making, and the government is still on course to do that.
"There is Adiyan One and there is Adiyan Two,'' Badmus said.
By Grace Alegba