The Sustainable Research and Action for Environmental Development (SRADev-Nigeria) with the support of the Global Alliance for Incinerator Alternatives (GAIA) on Thursday, May 28, 2020 donated relief packages to staff of the Lagos Waste Management Authority (LAWMA) and health workers that are managing medical waste.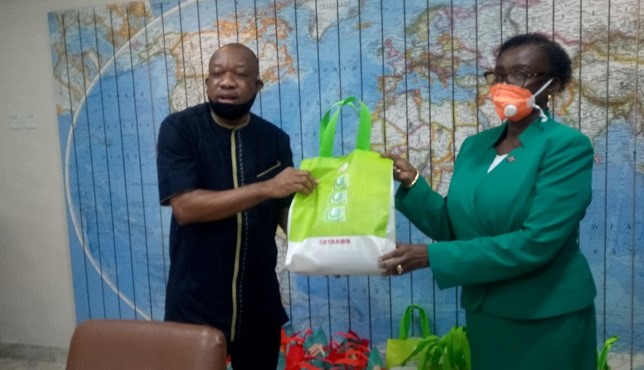 The gesture is said to be in recognition of the role being played in the management of medical waste from the various isolation centres where the patients of coronavirus are being treated.
The donation of the relief package comprising of Personal Protective Equipment and food items is aimed at encouraging the LAWMA staff that appear not to adequately recognised in the fight against the coronavirus pandemic that has claimed close to 400,000 lives globally and about 250 in Nigeria.
At a brief session at the offices of the Lagos State Ministry of the Environment & Water Resources on Thursday, Permanent Secretary in the Ministry, Mrs. Ronke Odeneye, who received the items on behalf of the ministry said all hands are on the deck in the ministry by the officials to ensure that the isolation centres and the environment are clean.
She explained that LAWMA is making sure that waste from the isolation centres is disposed off in a hygienic way. She added that the health workers are ensuring that environment is clean.
Odeneye added: "Right now we are disinfecting the environment to ensure that everything is okay."
She commending SRADev for partnering with the government to encourage LAWMA staff and health workers who are at the frontline of the fight against coronavirus.
Executive Director, SRADev-Nigeria, Dr. Leslie Adogame, said the organisation recognised the enormous resources the state is deploying in fighting the pandemic, adding that the Ministry of the Environment and Water Resources is important in the fight against the pandemic because it is connected to health.
He said: "We also recognise key agency like LAWMA in the crisis. The group of people we are recognising today are our heros in the fight.
"GAIA and SRADev decided to recognise the effort of the Lagos State Government through LAWMA. It is a little gift to encourage the team."
SRADev-Nigeria is a Lagos-based professional non-governmental, non-profit think tank in environmental health research and development, while GAIA is a worldwide alliance of grassroots groups and individuals whose ultimate vision is a just, toxic-free world without incineration.