The Association of Landscape Horticulturists in Lagos has said that it will plant no fewer that five million trees in the state within the space of three years.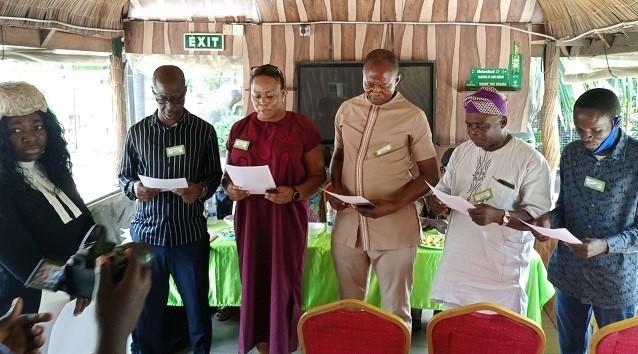 Mr Olusola Adekoya, who made the disclosure on Thursday, May 27, 2021 after he emerged as the new President of the association, stated that the trees would be planted in conjunction with agencies such as the Lagos State Parks and Garden Agency (LASPARK) and Lagos Waste Management Authority (LAWMA), and ministries like the Ministry of Physical Planning and Urban Development, and Ministry of Environment and Water Resources.
Adekoya, who Shodex Gardens, a recreational centre, disclosed that the initiative is part of his seven-point agenda as president that is aimed at refocusing and changing the mindset of members towards the association's goals and objectives.
Apart from educating members and the public on the international best practices of landscaping by organising regular conferences and flower shows, he said that he would also ensure that the association collaborates with relevant professional organisations in the area of greenery.
"We will organise excursions for members to countries like the United Kingdom, United Arab Emirates and Singapore, and also hold yearly flower shows.
"While promoting other business opportunities that are in line with horticulture such as cultivating vegetables and herbs, we will likewise affiliate with relevant international professional bodies in horticulture," Adekoya said.
Apart from Adekoya, other elected members of the executive council include Cynthia Agboru of 7 Cube Home Limited (Vice President), Wale Alade of Seal Park and Gardens (Secretary General), Chika Obiora of Green Grace Gardens and Landscape (Asst. Sec. General), Femi Adenuga of Samfem Nigeria Enterprises (Treasurer) and Osadare Olusegun of Seal Park and Gardens (Public Relations Officer).
Dr Titi Anibaba, a member of the association's Board of Trustees (BOT), said: "I want this association to be like those of bankers, accountants, etc. I stand for professionalism and excellence. No matter the challenge we are facing, we should be committed."
Mrs. Bosede Jaiyesimi, who is also a member of the BOT, said: "Congratulations to the newly elected officers. We expect the new president to perform beyond expectations because of his rich local and international experience."
Mr Moses Adelowokan, a Trustee, said: "This is a professional association and we should be up and doing, ready to sacrifice, and be prepared to be well known. We are pioneer members; when we make progress, people will rush to this association.
"Let us be committed, let us respond positively to grow the association. We need to update ourselves through seminars and workshops. We can collaborate with existing sister associations."