Group Managing Director, Nigerian National Petroleum Corporation (NNPC), Mr Mele Kyari, has sympathised with victims of an explosion which occurred at Abule Ado near Festac Town, Lagos State on Sunday, March 15, 2020.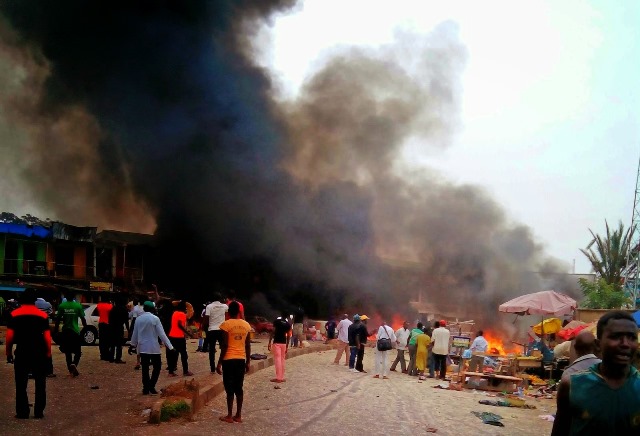 Kyari also reiterated the NNPC's commitment to removing all structures on the NNPC pipelines right of way across the country to prevent such incidents in future.
Kyari spoke during an inspection of the scene of the explosion which led to the death of 15 persons and destruction of over 70 buildings in the area.
No fewer than 60 students of Bethlehem Girls College located within the area who sustained various degrees of injuries in the incident were also taken to the Nigerian Navy Hospital in Ojo Cantonment for treatment.
He said: "We are here to commiserate with the good people of Lagos State on what happened. It is very unfortunate but completely avoidable.
"It is obvious that people are building houses on our right of way which constitute a danger to lives and property.
"This incident happened as a result of overcharged air resulting from gas leakages from activities around this pipeline.
"Unfortunately, there was an ignition which led to a chain of events including igniting our pipeline.
"As you can see, our pipeline is on fire and we will take it out this night, God willing."
According to him, it is very important for people to understand that oil operation has its rules and the moment it is breached, it will lead to unfortunate incidents.
Kyari said NNPC would continue to work with the Lagos State Government and security agencies to remove all properties located within the pipeline right of way.
"For the avoidance of doubt, every asset on the right of way we will take them out because this is not just about NNPC pipeline but it is about the lives and safety of Nigerians.
"You can see the young children who had nothing to do with the operations of these individuals are now in clear danger.
"This is completely avoidable, and we cannot allow anyone to take the lives of Nigerians for granted," he said.
President Muhammadu Buhari has commiserated with families who lost loved ones, and all those affected by explosion.
In a statement by his Senior Special Assistant on Media and Publicity, Malam Garba Shehu in Abuja on Sunday, the President said: "I have received with sadness the news of this unfortunate incident which caused loss of lives and property.
"A misfortune of whatever scale anywhere is a tragedy to the country, and while the NNPC makes efforts to determine the cause of the incident, I send my deepest and profound sympathises to the victims, their families, government and people of Lagos State."
President of the Senate, Ahmad Lawan, has also commiserated with victims of the explosion.
Lawan in a statement by His Special Adviser on Media, Ola Awoniyi, on Sunday, said:
"I sympathise with those who were injured and those who lost property to the inferno. I also commiserate with the Lagos State Government over the tragic incident and prayed to God to comfort all those who were affected.
"I call on the relevant authorities and agencies to get to the root of the incident with a view to forestalling a recurrence."
All Progressives Congress (APC) National Leader, Sen. Bola Tinubu, says the authorities must get to the root of the explosion.
Tinubu, in a statement signed by his Media Aide, Mr Tunde Rahman, said that efforts must be made to curb incessant explosion in the area.
The APC leader commiserated with families and relations of those who lost their lives in the unfortunate occurrence.
He said all those who had a hand in the unfortunate incident must be punished, no matter how highly placed.
Tinubu said: "This tragedy should not have happened.
"Those who lost their lives in the unfortunate incident did not deserve to die so gruesomely.
"I strongly condemn this incident and l commiserate with families and relations of those who died."
He also sympathised with those who lost their valued property in the explosion.
"In their memories and in order to avert similar occurrence in future, the authorities must get to the root of this incident and curb incessant explosion in the area.
"All those who had a hand in this explosion, including those who acted in ways to put lives at risk and hard-earned possessions in jeopardy, must be punished, no matter how highly-placed they may be," he said.