A visit to Kiokio in Isolo-Ajegunle along Ikorodu Road in Lagos, the area is situated approximately 36 kilometre to the North of Lagos. Ikorodu is bounded to the South by the Lagos Lagoon, to the North by a boundary with Ogun State, and to the East by a boundary with Agbowa-Ikosi, a town in Epe Division of Lagos State.
The sight of buildings that have either been abandoned or taken over by water from the nearby Ogun River welcomes you.
Kiokio is situated approximately 36 kilometres to the North of Lagos.
The people living here belong to Ilaje, Igbo and the Yoruba communities in Nigeria, which are regarded as the most populous.
Residents fetch water for domestic use from Ogun River, which drains its water into Ogun Dam.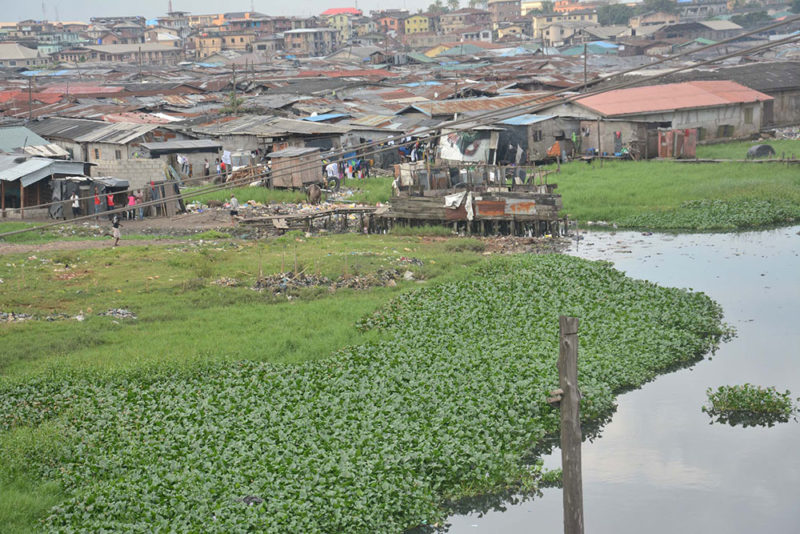 Fishermen also eke out a living here, by diving into deep waters in search of fish, which they sell to locals as well as to nearby markets for income.
But these locals have to contend with a worrying trend. Every three years, the Ogun Dam bursts its banks, unleashing untold suffering in its wake. Because of the heavy flooding, several residents have to pack up on short notice and vacate their homes to safety.
A walk around Kiokio with Mr. Mauho Dosu, a resident, who took our reporter around the flooded and paths constructed with woods. "The flood is always much, pointing to the water "And as you can see some houses have been abandoned, while some of us that are here paddle canoe along the streets, which are usually dry when there is no flood," he lamented.
Rapid urbanisation and increasing population are piling pressure on the infrastructural base of Lagos, Nigeria's famed megacity.
A megacity is a metropolitan area with a total population in excess of ten million people.
A megacity can be a single metropolitan area or two or more metropolitan areas that converge.
In Kiokio, many homes are built on the water axis, as the demand for homes continues to rise.
It is due to this rising demand created by more people against less land, that is pushing people to build on water ways, igniting the ripple effect.
The demand for property development in Lagos State, which has a population of more than 20 million people, is drastically impacting the natural drainage in the city.
Lagos State is located in the South-Western part of the Nigerian Federation, on the North and East it is bounded by Ogun State; in the West, it shares boundaries with the Republic of Benin.
Behind its southern borders, lies the Atlantic Ocean, 22% of its 3,577 kilometre square are lagoons and creeks, with 1,381 square metre. Some of the areas that have been encroached serve as channels for excess water during flooding.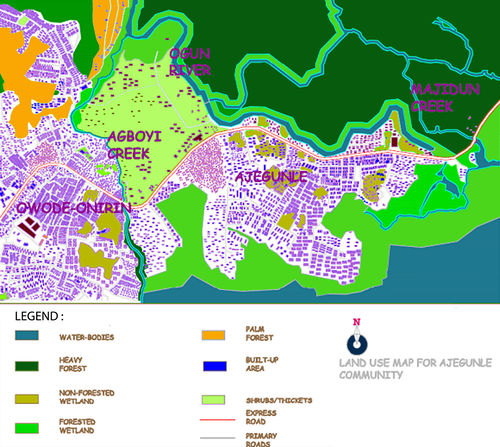 This means that conservation is being undermined as wetlands are gradually being reclaimed and used for property development.
Residents, especially fishermen and women in Kiokio are the worst hit, they now have to struggle to get species of fish.
A fisherwoman, Madam Asake Mowen, explained that they have to relocate to areas where they can have a good catch. "We have to move up into the river to get good catch, most houses around have blocked the waterway," she said.
Another fisherman who simply gave his name as Jemade said, that urbanisation has taken over areas where they set their nets. "We are good in our job as fishermen, but we experience low catches and do not get all species of fish we want as mist have relocated or dead, it is not a good one for us at all but we have to survive."
Other communities along Ikorodu Road in Lagos have also suffered a similar fate as they have to abandon their houses for safer ground where they can earn a living without fear.
A member of the Community Development Association (CDA) in the area Elder Sesan Ogunbiyi said the community needs good boundaries and removal of houses blocking waterways.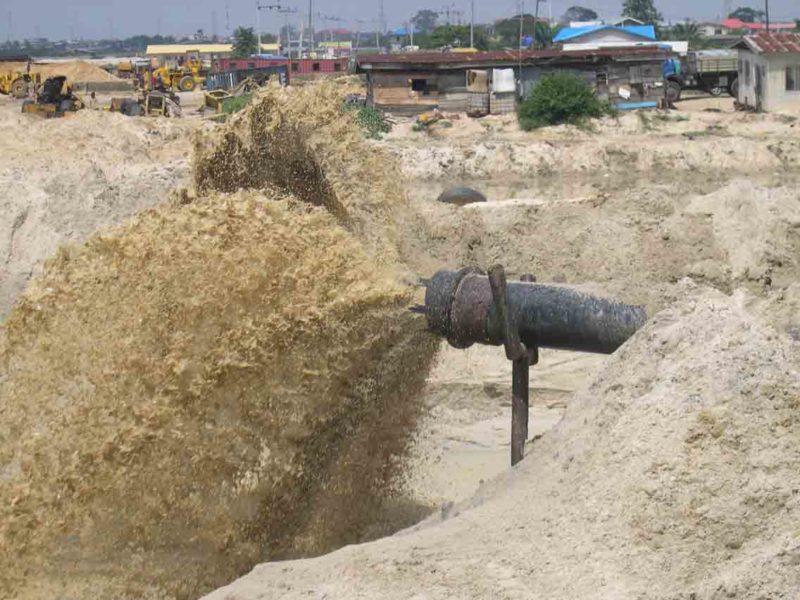 "All we need is good road leading to our area, we are close to the Lagoon, once we have a boundary, we will enjoy staying in our houses, once there is rain or the dam is opened, it is not a good time for us," he said.
Mrs. Ojuolape Ajewole has been living in Kiokio for several years. Relocating from Kiokio, which she considers "safe haven", is not an option for her.
"We cannot go anywhere, I gave birth to my children here and they all are grown-ups, government should help us resolve this problem, if we are given an alternative, we will happy," she said.
An environmentalist, Mrs. Temitope Okunnu, describes the negative impact of urbanisation on the ecosystem, which is threatening the lives of residents as well as the survival of species.
"Wetlands degradation is caused by we, humans, as government has continue to build for the teeming population, Oworonsoki and Lekki Peninsula area are good examples and the most recent one," she said.

"Whenever government moves to fill a particular wetland area, most species move away while some others die in the process of trying to survive, as they have no place to survive.
Mrs. Okunnu is urging concerned authorities to save the ecosystem as the value bestowed on Lagos wetlands is enormous.
Fish biologist at the Nigerian Institute of Fisheries, Niger State, Dr. Babatunde Olaosebikan, described the symbiotic relationships occurring in wetlands, noting that this is the more reason their conservation needs to be prioritised.
"It is good to know how to properly manage wetlands, though we are competing for space with major economic activities in and around wetlands in Lagos.
"Wetland maintenance can create employment for all especially the youths, wetland serves as habitats for some species too," Dr. Olaosebikan stated.
Laws to protect wetlands as stated in the Nigeria constitution should be complemented by policy guidelines, yet there are none.
Wetlands are among the most biologically rich ecosystems as sources of water, food, medicine, handcrafts and shelter, and also serve as refuge for animals.
Despite these benefits, current global and local trends have shown that wetlands are being degraded at an alarming rate.
A study carried out by Nigeria Environment Study Action Team (NEST) in 2011 shows that 91% of wetlands in Lagos have been taken over by various man-made factors. NEST was founded in 1987 following a conference convened to mop up action for dealing with environmental challenges, most of which the conference participants linked to poverty. Among the environmental stresses include deforestation, soil erosion, desertification, air and water pollution, water scarcity, floods, solid waste, industrial pollution especially from petroleum production and use and loss of biodiversity.
The relatively small land area available in Lagos and the need to provide shelter for the growing population is not promising, a situation further compounded by the fact that Nigeria lacks a policy on wetlands.
The project adviser at the International Centre for Energy, Environment and Development (ICEED), Mr. Adedamola Ogunsesan, says it behooves the government to develop a participatory process to conserve wetlands in areas like Makoko, Ajegunle, Otodo Gbame and Epe, including those residing in coastal areas, through training communities.
Lagos State recently enacted a draft policy document which had gone through different levels of considerations.
It was presented for review at a one-day "Stakeholders' Meeting on Policy Formulation on Wetland Conservation and Management in Lagos State.
The existing legislation gives little attention to wetland management.
This is coupled by weak enforcement of the existing law or policy on wetland degradation on the part of the Federal Government.
NEST became formally registered in 1989, under the Land (Perpetual Succession) Act (cap 98), as a non-governmental, not-for-profit, non-partisan, research, education, and advocacy organisation.
NEST arose out of the observation that the past decades had witnessed numerous negative impacts of human activities on the environment, the adverse effects of such degraded environments on Nigerians, linking environmental degradation tightly to poverty, and the uncomfortable adjustments that many people have had to make in the attempt to survive.
Professor Dele Olowokudejo of the Department of Botany, University of Lagos, said government should recognise that wetland resources are being adversely affected by the process of urban development, owing to the rapid expansion of Lagos State, hence, speed up enactment of the policy.
An urban planner, Mr. Abdulfatai Ogunsiji, gives a graphical explanation of areas that have been encroached in the name of urbanisation.
"As seen on the map, wetlands around Lagos lagoons have been encroached upon, many do not know that Apapa is a wetland as urbanisation has taken over, the area witness flood whenever there is a downpour," he stated.
Mr. Ogunsiji stated that over 50 per cent of the wetlands were indiscriminately encroached on due to urbanisation, as the topography of Lagos State harboured about 78 per cent water bodies of various sizes such as lagoon, lakes, streams, and wetlands.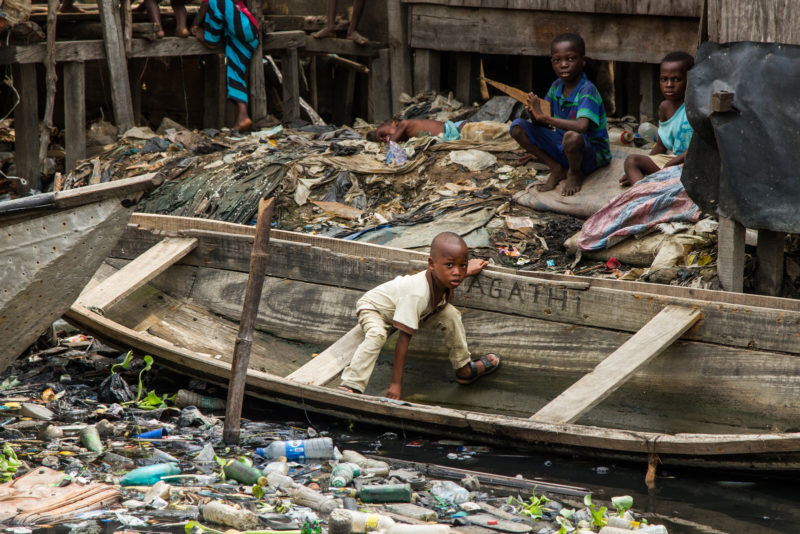 The Commissioner for Urban Planning & Physical Development, Mr. Anifowose Wasiu, disclosed that plans are being reviewed to change the face of Lagos to become a mega city in reality, not just on paper.
"The state government will act soon once the policy on wetlands is regulated; we intend to achieve a lot as the state is facing challenge in the area of provision of houses for the teeming populace," said Anifowose.
The Ministry, in which pocket urban development falls, says there is need to devise and implement the state policies on Physical Planning and Urban Development, as it is now time to prevent water habitats in Lagos from extinction.
By Ruth Akinwunmi-King