The Lagos State Government and the Agence Francaise De Development (AFD) have agreed to partner on the regeneration of blighted communities in the state.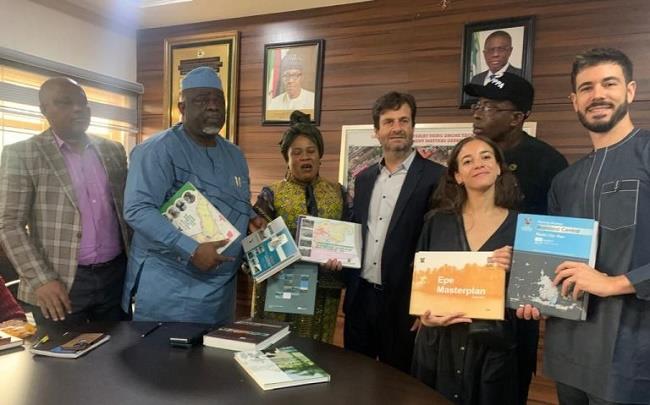 A statement by Mr Mukaila Sanusi, Deputy Director, Public Affairs, Lagos State Ministry of Physical Planning and Urban Development, confirmed this in a statement on Saturday, August 27, 2022.
The resolutions were reached at the Lagos State Secretariat, Alausa, Ikeja, the state capital.
Dr Idris Salako, Commissioner for Physical Planning and Urban Development, had during the meeting with the French Development Agency, said that the state government was willing to explore opportunities of collaborative strategies.
Salako, however, explained that the collaboration was aimed at improving the condition of the blighted areas, improving well-being and enhancing socio-economic development in line with the THEMES agenda of the government.
He urged the foreign donor agency "to make recourse to the guidelines from the Lagos State Urban Renewal Agency (LASURA) and the Operative Development Plans of the State".
Salako said some of the guidelines were currently going through the statutory periodic reviews by the ministry, while also acknowledging the support of AFD for the Lagos State inter-modal transportation initiative.
He said the ministry and its agencies were involved in the selection of sites and other procedures relating to transportation facilities as indicated in the Strategic Lagos Transportation Master Plans.
Similarly, Dr Olajide Babatunde, the Special Adviser to the Governor on E-GIS and Planning Matters, enjoined the AFD to explore other priority areas for collaboration.
He said that several opportunities abound in the management of incidental open spaces, resulting from the delivery of infrastructure development projects.
Mrs Abiola Kosegbe, Permanent Secretary, Ministry of Physical Planning and Urban Development, said that the agency could key into ongoing projects.
She listed the opportunities to include planned automation of the processes of her ministry and its sister agencies, the efforts to domesticate the National Building Code and the formulation of the Lagos Urban Development Policy.
Earlier, the AFD Director, Mr Xavipa Nurow, said the organisation was pleased to take further steps on its preliminary discussion with LASURA on site selection and priority areas for the upgrade of blighted areas.
Taking AFD through their various mandates were the General Manager, LASURA, Ms Ajibike Shomade, and the General Manager Lagos State Physical Planning Permit Authority (LASPPPA), Mr Kehinde Osinaike.
Others were General Manager, Lagos State Building Control Agency (LASBCA), Mr Gbolahan Oki; and the General Manager, Lagos State Planning and Environmental Monitoring Agency (LASPEMA), Mr Daisi Oso.
By Grace Alegba