Thirty-six prominent international health and development experts including representatives from WaterAid, AMREF Health Africa, the World Medical Association, Commonwealth Medical Association, Global Health Council, International Confederation of Midwifes, the Nigerian Medical Association, Nigeria's National Primary Health Care Development Agency, the Health Reform Foundation of Nigeria, the Nigerian Red Cross Society and the Nigerian Medical Students Association have called for an end to the sanitation predicament.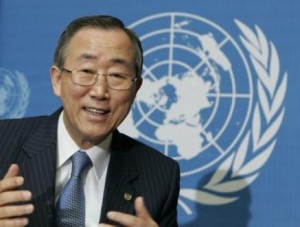 On the occasion of the World Toilet Day 2014, it is estimated that the sanitation situation has claimed the lives of over 10 million children under the age of five since the year 2000, with 1.1 million having died over this period in Nigeria also contributing to this figure.
In an open letter to the Secretary-General of the United Nations, Ban Ki-moon, the signatories who represent over 620,000 health professionals globally highlight the desperate waste of life caused by people not having access to a basic toilet. Without basic sanitation, children have no choice but to live and play in areas contaminated by human waste.
Seven in 10 children in Nigeria do not have access to a basic toilet, which alongside unsafe drinking water and a lack of hygiene services, contributes to three of the main killers of children: under nutrition, pneumonia and diarrhoea, the letter states.
The letter, coordinated by the international development organisation WaterAid, has been published to coincide with World Toilet Day. It also highlights that the sanitation 'crisis touches every moment of every child's life, from birth to adulthood, if they are lucky enough to make it that far'.
"The WTD also sadly reminds us of the current crisis we are facing in West Africa where Ebola has taken the lives of so many. This is further exacerbated by the cholera outbreak that has continued to plague neighbouring countries like Niger, Ghana and Sierra Leone as well as pocket outbreaks of the disease in Nigeria – resulting in many sick children in our part of the world. A lack of safe toilets and clean water is a major factor contributing to this," disclosed WaterAid.
WaterAid Nigeria Country Representative, Dr. Michael Ojo, said: "The dangers of poor sanitation and dirty water have been known for around 150 years, yet 121 million people (about 72% of the population) do not have a basic toilet to use in Nigeria and nearly 40 million still defecate in the open. This lack of access to basic sanitation harms the health of children and often leaves a lifetime legacy of disease and poverty. Those children need our government to collectively step up and commit that by 2030 no home, hospital or school will be without a toilet and clean water."
The open letter to the UN Secretary-General coincides with a new briefing released by WaterAid: 'Child of Mine' which states that sanitation 'remains one of the most neglected issues in developing countries and international development aid'.  As the briefing highlights, this is despite a quarter of the 162 million children globally who have had their growth stunted and their physical and cognitive development impaired, because they suffered repeated bouts of diarrhoea when very young.
According to the World Health Organisation (WHO), 88% of cases of diarrhoea are caused by a lack of access to basic sanitation, unsafe drinking water and poor hygiene provision. Globally, over 12 million children are estimated to have died from 2000 to 2013 because of diarrhoeal diseases. Of these deaths, 10.6 million have been as a result of a lack of these services.
The release of the letter to the UN Secretary-General and the publication of the 'Child of Mine' briefing come as governments work to complete the Millennium Development Goals (MDGs) that run from 2000 to 2015, and negotiate the new Sustainable Development Goals, which will replace them. WaterAid Nigeria called on government to commit to backing a new goal for everyone everywhere to have access to clean water and basic sanitation by 2030.
Executive Director of Nigeria's National Primary Health Development Agency, Dr. Ado Mohammed, in his correspondence to WaterAid, said: "Poor sanitation, hygiene and lack of clean water contribute to the deplorable health conditions especially among children and women in Nigeria. In view of this and of our goal to eradicate transmission of the Wild Poliovirus in Nigeria at the end of the year – polio being an oral faecal disease thriving under poor hygiene and sanitation conditions as well as an unavailability of clean water sources – we lend our voice to the call for universal access to water, sanitation and hygiene."
Amref Health Africa, which works in nine African countries to improve health through community work and strengthening health systems, is also a signatory to the letter. Amref Health Africa's Director General, Dr Teguest Guerma, said: "Safe sanitation, good hygiene practice and clean water are fundamental to improving health and well-being. But the shocking reality is that far too many people lack even these basic services. As a result, millions of people die every year from diseases that could have been prevented.
"Progress in tackling this crisis has been far too slow but governments can take the first crucial step by strongly and publicly backing calls for universal access to these services during negotiations around the Sustainable Development Goals.  As experts in health, we know that this is the necessary prescription."
The open letter includes the call for the UN Chief, Ban-Ki Moon, 'to lead the world to a future of better health, dignity and prosperity for all by championing a dedicated goal to deliver water and sanitation to everyone, everywhere by 2030.'