Over 300 people have reportedly lost their lives and the death toll is likely to rise as provincial officials continue to evaluate the extent of the disaster caused by torrential rains that hit Kwa-Zulu Natal province, South Africa, on Monday, April 11, 2022.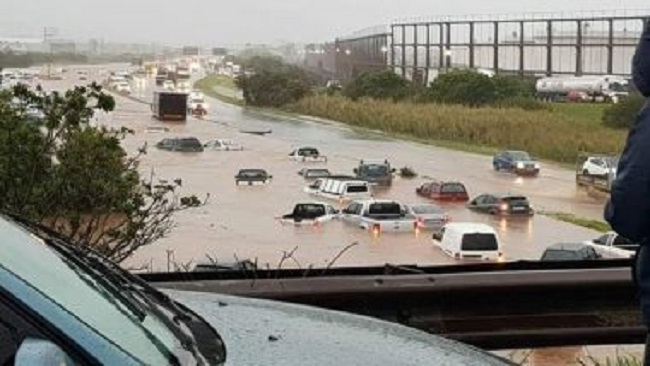 On Tuesday, weather services measured up to 300ml of rainfall in a 24-hour period, making this extreme weather event the worst to ever be recorded in the region. The floods have since been declared a provincial disaster.
Concerns have been expressed about the humanitarian crisis that will soon ensue as a result of the destruction caused by the floods which have destroyed a number of homes and displaced thousands.
The heavy rains also damaged critical public infrastructure such as roads and bridges, a situation that is likely to interfere with rescue operations. According to the weather service, the rains will probably continue into the Easter weekend.
Environment watchdog, 350Africa.org, has reacted to the disaster with concern for those who have been affected by extreme weather events.
"We continue to call for climate action to support mitigation and adaptation measures, in order to avert even worse climate impacts due to global warming which is exacerbated by the continued use of fossil fuels," the group said in a statement on Friday, April 15, 2022.
Glen Tyler Davies, South Africa Team Leader, 350Africa.org, said: "We are concerned about the devastation caused by the heavy rains in Kwa-Zulu Natal province. We stand in solidarity with our partners affected by this disaster and applaud the move by the government to move with speed to offer assistance to those in need.
"We would like to see the same urgency applied to preparing for future disasters, and to mitigation against climate change. Climate impacts such as this are linked to human induced climate change, whose primary driver is fossil fuels – coal, oil and gas. As scientists project worsening climate impacts as a result of global warming, we reiterate the need for our nation to accelerate plans for a just transition away from fossils and urge financial institutions to stop the flow of finance into the polluting fossil fuels which are exacerbating the climate crisis."