Kenya Wildlife Service (KWS) has welcomed the British government's plan to close – with some limited exemptions – its domestic ivory markets.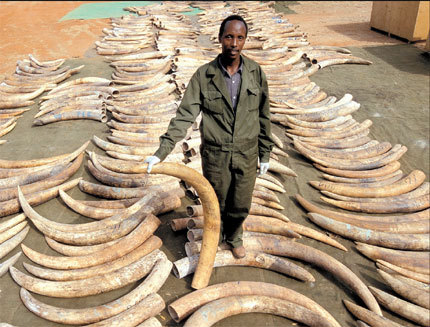 Ivory (whether raw or worked) continues to be traded legally within UK and the other European Union (EU) Member States, in auction houses, markets, shops and online – and that antique items can even be traded without permits or certificates.
Paul Gathitu, KWS spokesman, said the existence of legal ivory markets and exports provide opportunities for laundering illegal ivory.
"The existence of these markets and exports also fuel demand for ivory within the UK and abroad and thus contribute to poaching," Gathitu said.
He noted that KWS and Government welcome the plan by UK to close its ivory markets as this will obliterate any chances for opportunists, who may have in the past used the existing market in antique ivory as a cover for trade in illegal ivory.
The UK Foreign Secretary, Boris Johnson, at the end of last year said that his aim is to make 2018 the year of British leadership in defeating the ivory trade.
"Ivory poaching is an abhorrent crime and it is shocking that in the 21 century we are still witnessing the slaughter of tens of thousands of elephants every year for their tusks. It is mankind's privilege to share the planet with these wonderful creatures but their treatment is heartbreaking," Johnson said.
He added, "We are committed to tackling this problem and are playing a key role in building global consensus to stamp out the illegal wildlife trade. Our plans to ban the sale of all ivory products in the UK will remove opportunities for criminals to trade illegally-poached ivory, helping to protect this majestic and endangered species."
Speaking last week, UK's Environment Secretary, Michael Gove, said the decline in the elephant population fuelled by poaching for ivory shames the current generation."The need for radical and robust action to protect one of the world's most iconic and treasured species is beyond dispute. Ivory should never be seen as a commodity for financial gain or a status symbol – so we want to ban its sale. These plans will put the UK front and centre of global efforts to end the insidious trade in ivory,"  Gove said.
Effective January 1, 2018, China banned the mainland domestic sale of elephant ivory and related products, a significant move toward slowing the annual slaughter of the largest land animals on Earth. The UK's plan to follow suit could not have come at a better time.
Consequently, Gathitu noted that KWS and Kenya recognises this bold step as important in the war against elephant poaching and illegal ivory trade, pulling especially the African elephant further away from the precipice of extinction.
"The significance of support from such an influential quarter can be measured in the multiple effects seen in the results on the ground. An example is the global effort focusing on elephant conservation between 2014 to date, targeting ivory source countries, transit and consumer countries, which has led to remarkable reduction in elephant poaching in the source countries and ivory demand in the consumer countries," he said.
Gathitu also pointed out that the measures agreed to by States on implementation of  National Ivory Action Plan process under the Convention on International Trade in Endangered Species of Wild Fauna and Flora (CITES) to combat elephant poaching and illegal ivory trade are yielding positive results.
"KWS and Kenya stand ready to partner closely with the British government, as well as other conservation partners, in all further endeavours to fight elephant poaching , ivory trade and  wildlife crime," Gathitu said.
The most recent census results for elephants and other large land mammals were released by Prof. Judi Wakhungu, Cabinet Secretary, Ministry of Environment and Natural Resources at a press conference held at KWS headquarters on December 22, last year.
The results covered census conducted in 2016 and 2017 in five key ecosystems which are elephant distribution areas and revealed thriving elephant populations and decreased poaching trends.
The censuses; aerial total survey of elephants, buffaloes and giraffe in the Laikipia-Samburu-Meru-Marsabit ecosystem in November 2017 showed a 12 per cent increase over the past five years.
A total of 7,347 elephants were counted compared to 6,454 elephants counted in 2012, which translated to an annual increase of 2.4 per cent over the period.
In February last year, Gathitu said the dry-season aerial census for the Tsavo-Mkomazi was conducted.
"The triennial cross-border survey covered Tsavo East, Tsavo West and, Chyulu National Parks as well as South Kitui National Reserve in Kenya and Mkomazi National Park in Tanzania,. The census showed a growth of 14.7 per cent in the elephant population over the last three years," he said.
Courtesy: PAMACC News Agency