Delegates from 30 countries from around the world, attending an international Agri-biotech and Biosafety Communication conference in Nairobi, have called on the Kenya Government to lift a two-year ban on GMO imports.
A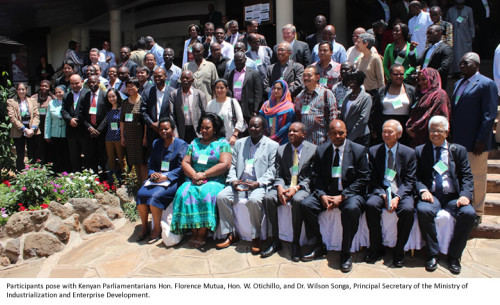 ddressing the delegates comprising of farmers, scientists, policy makers, private sector, the media and science communicators, the Principal Secretary in Kenya's Ministry of Industrialisation and Enterprise Development, Dr, Wilson Songa, emphasised the role of agricultural biotechnology in propelling the country towards prosperity.
"To harness this potential the GMO import ban must be lifted," he said. In addition, he said that Kenya has adequate capacity to develop and ensure safety of GMO products. Members of Parliament present, called upon the government to release a report by a taskforce constituted after the ban by the ministry of health to look into the safety of GM foods.
The ABBC conference brought together organisations and networks involved in agri-biotech and biosafety communication across the world to take stock of the progress and dynamics of biotech communication over the past two decades. It was organised by ISAAA, African Agricultural Technology Foundation, National Commission for Science Technology and Innovation and partners.
One of the key lessons was that agri-biotech and biosafety communications must be simplified and messages delivered in appropriate languages for different stakeholders to make impact.
The delegates came up with the Nairobi Declaration 2015, which reads as follows:
We, the participants of the International Conference on Agri-Biotechnology and Biosafety Communication, held on 12-14 April 2015 in Nairobi, representing the academic and research community, civil society, law makers and policy advisors, the media, farmers and other stakeholders drawn from 30 countries across the world, collectively issue the following statement resulting from this conference:
Whereas:
The world faces unique and particular food security challenges in future, as the human population increases towards a likely 9.6 billion by 2050 and climate change raises additional problems for agriculture in terms of water and temperature stress, increased disasters and extreme weather;
Some progress has been made in meeting the Millennium Development Goals on extreme poverty, malnutrition, infant mortality and food security. Much work remains to be done to ensure that citizens of all countries enjoy the full opportunity of healthy and sustainable access to food;
Biotechnology and genetic engineering, while not being the only solution to these challenges, offers great potential in addressing many specific concerns in food production, including micro-nutrient deficiencies, productivity and yield gaps, pest and disease problems;
There exists an international scientific consensus that the "genetic modification" process itself does not raise any risks over conventional breeding approaches;
The debate around genetically modified products continues and is often characterised by emotive and misleading information about purported dangers that are not supported by any scientific evidence;
Highly restrictive policy and regulatory environments exist in parts of the world, greatly hampering the capacity of farmers to access innovations that will improve farm productivity, household incomes and food security;
Hereby declare our commitment and determination:
To work collectively to improve the communications environment, including the use of the latest as well as traditional communication strategies to ensure effectiveness.
To work inclusively, with all stakeholders, including those opposed to this technology, in an effort to build consensus and common understanding.
To promote choice, so that farmers, consumers, and other end-users can make informed decisions that reflect their best interests.
To address the concerns of people at all levels, to ensure the widest participation possible.
To demonstrate how agricultural production challenges can be tackled using biotechnology, and how it can directly contribute to food and nutrition security, poverty alleviation, job creation and sustainable economic development.
To support credible scientists who are most trusted by the public and governments, to be effective communicators and to have a closer relationship with media and policymakers to ensure that scientifically-informed messages reach target audiences.
In particular, we gratefully acknowledge the active participation of Members of the Kenya National Assembly (KNA), and many senior government representatives who participated in this conference, and welcome their invaluable inputs to ensure the current ban on importation and consumption of GM foods in Kenya is lifted.