Apiculture farmers from Jobe Community in Kano State recently gathered for an enlightening two-day workshop aimed at equipping them with advanced knowledge and skills to elevate their honey farming endeavors.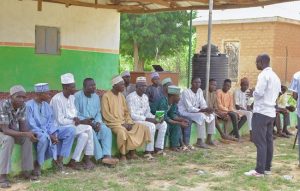 Organised by Surge Africa Organisation as part of the Cikin Dawa project, this workshop generated a lot of buzz by offering participants deep insights into sustainable practices, diversification of value chains, and strategies to optimise profits while ensuring high-quality honey production.
The workshop's inaugural day commenced with an atmosphere of enthusiasm and eagerness to learn. Seasoned expert, Mallam Idris Muhmmad Barau (Idrees Bee), in the field kickstarted the proceedings by delving into the fundamental aspects of honey farming. These informative sessions covered a wide range of topics, including hive construction, the intricacies of bee behavior, and sustainable Apiculture practices.
Participants engaged in lively discussions and hands-on demonstrations, gaining a comprehensive understanding of the critical elements that contribute to the success of a beekeeping enterprise. They explored innovative hive designs that catered to bee welfare, ensuring optimal honey production while prioritising the well-being of these essential pollinators.
The second day of the workshop was a practical affair, allowing participants to put their newfound knowledge into action. Focused on hive management and honey harvesting, these hands-on activities enabled farmers to apply sustainable practices directly. They gained valuable experience in handling hives, ensuring bee health, and harvesting honey with precision.
Furthermore, participants were introduced to cutting-edge techniques and tools that enhance productivity, maximise profits, and maintain the superior quality of honey products. This practical segment underscored the importance of maintaining a delicate balance between honey extraction and preserving the environment in which these industrious insects thrive.
Throughout the workshop, attendees were encouraged to explore new horizons in honey farming. The discussion extended to exploring diversified value chains and strategic approaches that can significantly enhance profitability. Participants left the workshop not only with a deeper knowledge of honey farming but also with the confidence and expertise to make a meaningful impact on their communities and the environment.
The two-day Apiculture workshop didn't just enrich the knowledge of participating farmers; it also empowered them with vital equipment to propel bee farming in their respective communities. As part of the workshop's commitment to fostering sustainable beekeeping practices, each farmer was provided with essential tools, including bee hives, protective gear like hand gloves and bee suits, jungle boots and smokers. This initiative is set to catalyse beekeeping endeavors in communities, ensuring the successful implementation of the newfound knowledge.
One of the workshop's standout moments was the distribution of essential beekeeping equipment to all participants. Each farmer received a beehive, a set of hand gloves, a bee suit, and a smoker, essential components that contribute to the safety and efficiency of beekeeping activities.
These tools represent more than just physical items; they signify an investment in the future of bee farming. The bee hives provide a secure and comfortable home for the bees, ensuring a conducive environment for honey production. Hand gloves and bee suits protect farmers from potential bee stings, making beekeeping a safer and more accessible endeavor. Smokers help calm the bees during hive inspections and honey harvesting, reducing agitation and minimising disturbances to the bee colony.
Nasreen Al-Amin, the Executive Director, said: "The distribution of these equipment sets aims to promote bee farming as a sustainable and profitable agricultural venture in local communities. Beekeeping not only contributes to honey production but also plays a crucial role in pollination, benefiting agricultural yields and ecosystem health."
Ibrahim Muhammad, the Project Officer, stated: "By equipping farmers with the necessary tools and knowledge, the workshop aims to foster self-reliance and economic empowerment among participants. This initiative aligns with broader sustainability goals, as thriving bee populations and successful beekeeping enterprises contribute to both environmental conservation and increased livelihoods for local communities."
Mr. Garba Usaini, the secretary bee farmers association of Tofa appreciated the organisers and reiterated the significance of the training that "it opens more opportunities for sustainable beekeeping in Jobe community and its environs."
The two-day workshop marked a significant milestone for Apiculture farmers, offering them valuable tools and insights to elevate their honey farming practices. As the workshop participants return to their communities with their newfound knowledge and equipment, they are well-prepared to embark on successful bee farming ventures, bolstering both their incomes and the local environment.