Some fishermen on Tuesday, November 6, 2018 lamented the disappearance of some species of fish in the Kangami Dam, River Kaduna.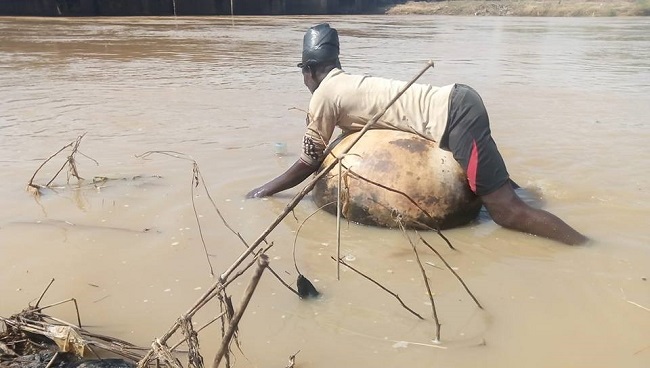 The fishermen in an interview with News Agency of Nigeria (NAN) in Kaduna said that they were generating huge revenue from species such as sardine, tilapia and others, many of which had disappeared from the river.
They said that the population of the available species were also reducing from what it used to be some years ago.
Mallam Musa Sani, a fisher at Kangimi Dam, said that many species of fish had gone extinct, while some others were almost disappearing gradually.
He said that, for the past 10 years, fishes such as sardines and tilapia had completely disappeared, adding, "We are forced to migrate from one river to another in search of other fishes for sale."
Musa disclosed further that even frogs and crabs had all disappeared from the river.
Another fisherman, Paul Moses, said: "Today, it is difficult to see crocodiles along the banks of River Kaduna. Similarly, frogs, tadpoles, toads, crickets have virtually disappeared or have become extinct."
He said that because fishermen were unable to make money from fishing, many of them gone into other vocations such as guarding houses and farming.
Dr Piman Hoffman, a Climatologist and Assistant Director, African Climate Reporters, attributed this development to indiscriminate dumping of chemicals, wastes and other adverse human activities to the extinction of marine animals.
According to him, humans have introduced significant number of chemicals into the environment which are very harmful to marine animals.
He said that while some chemicals were designed to get rid of weeds and pests, a significant amount of chemicals were wastes from industrial and agricultural processes.
Hoffman expressed sadness over the attitude of companies who dumped chemicals into water sources without recourse to the consequences.
He said that an anytime chemical waste was released, it effect went into the environment and polluted the water.
"As it rains, the chemicals are washed into rivers, which in turn feed the waterfalls and then go into the ocean."
Hoffman said that climate change and human activities had caused the extinction of many aquatic life and many were still going due to continuous dumping of hazardous wastes harmful to living organisms in water.
"We dump everything in the oceans, including plastic bags and other plastic debris, garbage, and toxic chemicals, crude oil, sewage and nuclear wastes.
"We kill thousands of aquatic animals daily without knowing the consequences, hence, there is need to halt this ugly attitude."
By Ezra Musa