PROTOCOLS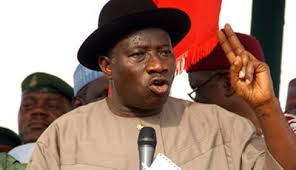 1. Great, progressive pillars of Igboland, I am indeed very happy to join you today in this unique initiative set aside to celebrate excellence and reaffirm the joint vision for the continuing development of Ndi-Igbo and Nigeria as a whole.
2. As you gather in Houston to re-dream a better Igbo society with a united and greater Nigeria in mind, it is befitting and positively symbolic that the World Igbo Congress of this year is taking place at a time we have just concluded a successful National Conference where your sons and daughters together with other Nigerians gathered to dialogue on ways of moving our country forward.
3. We convened the 2014 Conference to engender unity and to advance our collective development as a people in Nigeria, Africa, and the world.
4. Let me therefore use this opportunity to reiterate my commitment to work in concert with all arms of government and all stakeholders to implement the recommendations of the 2014 National Conference Report.
5. All through our history, the Igbo have cut a distinguishing niche in all aspects of our national life in the areas of Education, Sports, Politics, Science and Technology, Literary Excellence, Enterprise, Diplomacy, among others.
6. Ndigbo, wherever you have deployed your energy and skills, you have excelled. Many in Nigeria and elsewhere see mainly your talents in Enterprise which clearly stand out, but the Igbo, from our point of view, are much more than that.
7. For observers and admirers who see the enterprising nature of the Igbos, cite great Igbo names like Chief Louis Ojukwu, who, legend has it, was the first Nigerian to own a Rolls Royce in Lagos, and of course his equally unforgettable son, our own Ikemba Chief (Dim) Emeka Odumegwu Ojukwu!
8. Let me very quickly say that Chief Louis Ojukwu's amazing life story will need a special telling on another occasion. We must also celebrate the first Nigerian to own an ocean going crude oil conveying tanker and engage in the crude oil export trade, Sir Onyechere Anyiam Osigwe.
9. My brothers and sisters, there is much more out of Igbo land! In entertainment, the Oriental brothers, the golden Chief Dr. Oliver De Coque, the stallion Lady Onyeka Onwenu, and many others who all donated their amazing voices and talents to an appreciative Nation as we dance in happiness.
10. In literary excellence, Chinua Achebe stands tall, supported by Cyprian Ekwensi, Chris Okigbo, Flora Nwakpa, Chinwezu and in recent times Chimamanda Adichie and many others. The Igbo donated Dr. Nnamdi Azikiwe, scholar, journalist, nationalist, foremost politician and first President of Nigeria, who in concert with Sir Ahmadu Bello, Chief Obafemi Awolowo, Chief Dappa Biriye and others, fought for our independence from Great Britain.
11. The great Zik of Africa's power of leadership example was so captivating it overwhelmed my paternal grandmother to name me after him. So, distinguished ladies and gentlemen, I became at birth Goodluck Ebele Azikiwe Jonathan.
12. We must not also forget that in the train of politics were great giants like Sam Mbakwe, Akanu Ibiam, Michael Okpara, Jaja Nwachukwu, the first Speaker of the Federal House of Representative, and others who played diligent politics in service to our nation.
13. In sports, one of the most decorated in Nigeria's football history is Nwankwo Kanu and he is a Nigerian from Igbo land. My brothers and sisters, I could go on and on throughout the remaining days of this convention recounting great Igbo sons and daughters who have shown the way, in various fields and trades and we will not be done.
14. Very distinguished guests and participants, there is no time more apt than now to reflect on the factors that have put the Igbo on the pathway of achievements. Personally, I believe hard work, excellence, persistence and resilience are at the heart of Igbo success story.
15. I also believe that the time is now to build on the foundations laid by the elders and leaders in Igboland by adopting technology and planning, so as to deliver better planned functional modern cities that would attract the growing population of the Igbo in the diaspora, so that they can come back and settle to a lifestyle commensurate with what they have helped to develop elsewhere.
16. Such planning must integrate and harmonise the industrial and trading activities of entrepreneurs in a way that they become more mutually beneficial and also take advantage of economies of scale and engender a more modern, friendly and comfortable business environment. Such an effort will ease tension and encourage domiciliation of affordable technology and wealth creation. The integration will also attract investors, small and big and from far and near.
17. Distinguished World Igbo Congress attendees, such more modern endeavour will help support the many young men and women who are based in the hinterlands, so that they are not tempted into crime and other anti-social behaviour. For us as a Government, we are responding to hinterland challenges by building several Skill Development Centers across the country, and the South-East is not left out. The young men and women who wish to learn alternative means of livelihood will have an alternative.
18. I believe our advancement in the 21st century will be dependent on how we can mobilize human and material resources most efficiently and in furtherance of our objective. It is in this regard that I want to reaffirm that the Federal Government will support you even as we support other nationalities, so as to meet this great goal, for the benefit of all Nigerians.
19. Distinguished ladies and gentlemen, in pursuit of productivity and excellence, we have appointed competent and capable men and women to positions of high authority and strategic responsibility in all fields of national endeavour. In our dogged determination to develop our country, the Igbo are well represented and in some of these appointments, the Igbo are having them for the first time.
20. Some have said that this government has done more in appointments than any other in our history for the Igbo, but that is a matter for the pundits and historians. Let me state that appointments by this administration, across the country, will continue to be based on equity, fairness and competence.
21. Even when some utilise politics to undermine our commitment to fairness and justice, we will deploy the Principle of Federal Character to progressively correct it. No part of Nigeria under my leadership will be short changed.
22. Similarly in projects and policies, we have continued to do our best. Throughout the South-East, we inherited federal roads in very poor conditions. In spite of the highly competitive demand and constraints on funding, we have taken on most of the major roads, realising the impact that their improvement will have on business and life in our country.
23. The Owerri-Onitsha Road, which was under construction at the outset of my administration, has been virtually completed. Three other very important roads, the Enugu-Onitsha expressway, the Enugu–Port Harcourt road and the Nguju-Edda-Nporo-Ohafia road which cuts across Ebonyi and Abia States, are steadily progressing. Our hope is that improved budget and Sure-P funding will see quicker action in the months ahead.
24. The Obiziora-Iziagu road and Enugu-Abakaliki road are some of those that have progressed to good standard. Further attention will be focused on the Umuahia-Ikot Ekpene road which is already being addressed remedially by the Federal Roads Maintenance Agency (FERMA).
25. The Igbo, being a very mobile people, have also benefitted from works in other leading roads nationwide. The Ore-Benin road long known as a death trap has been totally transformed and now provides a safer and more reliable ride. The Lagos-Ibadan road is similarly being reconstructed and the Benin-Lokoja-Abuja road is now being dualised as we are doing in other roads in the far North.
26. Distinguished ladies and gentlemen, after many decades of planning, history was made in March this year as the Second Niger Bridge project commenced. It is expected that the contractor will hasten, according to the funding plan, for early completion of a project that will do so much to ease business and movement.
27. The revival and rehabilitation of the Eastern Corridor of the Nigerian Railway, which runs from Port Harcourt via Aba to Enugu and Maiduguri, is almost ready. Very soon, children of Ndi-Igbo will not learn about trains through cartoons and pictures. They will see and hear the "Chaka-chaka, Gbim-gbim" sound, as trains travel through the country side of our Nation.
28. The Onitsha River Port has been completed and we are progressing on the concession agreement for its efficient operation. Other River Ports like the Oguta River Port project is also under focus.
29. In the aviation sector, the Akanu Ibiam International Airport has started living up to its name, taking travellers from all over the world and vice versa, direct into the Igbo hinterland. Efforts are now on to expand the airline flight traffic in order to address the high demand, and a new befitting International Airport Terminal, under construction.
30. My belief is that the sons and daughters of Ndi-Igbo must arrive safely in Igboland without connecting flights, if they so wish. The Sam Mbakwe Airport, like others across our country, is receiving repositioning.
31. In agriculture, we have, in association with the Ebonyi State Government and private farmers in the area, begun a renewed revolution in rice production. Today, we have 10,000 farmers registered under the Growth Enhancement Scheme, and an integrated chain wide system of improvement, involving enhanced inputs, adaptable technology, milling and marketing strategies. These initiatives are beginning to yield good returns.
32. We are also paying attention to the revival of palm production, for which the South East has always been known. Intense rehabilitation programmes are underway in almost all the South Eastern States, in partnership with oil palm cooperative societies and farmer groups.
33. The scourge of erosion which destroys livelihood, farmland and property is being vigorously addressed by my government. We have had to set up a Presidential Erosion and Flooding Committee to look into this dangerous trend and the report has been accepted.
34. Erosion sites in Umuoza-Ugiri in Isiala-Mbano, Oko, Nkisi, Alo, Nekede, and the Onitsha Main Market Saka Mori/Nwangene floodplain and several other sites across the entire South-East States are being attended to.
35. We have also done our part in encouraging enterprise and industry in Igboland. One of the flagships of our new National Automotive Policy and best examples of local industry is the Innosons Auto Company in Nnewi. We support Innosons and will continue to support him. By supporting Innosons and all others who are dedicated to creating jobs and wealth, through the practical and profitable development of local technology, we are advancing our overall development as a people.
36. We have established and delivered a New Federal University in Ndufu-Alike, Ebonyi State, bringing the state at par with others in the country in the number of Federal Universities. We have also upgraded, in categorisation and certification, as well as in infrastructure, various other educational institutions across the South East.
37. We have taken a number of steps to put in place an effective security infrastructure across the South-East and in other zones around our country. The rehabilitation and commissioning of the Ohafia Army Barracks is one of such examples. Not too long ago, the insecurity in Abia led to many people leaving the state. I can confidently report to Ndi-Igbo that we have reversed the situation.
38. This is just a brief overview of what we are doing in the South East and we will continue to do the best we can within available resources, without denying other parts of the country their due.
39. As President, I will ensure justice to all Nigerians in my daily exercise of powers allotted to me by the constitution of the Federal Republic of Nigeria.
40. Ladies and Gentlemen, we are approaching election season, and it is a time for honest reassessment and reappraisal. I urge you all to take great interest, wherever you live, in the quality and pedigree of people you give your mandate.
41. By all accounts and as attested by compatriots and the international community, we have recorded emphatic success in the consolidation of the democratic culture in Nigeria. We were hopeful that this good augury will serve as impetus for greater political stability and development regardless of the evil visitation and arrival of a full blown terrorist insurgency into the shores of our beautiful country.
42. In this wise, we have done a lot to improve the electoral process and imbue confidence in the people and in the system. We hope that the peaceful expression of the will of the people which has been laid down in recent elections will continue to prevail in all others to come.
43. So what should be the position of the Igbo in today's fast moving world? What is most desired for progress and for rapid development? I would say, on my own part, that the greatest asset required of the Igbo today to move this great community to its rightful place in the country and in the scheme of things is Unity. Unity above partisan politics, Unity against internal division, Unity against external hostility, but more fundamentally, Unity in planning and in development as well as in the reawakening of the positive Igbo cultural resources. You have so much to offer our country and our government will encourage you to do so.
44. I am delighted to note that this programme is also being used to honour distinguished Igbo sons and daughters as well as friends of the Igbo and Africa. This type of honour engenders partnership and fraternity and is also a catalyst to further development. The Igbo must continue building bridges across our country and our continent because it is in the interest of Nigeria and Africa to do so.
45. I congratulate those being honoured today, as well as those who, though not receiving honours, are effectively playing their part in the upliftment of Igboland, Nigeria and West Africa by their untiring efforts.
46. At the last Presidential elections in 2011, Nigerians, in large numbers, reposed their confidence in me by the emphatic and overwhelming victory they bestowed on us. I appreciate the utmost goodwill and affection of all Nigerians towards me and my administration and I hope this goodwill will continue to wax stronger in the months ahead.
47. It has been proposed several times in the recent past (and I believe it is among the recommendations of the national conference) that Nigerians in diaspora be constitutionally enabled to vote in their countries of residence. This is a cause I am committed to support and champion with all the wherewithal of my office; and I am fairly certain that working together we can bring this to reality. Your vote for whoever you want must not be denied.
48. I urge you all to keep up your support for our administration, I assure you that at all times, I will remain a brother to all, and a partner in progress, for the advancement of the community and our great country, Nigeria.
49. I cannot end this address without saying a word or two about this conference. I am impressed by the organisation and participation at this event, and I commend and congratulate the organisers, who have contributed worthwhile time and resources to its success.
50. Societies are founded on strong institutions of competence and integrity, and it is my earnest hope that the World Igbo Congress will guard jealously its strong position as a rallying point and trusted bastion of the community.
51. On behalf of my family, the Government and the good people of Nigeria, I wish you a most rewarding and fruitful congress, dedicated to the peace and progress of the Igbo and our great country, Nigeria.
52. Igbo Kwenu! Igbo Kwezenu!!
53. I thank you.